This is a page of A Small Collection of Antique Silver and Objects of vertu, a 1000 pages richly illustrated website offering all you need to know about antique silver, sterling silver, silverplate, sheffield plate, electroplate silver, silverware, flatware, tea services and tea complements, marks and hallmarks, articles, books, auction catalogs, famous silversmiths (Tiffany, Gorham, Jensen, Elkington, WMF, Reed & Barton, Mappin & Webb, Bateman Family), history, oddities ...
SITE MAP HOME PAGE

HISTORY AND MARKS
Active at 542 Broadway (Showroom) 4-6 Marion St. & 187-189 Elm St. (Production), New York.
The origins of the company date back to Ignatius Rice (b.1838 - d.1910) who in 1867 formed a partnership with his brother Bernard (b.1836 - d.1896). The partnership was dissolved in 1891 when Bernard entered in partnership with his eldest son Jacques (b.1869 - d.1935) forming Bernard Rice & Son.
After the death of Bernard Rice, in 1897 was formed the new partnership Bernard Rice's Sons between Jacques and his brother Louis Rice (b.1872 - d.1933).
In 1901 Apollo silver Co was a registered trade name owned by Rice brothers (Trow Directory, vol. 49, page 24). To the best of my knowledge, this is the first documented notice of the links between the Rices and Apollo, but some authors hypothesize that Apollo pre-existed and contributed to the creation of Rice company (unknown the source of this information).
In c.1902 they created "Riceszinn", a metal alloy of secret composition which found great favour as its color wasn't affected by tarnishing.
A variety of trade names was used on Bernard Rice's Sons silverware: L'AIGLON, LORALINE, BEAUXARDT, ETCHARDT, DUTCHARDT, SHADOW ARDT, PATRICIA, APOLLO STUDIO, B.R.S.CO, SKY SCRAPER, MARION PEWTER and, on sterling, APOLLO STERLING.
The company went out of business June 1950.



THE SKY-SCRAPER LINE
The 'sky-scraper' silverplate line, created in 1925 by Apollo Gift Lines division of Bernard Rice's Sons (designer Louis W. Rice), contributed to spread the 'modernism' taste on American society of the 1930s
The Sky-scraper line included a coffee and tea service, cocktail shaker and accessories, serving platters and trays, gravy boats, other serving objects, candlesticks and dresser or desk items such as hand mirrors and cigarette boxes.
Examples from the Sky-scraper line have been highly collected and can be found in many major American museum design collections. They have also been widely documented in most of the important reference books on American modernism.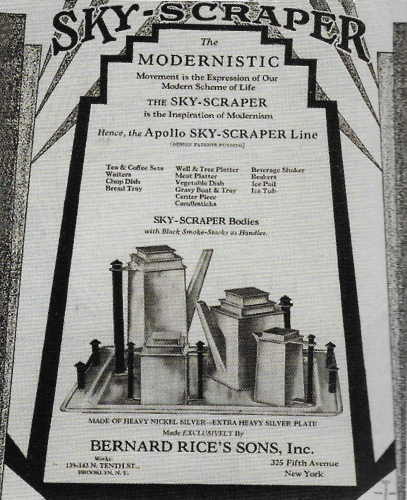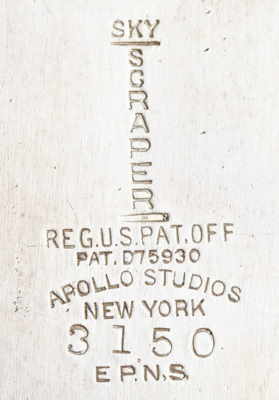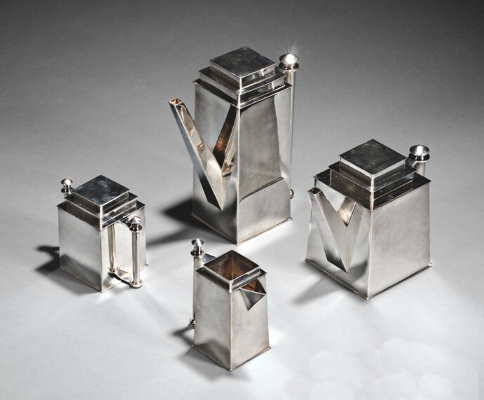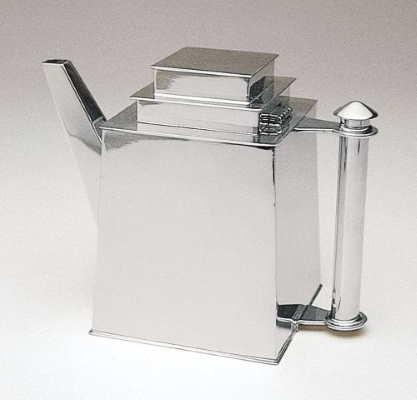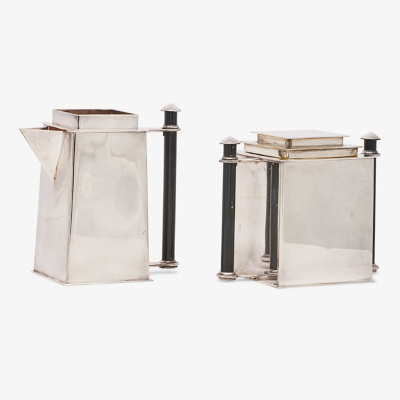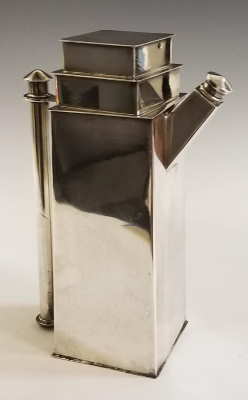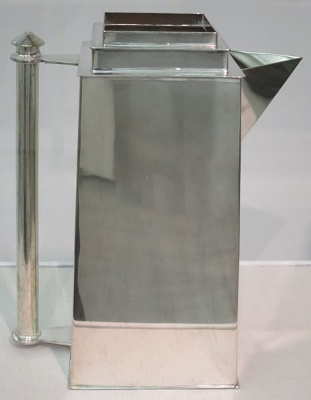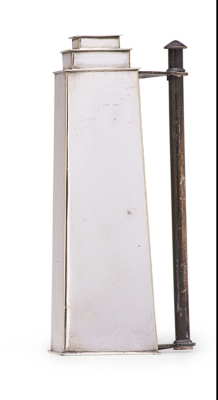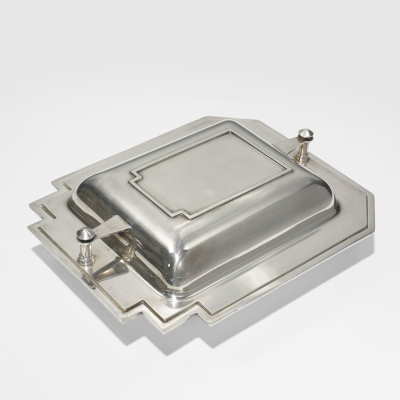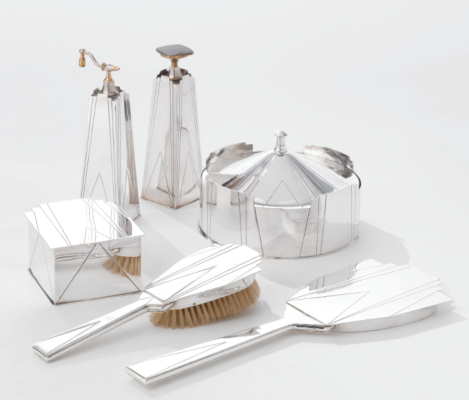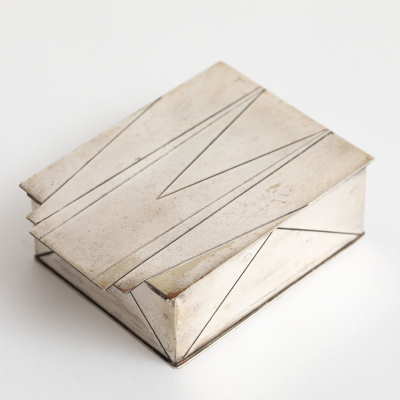 BERNARD RICE'S SONS ADVERTISEMENTS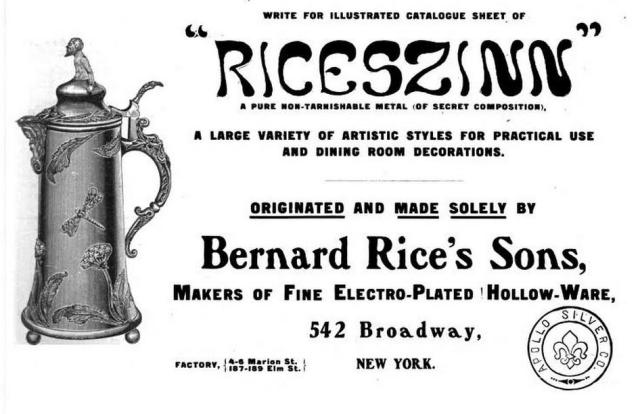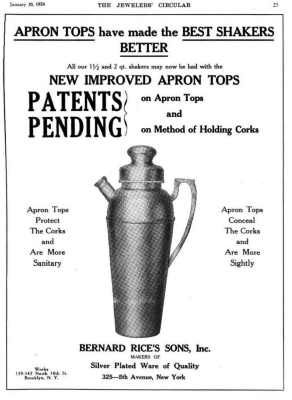 SILVERPLATE AND ELECTROPLATED SILVER OF USA AND CANADA
FIGURAL MARKS
anchors
,
animals
,
arrows
,
bells
,
birds
,
candelabra
,
crosses
,
crowns
fantastical entities
,
horses
human figures
,
lions
,
musical instruments
plants and vegetables
,
stars
swords axes blades
,
tools
,
windmills
,
others
STERLING SILVER OF USA AND CANADA
SILVER MANUFACTURERS: MARKS, HISTORY AND INFORMATION

www.silvercollection.it
This is a page of 'The What is? Silver Dictionary' of A Small Collection of Antique Silver and Objects of vertu, a 1500 pages richly illustrated website offering all you need to know about antique silver, sterling silver, silverplate, Sheffield plate, electroplate silver, silverware, flatware, tea services and tea complements, marks and hallmarks, articles, books, auction catalogs, famous silversmiths (Tiffany, Gorham, Jensen, Elkington), history, oddities ...
HOME - SITE MAP - SILVER DICTIONARY - COOKIES CONSENT AND PRIVACY