MEXICAN STERLING SILVER MARKS
MARKS AND HALLMARKS OF MEXICO SILVER MAKERS
A - B - C
This is a page of A Small Collection of Antique Silver and Objects of vertu, a 1000 pages richly illustrated website offering all you need to know about antique silver, sterling silver, silverplate, sheffield plate, electroplate silver, silverware, flatware, tea services and tea complements, marks and hallmarks, articles, books, auction catalogs, famous silversmiths (Tiffany, Gorham, Jensen, Elkington, WMF, Reed & Barton, Mappin & Webb), history, oddities ...
SITE MAP - HOME PAGE
AN INTRODUCTION TO MEXICO SILVER MARKING
In the first half of the 20th century silver items manufactured in Mexico were marked simply "silver" or "sterling". Usually a location (Mexico or a town name) and silver fineness (925, 925/1000, 950, 980) was included.
In 1948 the Government of Mexico promoted the reintroduction of the "eagle mark" to identify the manufacturers of silver items. The "eagle" was stamped with a number associated to a silver manufacturing company. This system was unsuccessful, eagle stamps were misused or "loaned" to more than one artist of maker and was abandoned in the 1980s. It was substituted by the "letter and number" system adopted circa 1980 and still in use.
In the "Letter and number" system a letter identifies a location (T for Taxco, M for Mexico City), the second letter is the first letter of an individual's first or last name of the maker. The number is the number of registration of the maker.
From left to right: early Mexican mark (before 1948), eagle mark (1948-c.1980), "letter and number" mark (c.1980-present).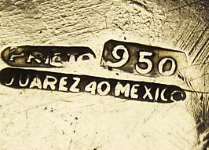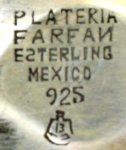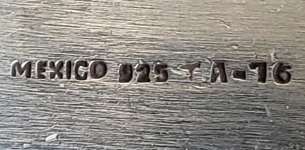 (click on image to enlarge)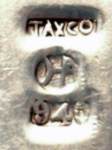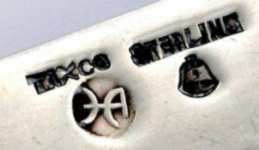 Hector AGUILAR
Hector Aguilar was the manager of Spratling's Taller de las Delicias in 1936. He opened his workshop in 1939. In 1943 he entered into a business arrangement with New York Jewelry firm Coro.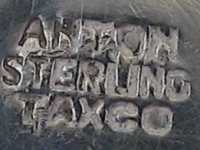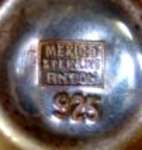 Jose ANTON
A silver manufacturer of hollowware and jewelry based in Taxco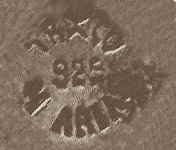 Miguel ARIAS
One of the masters working for Margot van Voorhies Carr at Margot de Taxco.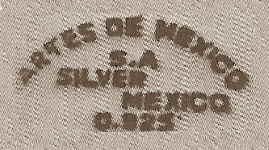 ARTES DE MEXICO S.A.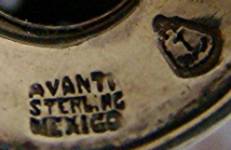 AVANTI
Eagle number 7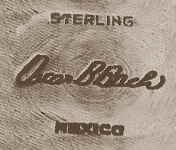 Oscar B. BACH
(1884-1957) Eagle number 17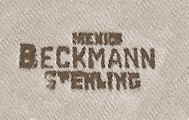 Carmen BECKMANN
owner of a shop in San Miguel de Allende. Registration mark B-11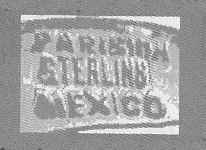 Marcel BOUCHER
Of French origin. Apprenticed to Cartier and established Marcel Boucher and Cie Company in New York. PARISINA is the trade mark of his Mexican-made items</td>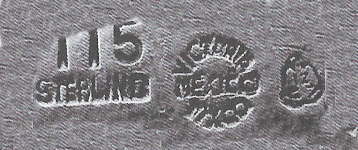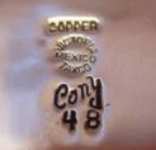 Ana Maria Nunes de BRILANTI
designer and manufacturer of jewelry and decorative accessory. Owner of PLATERIA VICTORIA and CONY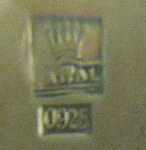 CARAL
A Mexico City retailer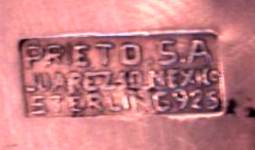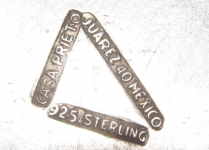 CASA PRIETO S.A.
Firm based in Mexico City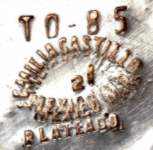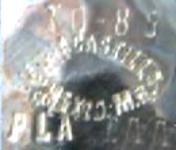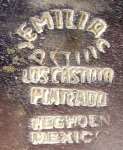 Emilia CASTILLO
A well known contemporary artist. She is the daughter of Antonio Castillo, founder of Los Castillo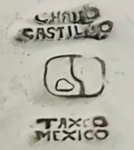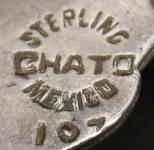 Jorge "Chato" CASTILLO
Was the talented brother of Antonio Castillo. Many of his early designs were apparently also once used as prototypes for pieces later produced by Los Castllo. He left Willian Spratling's Taller de Las Delicias in 1939 to help his brothers start Los Castllo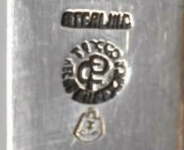 Pedro CASTILLO
Worked with William Spratling and Hector Aguilar. Manufacturer of jewelry and flatware. Eagle numbers 1,2,3 and 120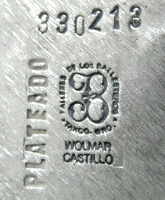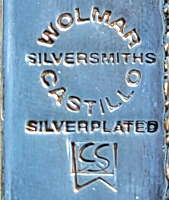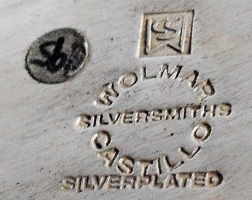 Wolmar CASTILLO
The youngest son of Antonio Castillo (founder of Los Castillo), active in his own company Wolmar Castillo Silversmiths.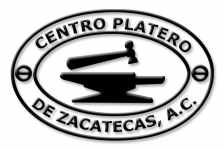 CENTRO PLATERO DE ZACATECAS A.C.
various trademarks: MEZQUITAL, TENAMATZLI, ELEMENTA, TOSCANA, TOLEDO, ADORNATTO, LOETRU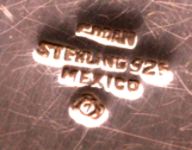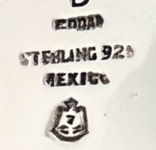 CODAN S.A.
Firm based in Mexico City specialized in Danish style production. Eagle number 7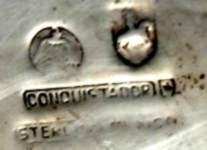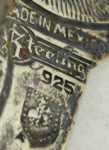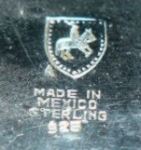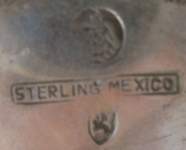 CONQUISTADOR S.A.
Founded by Horacio de la Parra. The headquarter of the company was in Mexico City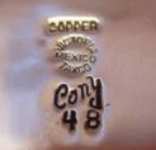 CONY
Plateria Cony was a store opened in 1958 in Taxco by Ana Maria Nunez de Brilanti, a well known designer and producer (Plateria Victoria) of jewelry and decorative accessories.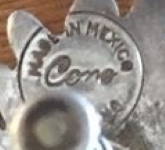 CORO
Owned by Gerald Rosenberger, New York. Partnership with Hector Aguilar from 1943 to 1950.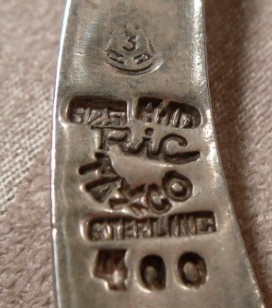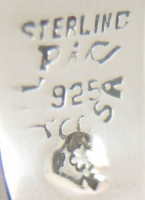 Erica Hult de CORRAL
Eagle number 3, registration number TR-26. Worked with Sigfrido Pineda and Enrique Ledesma before opening her own workshop (Shops in Puerto Vallarta, 1999)
STERLING SILVER OF ENGLAND, SCOTLAND AND IRELAND
This is a page of Silvercollection.it "A Small Collection of Antique Silver and Objects of vertu", a 1000 pages widely illustrated website offering all you wish to know about antique silver, sterling silver, silverplate, sheffield plate, electroplate silver, silverware, flatware, tea services and tea complements, marks and hallmarks, articles, books, auction catalogs, famous silversmiths (Tiffany, Gorham, Jensen, Elkington), history, oddities ...
HOME - SITE MAP - SILVER DICTIONARY