MEXICO STERLING SILVER AND SILVERPLATE MARKS
MARKS AND HALLMARKS OF MEXICAN SILVER MAKERS
D - H



created by Giorgio B. owner of
www.silvercollection.it ©

This is a page of A Small Collection of Antique Silver and Objects of vertu, a 1000 pages richly illustrated website offering all you need to know about antique silver, sterling silver, silverplate, sheffield plate, electroplate silver, silverware, flatware, tea services and tea complements, marks and hallmarks, articles, books, auction catalogs, famous silversmiths (Tiffany, Gorham, Jensen, Elkington, WMF, Reed & Barton, Mappin & Webb), history, oddities ...
SITE MAP - HOME PAGE
AN INTRODUCTION TO MEXICO SILVER MARKING
In the first half of the 20th century silver items manufactured in Mexico were marked simply "silver" or "sterling". Usually a location (Mexico or a town name) and silver fineness (925, 925/1000, 950, 980) was included.
In 1948 the Government of Mexico promoted the reintroduction of the "eagle mark" to identify the manufacturers of silver items. The "eagle" was stamped with a number associated to a silver manufacturing company. This system was unsuccessful, eagle stamps were misused or "loaned" to more than one artist of maker and was abandoned in the 1980s. It was substituted by the "letter and number" system adopted circa 1980 and still in use.
In the "Letter and number" system a letter identifies a location (T for Taxco, M for Mexico City, G for Guadalajara and C for Cuernavaca), the second letter is the first letter of an individual's first or last name of the maker. The number is the number of registration of the maker.
From left to right: early Mexican mark (before 1948), eagle mark (1948-c.1980), "letter and number" mark (c.1980-present).
Alongside EAGLE and STERLING, the most frequently marks present on Mexican silver are HECHO EN MEXICO, MEXICO, TAXCO, PLATA, SILVER and fineness numbers as 0.900, 925, 0.925, 940, 950, 980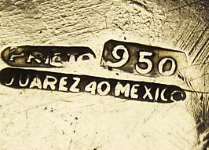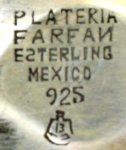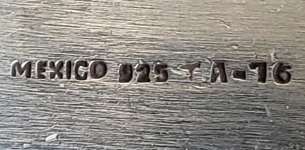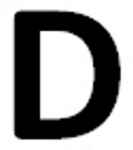 (click on image to enlarge)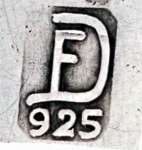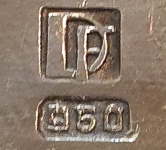 Frederick Walter DAVIS
An American designer (1880-1961). He arrived in Mexico City in 1910 and began working at Sonora News Factory. He designed and sold jewelry made by other prominent artists including Valentin Vidaurreta, William Spratling and Miguel Covarrubias operating in his Frederick Davis Galleries in Mexico City (Ave. Francisco Madero 12). In 1935 Davis became the manager of antiques and fine arts of Sanborn's Department Store and 1948 the director of the Museo Nacional de Artes Industrias Populares.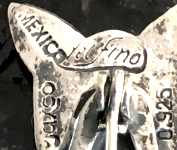 DELFINO
Taxco. Eagle number 3, 19 and 39
DG in script into a circle
see Damaso GALLEGOS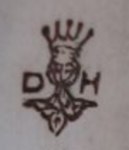 DH
unidentified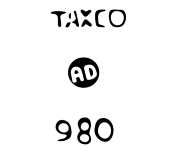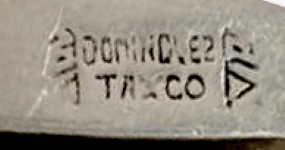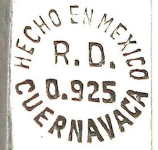 Rafael DOMINGUEZ
(1911-1980) apprenticeship with William Spratling. Owner in Taxco of Casa Dominguez with his wife Juana.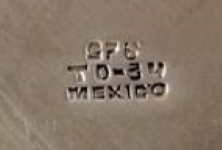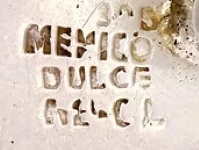 DULCE PLATEROS
Registration nymber TD-31 and TD-34. Established in 1984 in Taxco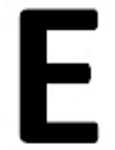 (click on image to enlarge)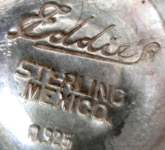 EDDIE'S
Firm active in Mexico City

EMAUS
the mark of the workshop of the Benedictine Monks of Cuernavaca (see also Talleres Monasticos)
EMMA
see PLATERIA EMMA
EMMA
see Emma MELENDEZ
EMP.PLAT.MEX S.A.
see PLAT.MEX S.A.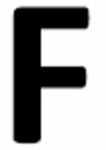 (click on image to enlarge)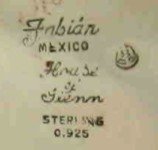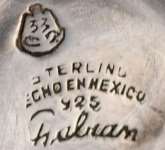 FABIAN
House of Glenn. Eagle number 11, 33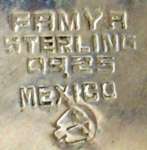 FAMYA

FARFAN
see PLATERIA FARFAN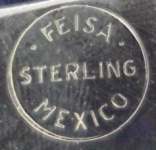 FEISA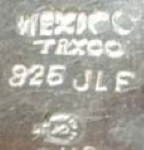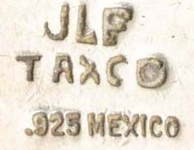 Jose Luis FLORES
worked for Spratling, Emma and Miguel
FR in script interwined
see Francisco RIVERA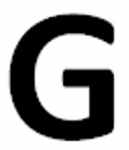 (click on image to enlarge)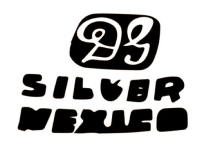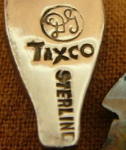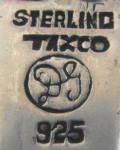 Damaso GALLEGOS
c. 1940 worked for Héctor Aguilar. In 1941 opened his own workshop La Amatista (floral pins, Mexican scenic bracelets, hair clips, table and flatware, Christmas pins, earrings). Damaso Gallegos died in 1976 and his son Antonio continued the business
GM and the image of a coyote
see Gustavo MARTINEZ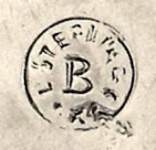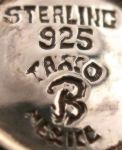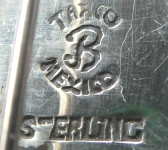 Bernice J. GOODSPEED
Active in Taxco as jeweler and silversmith (often with pre-Columbian motifs) until her death in 1971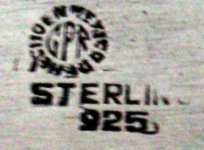 GPR
unidentified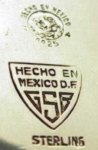 GSB - Distrito Federal
unidentified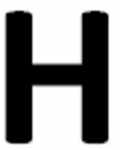 (click on image to enlarge)
HA (stylized and conjoined)
see Hector AGUILAR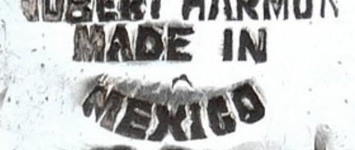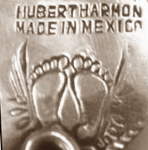 Hubert HARMON
Hubert Pickering Harmon jewelry designer. Opened his workshop in Taxco in the early 1940s employing numerous local silversmiths. During the 1950s, lower-priced copies of his original jewelry were produced by a company named Casa Maya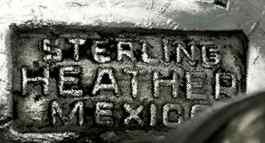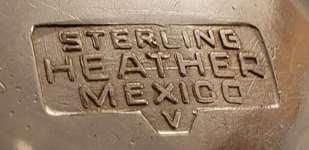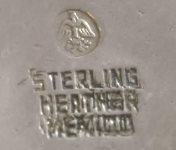 HEATHER Y HIJOS S.A.
Firm active in Mexico City
STERLING SILVER OF ENGLAND, SCOTLAND AND IRELAND
This is a page of Silvercollection.it "A Small Collection of Antique Silver and Objects of vertu", a 1500 pages widely illustrated website offering all you wish to know about antique silver, sterling silver, silverplate, sheffield plate, electroplate silver, silverware, flatware, tea services and tea complements, marks and hallmarks, articles, books, auction catalogs, famous silversmiths (Tiffany, Gorham, Jensen, Elkington), history, oddities ...
HOME - SITE MAP - SILVER DICTIONARY
These pages were useful? leave your LIKE on facebook

work in progress on this page - your help, corrections and suggestions will be greatly appreciated