ENGLISH ELECTROPLATE SILVER
MARKS AND HALLMARKS OF SHEFFIELD AND BIRMINGHAM SILVER PLATE MAKERS
WITH THE ADDITION OF OTHER BRITISH, SCOTTISH AND IRISH MANUFACTURERS
This is a page of A Small Collection of Antique Silver and Objects of vertu, a 1000 pages richly illustrated website offering all you need to know about antique silver, sterling silver, silverplate, sheffield plate, electroplate silver, silverware, flatware, tea services and tea complements, marks and hallmarks, articles, books, auction catalogs, famous silversmiths (Tiffany, Gorham, Jensen, Elkington), history, oddities ...
SITE MAP - HOME PAGE
The two common forms of plated silver are Sheffield plate and silverplate/electroplate.
Sheffield Plate is a cheaper substitute for sterling, produced by fusing sheets of silver to the top and bottom of a sheet of copper or base metal. This 'silver sandwich' was then worked into finished pieces. At first it was only put on one side and later was on top and bottom.
Modern electroplating was invented by Italian chemist Luigi V. Brugnatelli in 1805. Brugnatelli used his colleague Alessandro Volta's invention of five years earlier, the voltaic pile, to facilitate the first electrodeposition. Unfortunately, Brugnatelli's inventions were repressed by the French Academy of Sciences and did not become used in general industry for the following thirty years.
Silver plate or electroplate is formed when a thin layer of pure or sterling silver is deposited electrolytically on the surface of a base metal. By 1839, scientists in Britain and Russia had independently devised metal deposition processes similar to Brugnatelli's for the copper electroplating of printing press plates.
Soon after, John Wright of Birmingham, England, discovered that potassium cyanide was a suitable electrolyte for gold and silver electroplating.
Wright's associates, George Elkington and Henry Elkington were awarded the first patents for electroplating in 1840. These two then founded the electroplating industry in Birmingham England from where it spread around the world.
Common base metals include copper, brass, nickel silver - an alloy of copper, zinc and nickel - and Britannia metal - a tin alloy with 5-10% antimony.
Electroplated materials are often stamped EPNS for electroplated nickel on silver, or EPBM for electroplated Britannia metal.

THE DIRECTORY OF BRITISH ELECTROPLATED SILVER MAKERS: Aa-Az
SILVERPLATE MANUFACTURERS: MARKS' IMAGE & HISTORY
ALPHABETICAL LISTING OF SILVERPLATE MARKS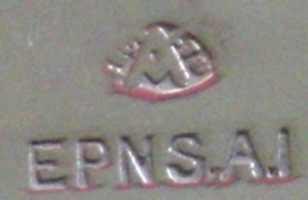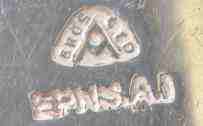 ADIE BROTHERS LTD
Birmingham
The firm was incorporated in 1906 joining the firms of McKewan & Adie (manufacturing jewellers, gold and silversmiths) and E.S. Barnsley & Co (box and packing case makers). It had manufacturing premises in Birmingham and London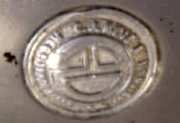 C.J. ADIE
C.J. ADIE & NEPHEW
Birmingham
C.J. Adie started the business in 1890 at Lion Works in Warston Lane, Birmingham. In the early days the company was known for a wide range of silver plated trinkets and cutlery and the like. Bicycle accessories were a later and highly successful line for many years. Charles J. Adie died in 1918. After Charles J. Adie death his nephew ran the business until 1944. Nephew's son Roger ran the business from the war until the 1970's. The business folded in 1990.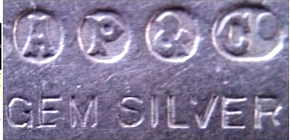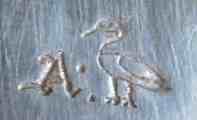 WILLIAM AINSWORTH (possibly)
AINSWORTH, TAYLOR & CO
AINSWORTH, PEMBROOK & CO LTD
Birmingham
The partnership of William Ainsworth and Samuel Baker trading as Ainsworth Taylor & Company was active from 1878 at 78 Ford St, Park Rd and 40/42 Spencer St, Birmingham (possibly they succeeded to William Ainsworth active in 1872 at Ford Street, Birmingham). The partnership was dissolved in 1895 and the business was continued under the same style solely by William Ainsworth. The presence of a mark "A& Co" of similar style suggests that, possibly, in the period between 1895 (dissolution of the partnership with Samuel Baker) and 1906 (creation of Ainsworth, Pembrook & Co Ltd) the "T" on the trade mark "AT&Co" was omitted. Ainsworth Taylor & Co was succeeded by Ainsworth, Pembrook & Co Ltd in 1906 (William Ainsworth chairman). The Company went in voluntary liquidation in 1909 (Charles Richards liquidator). Ainsworth, Pembrook & Co used the trade mark GEM SILVER


JAMES AITCHISON
Edinburgh
Active c. 1874-1921

WILLIAM ALEXANDER & SON
Glasgow

1849-1855

1855-1872
JAMES ALLAN & CO
JAMES ALLAN
Sheffield
Active in Sheffield from 1849 to 1872 as manufacturer of Britannia Metal wares. His address was Wicker St (1849-1851), Andrew St (1851-1855) and Johnson Lane (1855-1872). The "&Co" was dropped in 1855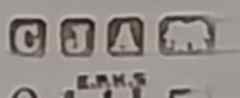 CHARLES JAMES ALLEN
ALLEN & DARWIN
London & Sheffield
Charles James Allen & Sidney Darwin trading as Allen & Darwin. Listed at 7 Hatton Garden, (1893-1894) and 12 Bartlett's Buildings, London (1897-1900). Active at Portland Works, 55 Arundel St, Sheffield (1898-1912). In 1928 the firm was changed to Allen's. The firm was active until 1960.


ANDREW ALLISON
Glasgow
active 1852-1862


A.N.D. Plate Ltd
Birmingham
c. 1948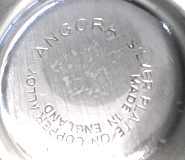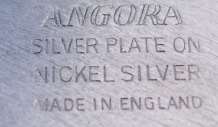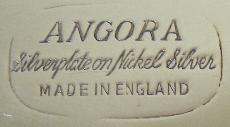 ANGORA SILVER PLATE CO LTD
Sheffield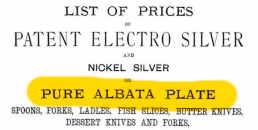 A P

A generic mark rarely used by British electroplaters, probably standing for ALBATA PLATE (a white silvery alloy of nickel, zinc, and copper -also British Plate or German Silver-)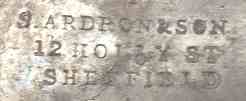 SL. ARDRON & SON
Sheffield
Probably Samuel Ardron, active in 1852 at 12 Holly Street, Sheffield as "horn pressers & Britannia metal ware manufacturers"


ARMSTRONG & SCOTT
Birmingham
c. 1894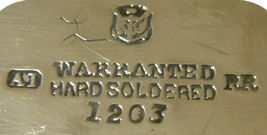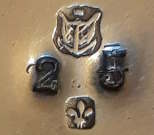 ARMY & NAVY COOPERATIVE SOCIETY
Westminster
Firm established in 1871 at 117 Victoria Street, Westminster. In 1901 branches were opened at Bombay, Delhi, Calcutta and Karachi


ARNOLD & LEWIS
Manchester
Active at 7 St. Ann's Square, Manchester from c. 1875 until c. 1905. The firm succeeded to I. Simmons as retail jewellers, goldsmiths and silversmiths, watch and clock makers


ARTHUR & CO Ltd
Glasgow (possibly)
A retailer business started in 1837 by James Arthur. The firm, active in High St, Paisley, became Arthur & Fraser (1849), Arthur & Co (late 1850's) and Arthur & Co Ltd (1878). The firm was active at Buchanan St and later at Miller St, Glasgow.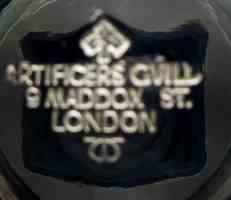 ARTIFICERS GUILD
London
Founded in 1901 by Nelson Dawson. The workshop was in Oil Mill Lane, Hammersmith moving to 4 Conduit Street after 1918. The showroom was in the Fordham Gallery in Maddox Street. Chief designer was Edward Napier Hitchcock Spencer. The Artificers Guild closed in 1942.



A S

A generic mark rarely used by British electroplaters, probably standing for ALBATA SILVER (a white silvery alloy of nickel, zinc, and copper -also British Plate or German Silver-)


JOHN A. ASHBERRY & SONS
Sheffield
In 1865 John Arthur Ashberry was partner in Phillip Ashberry & Sons (co-partners were Philip, Philip Henry and George Willis Ashberry). Some time later he opened his own business in Love Street, Sheffield as 'Britannia Metal Manufacturer' under the style of John A. Ashberry & Sons. The firm went in bankruptcy in 1875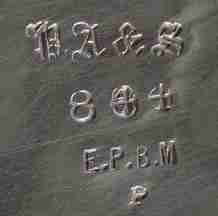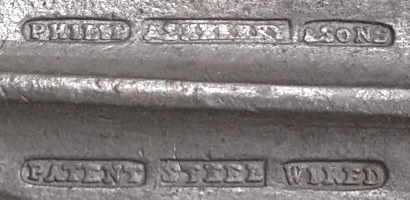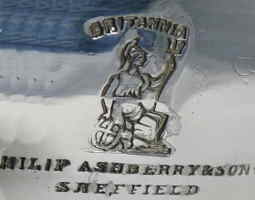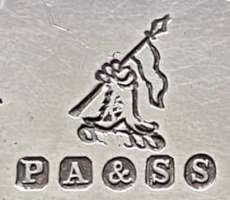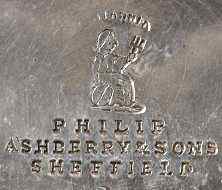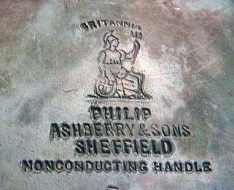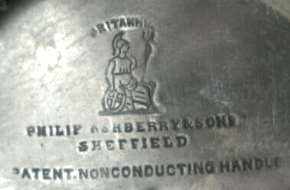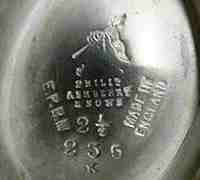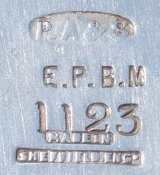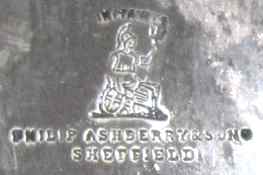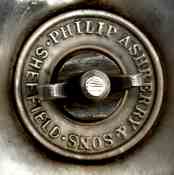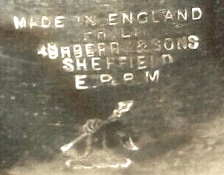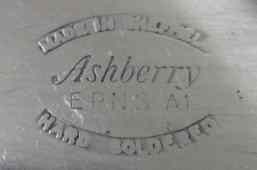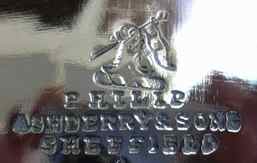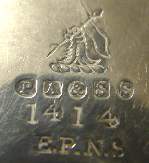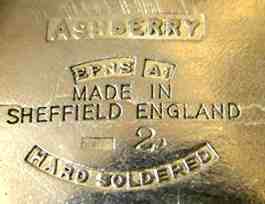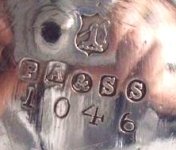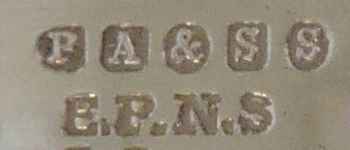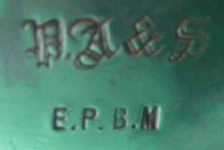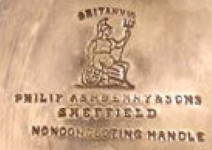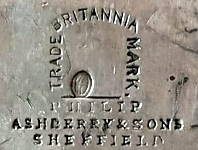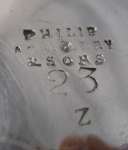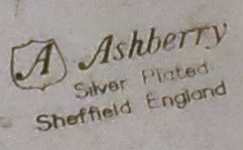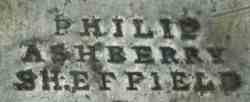 PHILIP ASHBERRY
PHILIP ASHBERRY & SONS
PHILIP ASHBERRY & SONS LTD
Sheffield
Active at 21 Bowling Green St, Sheffield (1856-1935). Philip Ashberry began trading in 1829 making Britannia metal wares. The firm became "& Sons" in 1856 and "Ltd" in 1900. The names SAVOY and STAYBRIGHT were used in early 20th century cutlery. The firm was maintained under the control of Ashberry family until 1935 when Lewis Rose & Co purchased the site and demolished the old factory. After World War II, Lewis Rose & Co Ltd moved to Bowling Green St using Ashberry name in its production. In 1969 Ashberry was bought by Spear & Jackson group. In 1976 the group was purchased by Guy Degrenne and the firm became Ashberry & Degrenne Ltd at Prospect Rd, Sheffield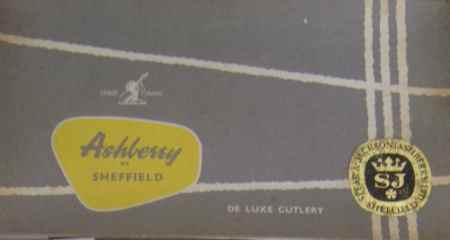 FREDERICK C.ASMAN & CO
Sheffield
Frederick Charles Asman (1865-1933) and Arthur Asman (1867-1944), active at 20 Cambridge St. (1905-1933) and at 34 Eyre St., Sheffield (1934-1940). Listed Exhibitor to 1922 British Industries Fair. The marks FAGH & Co have characteristics similar to the FA&Co of Asman but is unknown the meaning of the added "GH" initials (possibly a successsor)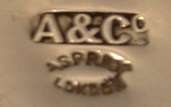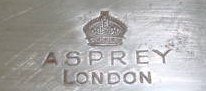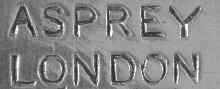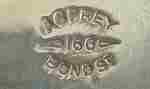 ASPREY & CO LTD
London
Business established in 1781 at Mitcham , Surrey, by William Asprey. Chronology of the firm: Kennedy & Asprey (1841-1843), Charles Asprey (until 1872), Charles Asprey & Son (until 1879), Charles Asprey & Sons (until 1888), C.& G.E. Asprey (until 1900 c.), Asprey (&Co) (until 1909), Asprey & Co Ltd (until present)

ASPREY HISTORY AND INFORMATION PAGE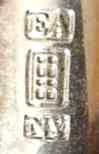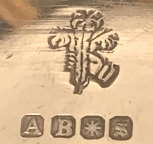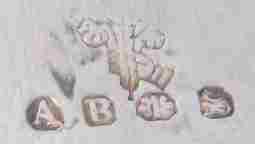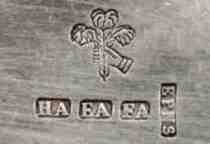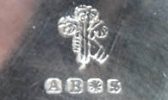 HENRY ATKIN & CO
HENRY ATKIN
ATKIN BROTHERS
Sheffield
The firm traces its establishment to Thomas Law in mid 18th century. It was succeeded by Henry Atkin and John Oxley trading as Atkin, Oxley & Co. The partnership was dissolverd and in 1840 Henry Atkin continued the trade as Henry Atkin & Co at 32 Howard Street, Sheffield (John Oxley began his own business in Charles Street). After his death, his sons Harry Wrigth Atkin, Edward Thomas Atkin and Frank Shaw Atkin continued the business as Atkin Brothers. The firm was converted in 1925 into a limited liability company under the style of Atkin Brothers (Silversmiths) Ltd. In 1943 they acquired goodwill and dies of Thomas Bradbury & Sons. Out of business in 1964. The firm used the trade mark TRUROX

ATKIN HISTORY AND INFORMATION PAGE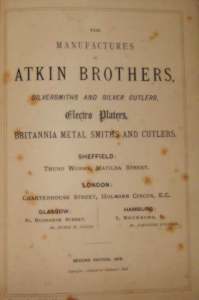 ATKINS & WIGLEY
Birmingham (possibly)
Charles Herbert Atkins and Ernest Wigley, active at 171 Hockley Hill, Birmingham (c.1920)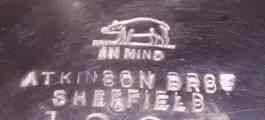 ATKINSON BROTHERS
ATKINSON BROTHERS LTD
Sheffield
Manufacturers of steel, cutlery, files and electro plate products. Active at Milton Works-Lion Works, Nowbray St, Sheffield from c. 1879. By 1888 they took the Beehive Works, a purpose built cutlery works located on Milton Street. They exhibited at the 1894 Antwerp World's fair, becoming a registered company on the stock exchange in 1897. Atkinson Brothers were resident at the Beehive Works well into the 20th century. Before 1938 the firm, active at Lion Works, was bought by John Benton & Sons. They used the trade marks IN MIND and BRILHO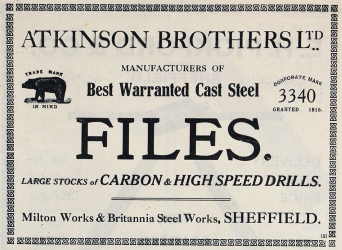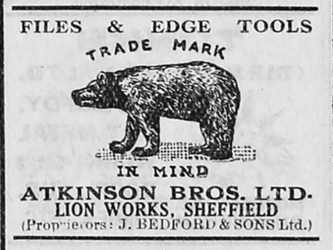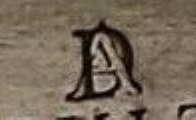 AUSTIN & DODSON
AUSTIN & DODSON LTD
Sheffield
Business established in 1865 by Edward Dodson and William Lawson Austin. Active at Cambria Works, 191 Arundel Street, Sheffield



JOSEPH AWMACK
J.H. AWMACK LTD
Leeds
Joseph Awmack was active as 'glass and china merchant' in 1880. Joseph Henry Awmack Ltd was active as 'glass, china and cutlery merchants' at the beginning of the 20th century in the shop at 8-10 New Briggate and from August 1931 at nos.10-12 The Headrow, Leeds. Another shop was at 12 Market Place, Ripon.
E.P.N.S. (Electroplated Nickel Silver) and EPBM (Electroplated Britannia Metal) are the most common names attributed to silver plate items. But many other names are used for silver plate:
EPWM - Electroplate on White Metal, EPC - Electroplate on Copper, Argentium, Argentine Plate, Argentum, Ascetic, Austrian Silver, Brazilian Silver, Buxbridge, Electrum, Encore, Exquisite, Insignia Plate, Nevada Silver, Norwegian Silver, Pelican Silver, Potosi Silver, Silverite, Sonora Silver, Spur Silver, Stainless Nickel, Stainless Nickel Silver, Venetian Silver, W.M White Metal,....
WORLDWIDE DIRECTORY OF SILVERPLATE MANUFACTURERS: HISTORY & MARKS
BRITISH TOWN MARKS AND DATE LETTERS
STERLING SILVER OF ENGLAND, SCOTLAND AND IRELAND
ALPHABETICAL LISTING OF MAKER'S MARKS

www.silvercollection.it
This is a page of 'The What is? Silver Dictionary' of A Small Collection of Antique Silver and Objects of vertu, a 1500 pages richly illustrated website offering all you need to know about antique silver, sterling silver, silverplate, Sheffield plate, electroplate silver, silverware, flatware, tea services and tea complements, marks and hallmarks, articles, books, auction catalogs, famous silversmiths (Tiffany, Gorham, Jensen, Elkington), history, oddities ...
HOME - SITE MAP - SILVER DICTIONARY - COOKIES CONSENT AND PRIVACY
These pages were useful? leave your LIKE on facebook

work in progress on this page - your help, corrections and suggestions will be greatly appreciated -