ENGLISH ELECTROPLATE SILVER
MARKS AND HALLMARKS OF SHEFFIELD AND BIRMINGHAM SILVER PLATE MAKERS
WITH THE ADDITION OF OTHER BRITISH, SCOTTISH AND IRISH MANUFACTURERS
This is a page of A Small Collection of Antique Silver and Objects of vertu, a 1000 pages richly illustrated website offering all you need to know about antique silver, sterling silver, silverplate, sheffield plate, electroplate silver, silverware, flatware, tea services and tea complements, marks and hallmarks, articles, books, auction catalogs, famous silversmiths (Tiffany, Gorham, Jensen, Elkington), history, oddities ...
SITE MAP - HOME PAGE
The two common forms of plated silver are Sheffield plate and silverplate/electroplate.
Sheffield Plate is a cheaper substitute for sterling, produced by fusing sheets of silver to the top and bottom of a sheet of copper or base metal. This 'silver sandwich' was then worked into finished pieces. At first it was only put on one side and later was on top and bottom.
Modern electroplating was invented by Italian chemist Luigi V. Brugnatelli in 1805. Brugnatelli used his colleague Alessandro Volta's invention of five years earlier, the voltaic pile, to facilitate the first electrodeposition. Unfortunately, Brugnatelli's inventions were repressed by the French Academy of Sciences and did not become used in general industry for the following thirty years.
Silver plate or electroplate is formed when a thin layer of pure or sterling silver is deposited electrolytically on the surface of a base metal. By 1839, scientists in Britain and Russia had independently devised metal deposition processes similar to Brugnatelli's for the copper electroplating of printing press plates.
Soon after, John Wright of Birmingham, England, discovered that potassium cyanide was a suitable electrolyte for gold and silver electroplating.
Wright's associates, George Elkington and Henry Elkington were awarded the first patents for electroplating in 1840. These two then founded the electroplating industry in Birmingham England from where it spread around the world.
Common base metals include copper, brass, nickel silver - an alloy of copper, zinc and nickel - and Britannia metal - a tin alloy with 5-10% antimony.
Electroplated materials are often stamped EPNS for electroplated nickel on silver, or EPBM for electroplated Britannia metal.

THE DIRECTORY OF BRITISH ELECTROPLATED SILVER MAKERS: Bo-Bz
SILVERPLATE MANUFACTURERS: MARKS' IMAGE & HISTORY
ALPHABETICAL LISTING OF SILVERPLATE MARKS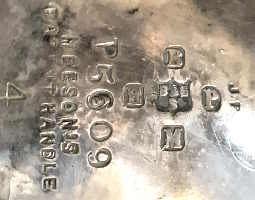 CHARLES BOARDMAN
BOARDMAN & GLOSSOP
BOARDMAN, GLOSSOP & CO
Sheffield
Charles Boardman started producing sterling silver wares (1844) but converted to electroplating in 1847 prior to enter in partnership with Glossop. Boardman & Glossop was active at 54 Pond St., Sheffield (1861-1871). The firm became Boardman, Glossop & Co in 1887 and was converted in 1895 into a limited liability company under the style Boardman, Glossop & Co Ltd. The business was bought in 1924 c. by Frank Cobb & Co. They were described as silversmiths, electroplaters and Britannia metal-smiths at Clarence Works, Sheffield and 16 Ely Place, Holborn, London (later at 18 Bartlett's Building, Holborn).

BOARDMAN & GLOSSOP HISTORY AND MARKS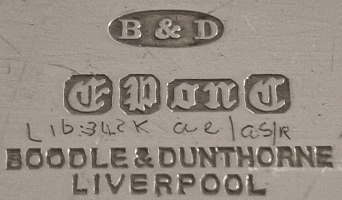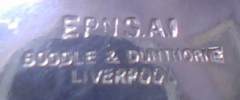 BOODLE & DUNTHORNE
BOODLE & DUNTHORNE LTD
Liverpool
The firm was established in 1899 by Frederick Lloyd Boodle and Edwin Edward Dunthorne at 35 Lord Street, Liverpool. The business was bought by Wainwright family in 1911 and became 'Ltd' in 1949. In present days they are still active as jewellers and goldsmiths in Liverpool, Chester, Manchester and London. From 2004 the name is simply BOODLES. The firm claims its ancient heritage to the jewelry business established by Kirk family in Liverpool in 1798.



BOSWELL, HATFIELD & CO
BOSWELL, HATFIELD & CO LTD
Sheffield
Cutlery makers active at Hope Works, Sheffield from 1892 to 1919 when was incorporated into Sheffield Steel Products Ltd (in 1920, at time of public sale of shares, they claimed to be "largest manufacturer of table cutlery in the world"; consisted of a number of companies which had been amalgamated into this company). The firm used the trade marks OPOBA and XY



HENRY BOURNE
Birmingham


BOURNE & O'NEILL
Birmingham
A partnership of Henry Bourne and Daniel J. O'Neill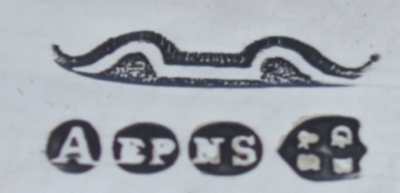 GEORGE BOWEN & SON
GEORGE BOWEN & SONS
Birmingham
active in Birmingham from c.1870.




JONAS & GEORGE BOWEN
Birmingham
active at 15 Victoria St and 29 Summer Rw, Birmingham. The firm was established in Birmingham by Jonas Bowen (Sr) in around 1840. After his retirement his sons Jonas and George took over but after a short period they split the business in separate companies of George Bowen & Sons and Jonas Bowen & Sons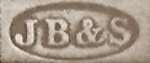 JONAS BOWEN & SONS
Birmingham
active in Birmingham from c.1870. In the 1880s the trade mark JB&S was used by Spurrier & Co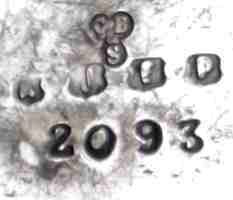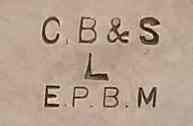 CHARLES BOYTON
CHARLES BOYTON & SON
CHARLES BOYTON & SON LTD
London
Founded in c. 1808 as Charles Boyton (until 1894). Became Charles Boyton & Son (1894-1919) and Charles Boyton & Son Ltd (1919-1933)

CHARLES BOYTON & SON LTD: HISTORY AND INFORMATION





B P
A generic mark for Britannia Plate or British Plate


BRACHER & SYDENHAM
Reading
Active at Minster Street, Reading and later at Queen Victoria Street, Reading. The firm used the trade mark ROYAL COUNTY PLATE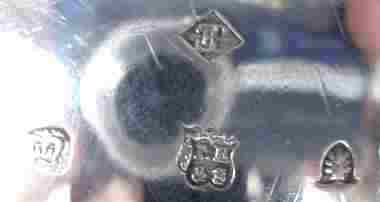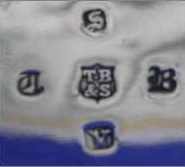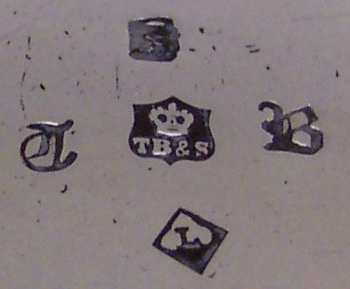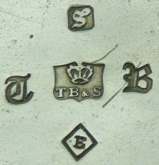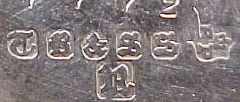 THOMAS BRADBURY & SONS
BRADBURY & HENDERSON
Sheffield
The firm was established in Sheffield as cutlers in 1736. In mid 18th century it traded under the style of Matthew Fenton & Co. Later they became silversmiths and Sheffield platers and registered their mark at the opening of the Sheffield Assay Office. In 1795 the business was sold to Thomas Watson who was joined by Thomas Bradbury (I). The firm became Thomas Bradbury & Son (1831), Thomas Bradbury & Sons (1855), Thomas Bradbury & Sons Ltd (1905). The mark "TB over JH" corresponds to the partnership of Thomas Bradbury III & John S. Henderson, lasting from 1877 to 1888. The mark "JB into a heart" stands for Joseph Bradbury for Thomas Bradbury & Sons.
Goodwill and dies acquired by Atkin Brothers in 1943.

THOMAS BRADBURY & SONS: HISTORY AND INFORMATION

THOMAS BRADBURY & SONS: SILVERPLATE DATE SYSTEM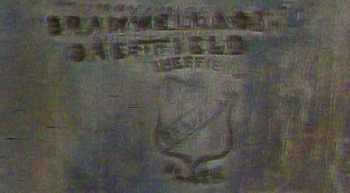 BRAMWELL & CO
BRAMWELL BROWNHILL & CO LTD
Sheffield
Succeeded in 1893 to the firm of Alfred R. Ecroyd. Active at Fawcett St (1893-1896) and 15 Henry St, Sheffield (1897-1927). The firm used the trade marks THE MASHER and RELIABLE (this was assumed from Ecroyd in 1891 as a revised mark previously used by the Sheffield Plate Co). The trade mark RELIABLE was used also by Marples, Wingfield & Wilkins - Sheffield)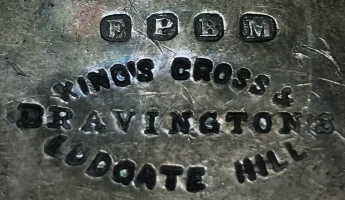 BRAVINGTON'S
BRAVINGTONS
BRAVINGTONS LTD
London
Goldsmiths and Jewellers, active c.1920 - c.1960 at King's Cross 71 Ludgate Hill and 189 Brompton Road, London


WILLIAM BREARLEY
Sheffield
Active from 1868 at Carver Street, Sheffield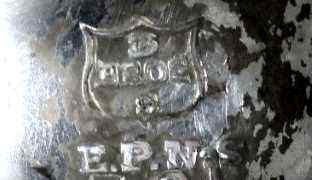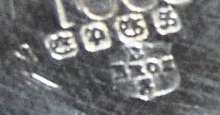 BRIDDON BROTHERS
BRIDDON BROTHERS & CO LTD
Sheffield
Briddon Alfred & Frederick, from 1863-1910 at Victoria Plate Works, 7 Eyre Lane, Sheffield. They became & Co Ltd in 1905. Manufacturers of Britannia Metal at Enterprise Works, St. Mary's Road (1908-1909)






WILLIAM BRIGGS
Sheffield
Formerly Furniss, Pole & Turner. Active at Button Lane, 21 Carver St, 13 Carver Lane 1828-1840) and 38 Furnival St (1841-1862 Furnival Works), Sheffield. Became Roberts & Briggs (1862-1864) and later Roberts & Belk (1865)

WILLIAM BRIGGS: ANCIENT ADVERTISEMENT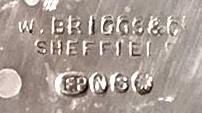 WILLIAM BRIGGS & CO
WILLIAM BRIGGS & CO (SHEFFIELD) LTD
Sheffield
Active at Wentworth Plate Works, 35 Andrew St, Wickes (1875-1922). Became William Briggs & Co (Sheffield) Ltd in 1900. Out of business in 1923



K. BRIGHT LTD
Sheffield
Established at Carver Street, Sheffield in 1949. The directors were Kenneth Bright (1911-1962) and his wife, Agnes. After the death of Kenneth Bright the business was continued by his sons John and Ian Bright. The firm, listed at River Lane (1974), Harwood Street (1981) and Boston Street (1991), was liquidated in 1995.


S.BRIGHT & CO
Sheffield
Established c. 1860 by Selim Bright. Active at Regent Terrace and Victoria Street, Sheffield


THE BRITISH METALLISING CO LTD
London
Active at 181 Queen Victoria Street, London. Out of business c. 1934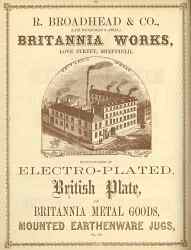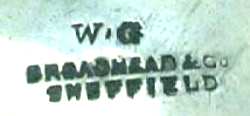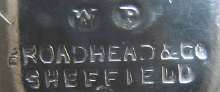 R. BROADHEAD & CO
Sheffield
Partnership of Rogers Broadhead, Joseph Thompson, Benjamin Grayson, and Thomas Marshall, late Broadhead & Atkin (until 1853), Britannia Works, Love Street, Sheffield. In an 1858 advertisement the firm is described as manufacturers of Electro-Plated, British Plate, Britannia Metal Goods, Mounted Earthenware Jugs. The partnership was dissolved in 1860. Succeeded by Benjamin Grayson & Son.

OLD IMAGE OF THE FACTORY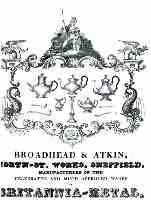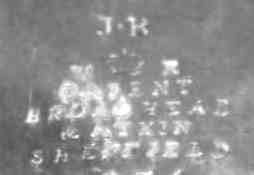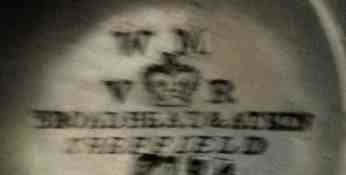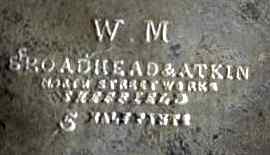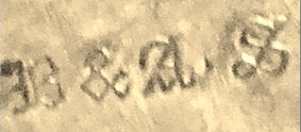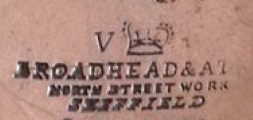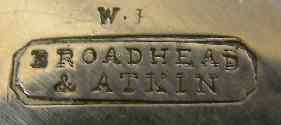 BROADHEAD & ATKIN
Sheffield
Active in North St. Works. A partnership of Rogers Broadhead and Henry Atkin at Love St, Sheffield (1834-1853). In 1853 the partnership was dissolved and they formed respectively R. Broadhead & Co and Atkin Brothers.
The Gentlemen's Magazine, July 1853, reported that on June 5, 1853, Charles Atkin, junior partner of Broadhead & Atkin dead of his own hand as "...for same time past he had been in a melancholy state mind concerning some partnership misunderstandings"


BROOK & SON
Edinburgh
William & Alexander James Steel Brook & Son. Active at 87 George St, Edinburgh, c.1891/c.1950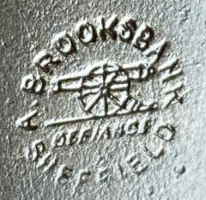 ABRAM BROOKSBANK & CO
Sheffield
active from 1884 at Malinda Works, Malinda St. Sheffield. The firm used a "CANNON" over DEFIANCE as figural trade mark. Carl Zoeller of Brisbane was an importer for Australian market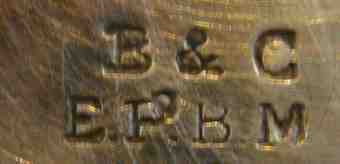 BROOKES & CROOKES
Sheffield
Established in 1858 by John Brookes and Thomas Crookes, active at Atlantic Works, 58 St Philip's Road, Sheffield. The company closed in 1957. A similar mark was used by Biddle & Collingwood - Birmingham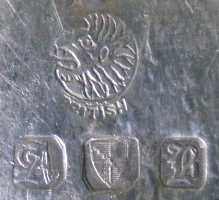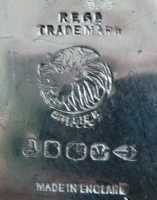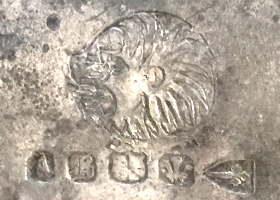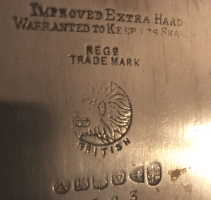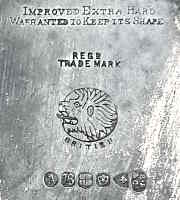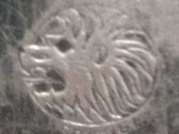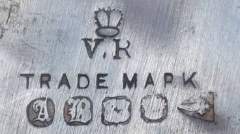 HOWES & BROWETT
ALFRED BROWETT
BROWETT, ASHBERRY & CO
Birmingham
The firm was founded in 1830 as Joseph Howes. Sometime between 1861 and 1870 a partnership was formed between Joseph Howes and Alfred Browett. The partnership was dissolved in May 1870 and the trade was carried out by Alfred Browett alone. In 1878 the firm was active (works and showrooms) as Electro Silver Plate and Britannia Metal manufacturer at 14 Dean Street, Birmingham. Later (before 1886) the firm became Browett, Ashberry & Co., a partnership between Alfred Browett and Wilford Haukrigg Ashberry. The partnership was dissolved by mutual consent, from 23rd December, 1892 and the business was henceforth carried on by Alfred Browett.

ALFRED BROWETT: HISTORY & MARKS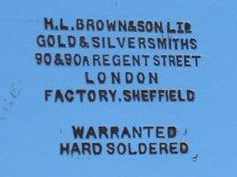 H.L. BROWN & SON LTD
Sheffield & London
Factory in Sheffield. Sales departments at 90 and 90A Regent Street, London and 2 Barker Pool, Sheffield


GEORGE BRYAN & CO
Birmingham (possibly)
Active at Standard Works, Great Hampton Street, Birmingham (c.1905 - c. 1950)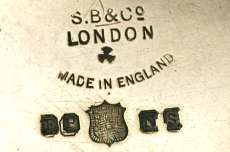 The successors of SAMUEL BUCKLEY & CO (OF LONDON & NEW YORK) LTD (possibly)
London & New York
Active in the 1910s as importer of gold and silver wares


BURGESS BROTHERS
Birmingham
Active at 43 Northampton Street, Birmingham

WILLIAM BURKINSHAW & SON
Sheffield
Active c. 1878 at 66 Eyre Street & Burgess Works, Union Lane, Sheffield. The firm used the trade mark TORPEDO


CHARLES TRUMAN BURROWS & SON
Birmingham
Active from 1903 at 59 Branston Street, Birmingham









ANTHONY BURTON
Sheffield
Active from 1901 at 23 Furnival St and 124 Broomhall St, Sheffield.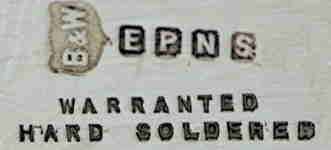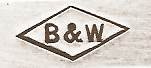 BURTON & WATERS
Birmingham
active 1921-1939







J.E. BUSHELL
Birmingham
Joseph Edward Bushell, 66 Branston Str, 12 Caroline Street and 66 Tower Str, Birmingham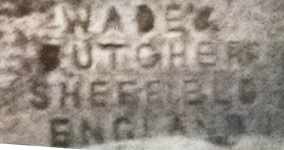 WILLIAM & SAMUEL BUTCHER
Sheffield
Close platers and cutlers. Active from c.1845 until c.1919 at 41 Eyre Ln/13 Furnival St/72 Arundel St. trading also as Wade & Butcher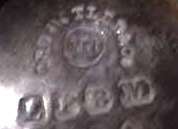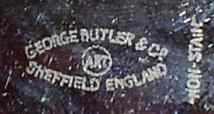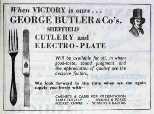 GEORGE BUTLER & CO
GEORGE BUTLER & CO LTD
Sheffield
The company's origins date back to 1681. In 1922 the firm was active in its Trinity Works in Sheffield with Showroom at 62 Holborn Viaduct, London. George Butler & Co Ltd had a wide range of patterns of stainless, silver plate and sterling silver flatware. From 1861 the firm used the trade mark ART. In 1994 the firm was bought by Arthur Price.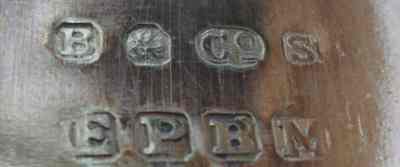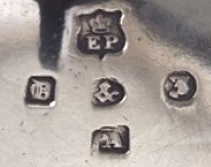 BUXTON & RUSSELL
BUXTON & CO
Sheffield
Buxton & Russel was a partnership between Edwin James Buxton and Samuel Russell (1852-1861). The partnership was dissolved and the firm became Buxton & Co (1861-1863). Active at Duke Place, St. Mary's Rd and Matilda Street, Sheffield (Samuel Russell entered in partnership with George Travis in Russell & Travis)
E.P.N.S. (Electroplated Nickel Silver) and EPBM (Electroplated Britannia Metal) are the most common names attributed to silver plate items. But many other names are used for silver plate:
EPWM - Electroplate on White Metal, EPC - Electroplate on Copper, Argentium, Argentine Plate, Argentum, Ascetic, Austrian Silver, Brazilian Silver, Buxbridge, Electrum, Encore, Exquisite, Insignia Plate, Nevada Silver, Norwegian Silver, Pelican Silver, Potosi Silver, Silverite, Sonora Silver, Spur Silver, Stainless Nickel, Stainless Nickel Silver, Venetian Silver, W.M White Metal,....
WORLDWIDE DIRECTORY OF SILVERPLATE MANUFACTURERS: HISTORY & MARKS
BRITISH TOWN MARKS AND DATE LETTERS
STERLING SILVER OF ENGLAND, SCOTLAND AND IRELAND
ALPHABETICAL LISTING OF MAKER'S MARKS

www.silvercollection.it
This is a page of 'The What is? Silver Dictionary' of A Small Collection of Antique Silver and Objects of vertu, a 1500 pages richly illustrated website offering all you need to know about antique silver, sterling silver, silverplate, Sheffield plate, electroplate silver, silverware, flatware, tea services and tea complements, marks and hallmarks, articles, books, auction catalogs, famous silversmiths (Tiffany, Gorham, Jensen, Elkington), history, oddities ...
HOME - SITE MAP - SILVER DICTIONARY - COOKIES CONSENT AND PRIVACY
These pages were useful? leave your LIKE on facebook

work in progress on this page - your help, corrections and suggestions will be greatly appreciated -