ENGLISH ELECTROPLATE SILVER
MARKS AND HALLMARKS OF SHEFFIELD AND BIRMINGHAM SILVER PLATE MAKERS
WITH THE ADDITION OF OTHER BRITISH, SCOTTISH AND IRISH MANUFACTURERS
This is a page of A Small Collection of Antique Silver and Objects of vertu, a 1000 pages richly illustrated website offering all you need to know about antique silver, sterling silver, silverplate, sheffield plate, electroplate silver, silverware, flatware, tea services and tea complements, marks and hallmarks, articles, books, auction catalogs, famous silversmiths (Tiffany, Gorham, Jensen, Elkington), history, oddities ...
SITE MAP - HOME PAGE
The two common forms of plated silver are Sheffield plate and silverplate/electroplate.
Sheffield Plate is a cheaper substitute for sterling, produced by fusing sheets of silver to the top and bottom of a sheet of copper or base metal. This 'silver sandwich' was then worked into finished pieces. At first it was only put on one side and later was on top and bottom.
Modern electroplating was invented by Italian chemist Luigi V. Brugnatelli in 1805. Brugnatelli used his colleague Alessandro Volta's invention of five years earlier, the voltaic pile, to facilitate the first electrodeposition. Unfortunately, Brugnatelli's inventions were repressed by the French Academy of Sciences and did not become used in general industry for the following thirty years.
Silver plate or electroplate is formed when a thin layer of pure or sterling silver is deposited electrolytically on the surface of a base metal. By 1839, scientists in Britain and Russia had independently devised metal deposition processes similar to Brugnatelli's for the copper electroplating of printing press plates.
Soon after, John Wright of Birmingham, England, discovered that potassium cyanide was a suitable electrolyte for gold and silver electroplating.
Wright's associates, George Elkington and Henry Elkington were awarded the first patents for electroplating in 1840. These two then founded the electroplating industry in Birmingham England from where it spread around the world.
Common base metals include copper, brass, nickel silver - an alloy of copper, zinc and nickel - and Britannia metal - a tin alloy with 5-10% antimony.
Electroplated materials are often stamped EPNS for electroplated nickel on silver, or EPBM for electroplated Britannia metal.

THE DIRECTORY OF BRITISH ELECTROPLATED SILVER MAKERS: Sa-Sh
SILVERPLATE MANUFACTURERS: MARKS' IMAGE & HISTORY
ALPHABETICAL LISTING OF SILVERPLATE MARKS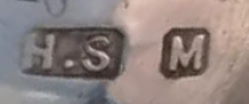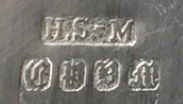 HARRIET SAMUEL
H. SAMUEL & SONS
Manchester
Established in 1862 by Harriet Samuel as a retail business in Manchester. After the acquisition of the James Walker Group (1984), merge with the Ratner Group (1985) and change of name to Signet Group Ltd (1993), H. Samuel claims to be the world's largest specialist jeweller with over 300 stores in the UK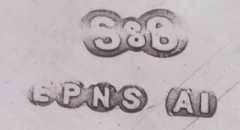 SANDERS & BLACKBAND (possibly)
Birmingham
Active 1936-1976 at 70/76 Blackwood St, Birmingham


SANDERS & CO
London
Jewellers and silversmiths active at 248 Oxford St, London. Partners Sidney Sanders and William Metherell trading as Sanders & Co & James Walker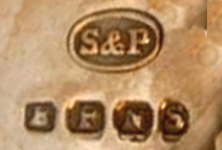 SANDERS & PEDLINGHAM
Birmingham
Sampson Sanders and Bernard Albert Pedlingham, active in 1920 at Great Hampton Street, Birmingham







JOHN SANDERSON
JOHN SANDERSON & SON
JOHN SANDERSON & SON (1929) LTD
Sheffield
John William Sanderson (1861-1955) was active at 18 Arundel St (1887-1889) and 34/36 Holly St. Sheffield (1895- c. 1905), for a while in partnership with John Norton Roe. In c. 1905 Sanderson moved to Argyle Works, Canning Street and c. 1914 became John Sanderson & Son. John Sanderson & Son (1929) Ltd was created in 1929 and was active at Trafalgar St, Sheffield (1929-1935). The firm used the trade mark ARGYLE PLATE and, possibly, FARQUHARSON




THOMAS SANSOM
Sheffield
Active from 1808 at Norfolk Street, Sheffield as cutler and Old Sheffield Plate manufacturer


SANSOM & DAVENPORT
Sheffield
Active at 114 Rockingham St, Sheffield (1853-1856) Succeeded to Jph Davenport (manufacturer of silver and electro-plated ware). In 1856 the firm became Sansom & Creswick




W.S. SAVAGE & CO
Sheffield
Active at 52 Pond St,(1863-1867) and at Standard Works, 173 Pond St, Sheffield (1876-1929). From 1900 the firm acted only as dealer. The firm used the trade mark ARIZONA SILVER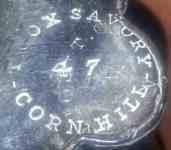 THOMAS COX SAVORY & CO
ADEY BELLAMY SAVORY
A.B. SAVORY & SONS
London
Mainly a retailer business established in 1751 by Jonas Cockerton. The firm became Adey Bellamy Savory (1812 or before 1833 united with Thomas Cox Savory & Co), A.B. Savory & Sons (1833-1866) and Goldsmiths' Alliance Ltd (1866-1893). In 1893 was incorporated in the Goldsmiths & Silversmiths Co Ltd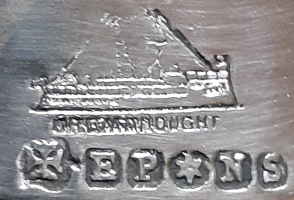 WILLIAM SAYNOR
WILLIAM SAYNOR & CO
W.SAYNOR LTD
Sheffield
founded in 1865 by William Saynor (1851-1903. In 1898 the firm was styled William Saynor & Co. After the death of William Saynor (1903) the firm became W. Saynor at Carlton Works, 29 Eyre Street, with Willie and George William Saynor (sons of William) as partners. In 1908 the firm became 'Ltd' moving to 15 Sidney Street. In 1952, W. Saynor Ltd was liquidated and in 1957 assets and marks were acquired by Needham, Veall & Tyzack. The firm used the trademarks and marks DEPEND, DREADNOUGHT, PIONEER and SAYNOR


ADOLPH SCOTT
ADOLPH SCOTT LTD
Birmingham
Active in the 1920s at 23/26 Great Hampton Street, Birmingham. The firm used the trade mark AMNORA


ALEXANDER SCOTT
Glasgow
A jeweller. The firm entered sterling silver hallmarks (also as Alexander Scott Ltd) in Edinburgh, Glasgow and Sheffield Assays Offices between 1920s and 1960s


W. SCOT
Sheffield
Old Sheffield Plate maker, registered 1807


ROBERT SCOTT
Glasgow
Active at Buchanan Street, Glasgow, c. 1890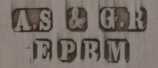 SCOTT & RANDLE
Sheffield and Birmingham
A partnership of Alexander Scott and George Randle. Active 1922-1931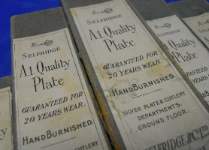 SELFRIDGE & CO LTD
London
A retailer shop active in Oxford Street, London.
The firm ussed the trade mark Marlborough Plate







SELIG, SONNENTHAL & CO
London and Sheffield
Founded in 1871, the Selig Sonnenthal company were originally known as M. Selig Junior & Co. and based at Lambeth Hill, Queen Victoria Street, London. As well as being manufacturers with a factory in Coventry, they were also very successful agents (various maker's and branding badges are found on their machine tools), importers and one of the leading retailers of engineering and associated products. Possibly the firm used the trade mark AFRICAN SILVER. The same trade mark was used by Spittle & Heape and Hills, Menke & Co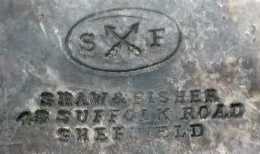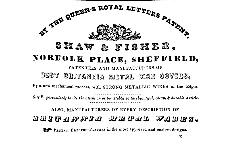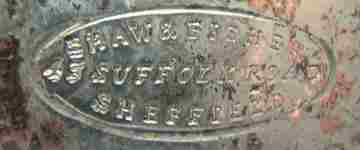 SHAW & FISHER
Sheffield
James Shaw & Fisher were active at Norfolk Place and Killham Works 39-43 Suffolk Rd, Sheffield (1835-1894) starting electroplating c. 1849. The firm used the trade mark BRISBANE SILVER. Succeeded by James Deakin & Sons Ltd. The firm used the trademark BRISBANE SILVER.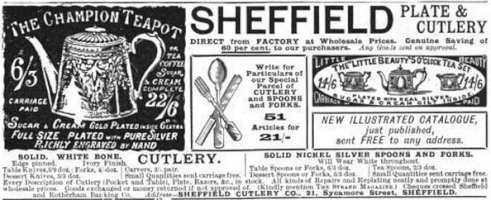 SHEFFIELD CUTLERY CO
Sheffield
Silverplate manufacturer active at 21 Sycamore Street, Sheffield (c.1896)


SHEFFIELD GOODS SUPPLY CO
Sheffield
Active at 39 Leadmill Rd, Sheffield (1891-1894)



SHEFFIELD PLATE CO
SHEFFIELD NICKEL & SILVER PLATING CO LTD
Sheffield
Active at Globe Works, Penstone Rd, Sheffield. Active 1873-1886










THE SHEFFIELD SILVER PLATE & CUTLERY CO LTD
Sheffield
Established in 1913 by Mappin & Webb to manufacture spoons and forks, using the American Wilzin process (in which flatware was formed under heavy presses). The Wilzin process was a failure, and in 1923, Mappin & Webb reverted to the old methods and reorganised the firm. Active in Priestley Street, Sheffield and 46a Holborn Viaduct, London until the 1960s. The firm used the trademarks OPOBA, SILTONA, SILCUTA and NOLBOGRECE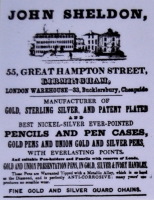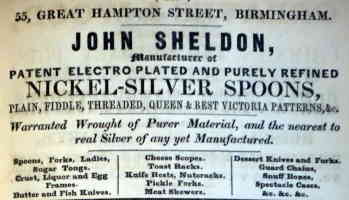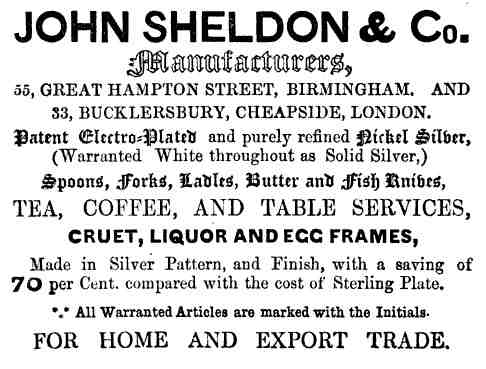 JOHN SHELDON
JOHN SHELDON & CO
Birmingham
Established 1830 as John Sheldon & Co and soon after in a short partnership (closed in 1832) with Joseph Smith as Sheldon and Smith, making spectacle cases, tobacco boxes and gunshot charges. Activity continued at 38/39 Lancaster Street (c.1842), 55 Great Hampton Street, Birmingham and 33 Bucklersbury, Cheapside, London. Manufacturer of "... spoons, forks, ladles, butter and fish knives, tea, coffee and table services, cruet, liquor and egg frames... All warranted articles are marked with the Initials"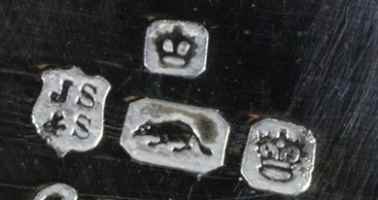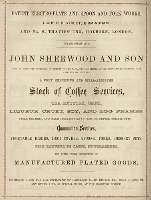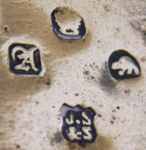 JOHN SHERWOOD & SON
J.R. & J. SHERWOOD
JOHN SHERWOOD & SONS
Birmingham
John Sherwood was active in Birmingham since 1839, solely and later as John Sherwood & Son. In 1849 he advertised with his sons Richard and John Junior as J.R. & J. Sherwood, manufacturers of silver plated wares at 76 Lichfield Street (Regent Works). John Sherwood & Sons of Birmingham, represented in London by their agents Hall & Russel at 185 Upper Thames Street and Queenhite, advertised in 1869 as manufacturers of silver and electroplated goods of every description.
George Sherrif Sherwood and William Sherwood, trading as John Sherwood & Sons, spoon and fork manufacturers etc. of Litchfield Street, Birmingham, dissolved their partnership on 18th October 1879.
J.Sherwood & Sons are subsequently recorded with William Sherwood, who retired on 31st December 1899, as a partner, together with Wilfred Sherwood (1899-1909) and George Sherwood (1901-1909), at Regent Works, Regent Street, Birmingham and 31 Ely Place, Holborn. The firm used a facing left "BEAVER" figural trademark (seen also a facing right 'beaver').
A similar trademark was used from the associated business Maxfield & Sons / W.Mammatt & Sons and by Fairfax & Roberts (an Australian silver retailer active in Sydney in the 1920s)



S.SHIERS & CO
Manchester and Blackpool
Active in the 1890s at 11, Exchange street, Manchester, as Jewellers and diamond dealers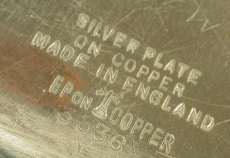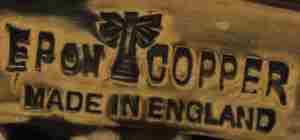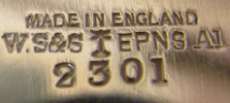 WILLIAM R.SHIRTCLIFFE & SON
WILLIAM R.SHIRTCLIFFE & SON LTD
Sheffield
Active at Rockingham St, Sheffield (1882-1886). Succeeded to William R. Shirtcliffe (1872-1881) and became Ltd in 1921.
The "signpost" mark was used also by William Suckling of Birmingham (see other page)
E.P.N.S. (Electroplated Nickel Silver) and EPBM (Electroplated Britannia Metal) are the most common names attributed to silver plate items. But many other names are used for silver plate:
EPWM - Electroplate on White Metal, EPC - Electroplate on Copper, Argentium, Argentine Plate, Argentum, Ascetic, Austrian Silver, Brazilian Silver, Buxbridge, Electrum, Encore, Exquisite, Insignia Plate, Nevada Silver, Norwegian Silver, Pelican Silver, Potosi Silver, Silverite, Sonora Silver, Spur Silver, Stainless Nickel, Stainless Nickel Silver, Venetian Silver, W.M White Metal,....
WORLDWIDE DIRECTORY OF SILVERPLATE MANUFACTURERS: HISTORY & MARKS
BRITISH TOWN MARKS AND DATE LETTERS
STERLING SILVER OF ENGLAND, SCOTLAND AND IRELAND
ALPHABETICAL LISTING OF MAKER'S MARKS

www.silvercollection.it
This is a page of 'The What is? Silver Dictionary' of A Small Collection of Antique Silver and Objects of vertu, a 1500 pages richly illustrated website offering all you need to know about antique silver, sterling silver, silverplate, Sheffield plate, electroplate silver, silverware, flatware, tea services and tea complements, marks and hallmarks, articles, books, auction catalogs, famous silversmiths (Tiffany, Gorham, Jensen, Elkington), history, oddities ...
HOME - SITE MAP - SILVER DICTIONARY - COOKIES CONSENT AND PRIVACY
These pages were useful? leave your LIKE on facebook

work in progress on this page - your help, corrections and suggestions will be greatly appreciated -