HALLMARKS AND MARKS OF GERMAN SILVER AND SILVERPLATE
MARKS AND HALLMARKS OF GERMANY
- 19TH AND 20TH CENTURY (AFTER 1888) -
This is a page of A Small Collection of Antique Silver and Objects of vertu, a 1000 pages richly illustrated website offering all you need to know about antique silver, sterling silver, silverplate, sheffield plate, electroplate silver, silverware, flatware, tea services and tea complements, marks and hallmarks, silver marking system and silver hallmarks guide, articles, books, auction catalogs, famous silversmiths (Tiffany, Gorham, Jensen, Elkington, WMF, Reed & Barton, Mappin & Webb, Bateman Family), history, oddities ...
SITE MAP - HOME PAGE
German hallmarking system was unified in 1888 (Decree January 7, 1886) adopting the national mark "Crescent and crown" (Halbmond und Reichskrone) for silver and the "Sun and Crown" (Sonne und Reichskrone) for gold.
Silver fineness is expressed in thousands with a minimum silver content of 800/1000, but 830, 835, 900, 925 and 935 purities are also used.
The alphabetic or figural maker's symbol complete the hallmark.
This system, still active in present days, is used for cutlery, plates or other silverware. In the area of silver jewellery only the silver content mark is more often present.

"Crescent and crown" (Halbmond und Reichskrone)
silver fineness 800/1000, 830/1000, 835/1000, 900/1000, 925 and 935/1000








SILVERPLATE
No official mark is prescribed for German silverplate. The number next to the trademark indicates the weight in grams used for silvering 12 forks and 12 spoons. 90 is the most frequent, but various other silver quantity of silver can be used in the process and the corresponding number is punched in silver-plated flatware. (20, 40, 60, 80, 90, 100, 110, 120, 150, 180)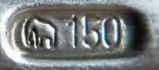 The directory of German silver and silverplate maker's marks
verzeichnis von silber- u. metallwarenfabriken, Deutsche firmenstampel auf silber un versilberten metallen
LETTERS / BUCHSTABEN
A B &nbsp C D &nbsp E F &nbsp G H &nbsp I J &nbsp K L &nbsp M N &nbsp O P &nbsp Q R &nbsp S T &nbsp U V &nbsp W X &nbsp Y Z &nbsp
SILVER AND SILVERPLATE MANUFACTURERS OF GERMANY
HERSTELLER VON SILBER UND VERSILBERTE METAL VON DEUTSCHLAND
ALPHABETICAL LIST OF NAMES / ALPHABETISCHEN NAMENSLISTE
CLICK MAKER'S NAME FOR MARK IMAGE AG. (Aktiengesellschaft)/joint stock company Gebrüder/Brothers GmbH/Ltd Sohn/Son Söhne/Sons Witwe/Widow
GERMAN SILVER HALLMARKS OF THE 19TH AND 20TH CENTURY (after 1888)

The directory of German silver and silverplate maker's marks
verzeichnis von silber- u. metallwarenfabriken, Deutsche firmenstampel auf silber un versilberten metallen
LETTERS / BUCHSTABEN
A B &nbsp C D &nbsp E F &nbsp G H &nbsp I J &nbsp K L &nbsp M N &nbsp O P &nbsp Q R &nbsp S T &nbsp U V &nbsp W X &nbsp Y Z &nbsp




Before 1888 the system of antique German silver marks was based on different town marks symbols and the silver fineness was indicated in "loth" (12 loth corresponding to 750/1000, 13 loth = 812/1000, 14 loth = 875/1000, 15 loth = 937/1000)

(click on name for image and information):




(click on the photo to enlarge image)
Koch & Bergfeld - Bremen, Kirchweg 200
Founded in Bremen in 1829 by Gottfried Koch and Ludwig Bergfeld (born in Hannover). Executed 1900-10 designs by Hugo Leven, Albin Muller and Henry van de Velde and in the twenties and thirties by Gustav Elsass and Bernhard Hotger
The firm is still active with a wide production of flatware and holloware ref: Neuwirth/Markenlexikon für Edle und Unedle Metalle No.286
Art Nouveau and Art deco Silver - by Annelies Krekle-Aalberse, p. 256

"JÄHNE" is a retailer mark. The "16737" is a Koch & Bergfeld's internal individual order number. They start around 1874 with numb. 1, until 1932 with numb. 82056. Source: Silber aus Bremen, Hrsg. C.-W. Schümann, Wienand Verlag, Köln 1979, 2nd 1990, p. 112. ISBN 3-87909-096-3

H&Co mark belongs to the wholesaler department of Henniger & Co., in Berlin S.W.68, Alte Jacob-Str. 106 [factory and administration]. They had shops in Berlin, Breslau, Dresden-A., Hamburg, Leipzig, Magdeburg, München. Gebrüder Henniger developed the so baptized "Neusilber" (New Silver or Nickel Silver), an alloy without any contents of Silver, which should have, be polished, the same optical appeal as a polished item made from 12 Lot (750/1000) Silver alloy. And they were from about 1842 on in Germany also the first, who have used the Electro Galvanic Plating Process.

The "Key" mark for hollowware was in use from 1942.
Number 8157, is the internal individual order number of Koch & Bergfeld. Numbering started in 1942 with number 1000, until 1978 with number 13158. Source: Silber aus Bremen«, Hrsg. C.-W. Schümann, Wienand Verlag, Köln 1979, 2nd 1990, p. 112. ISBN 3-87909-096



Lazarus Posen Witwe (Lazarus Posen's widow)
Berlin & Frankfurt/Main 20th century
ref: Bröhan/Metallkunst der Moderne vol. VI Marke Seite 108, No.87, Scheffler Goldschmiede Hessens No.631
The firm was founded in Frankfurt on the Main in 1869 by Brendina Wetzlar, the widow of Lazarus Jacob Posen, a silversmith and retailer of Polish descent. Under the widow Posen's stewardship, the firm became the largest supplier of Judaica in the late 19th century. Her son Jacob L. Posen joined the firm by 1880, and by 1900, the company's large staff of chasers and engravers were producing some of the finest silver in the country. They received a royal warrant in 1903. In the 20th century the firm was under the direction of Brendina's grandsons Jakob, Hermann and Moritz Posen. In 1938 the company was forcefully closed and looted on Kristallnacht (Night of Broken Glass - Novemberpogrome: courtesy information Jacob Frank)
The directory of German silver and silverplate maker's marks
verzeichnis von silber- u. metallwarenfabriken, Deutsche firmenstampel auf silber un versilberten metallen
LETTERS / BUCHSTABEN
A B &nbsp C D &nbsp E F &nbsp G H &nbsp I J &nbsp K L &nbsp M N &nbsp O P &nbsp Q R &nbsp S T &nbsp U V &nbsp W X &nbsp Y Z &nbsp

www.silvercollection.it
This is a page of 'The What is? Silver Dictionary' of A Small Collection of Antique Silver and Objects of vertu, a 1500 pages richly illustrated website offering all you need to know about antique silver, sterling silver, silverplate, Sheffield plate, electroplate silver, silverware, flatware, tea services and tea complements, marks and hallmarks, articles, books, auction catalogs, famous silversmiths (Tiffany, Gorham, Jensen, Elkington), history, oddities ...
HOME - SITE MAP - SILVER DICTIONARY - COOKIES CONSENT AND PRIVACY
This page was useful? leave your LIKE on facebook

- work in progress on this page - your help, corrections and suggestions will be greatly appreciated -