ENGLISH ELECTROPLATE SILVER
MARKS AND HALLMARKS OF SHEFFIELD AND BIRMINGHAM SILVER PLATE MAKERS
WITH THE ADDITION OF OTHER BRITISH, SCOTTISH AND IRISH MANUFACTURERS
This is a page of A Small Collection of Antique Silver and Objects of vertu, a 1000 pages richly illustrated website offering all you need to know about antique silver, sterling silver, silverplate, sheffield plate, electroplate silver, silverware, flatware, tea services and tea complements, marks and hallmarks, articles, books, auction catalogs, famous silversmiths (Tiffany, Gorham, Jensen, Elkington), history, oddities ...
SITE MAP - HOME PAGE
The two common forms of plated silver are Sheffield plate and silverplate/electroplate.
Sheffield Plate is a cheaper substitute for sterling, produced by fusing sheets of silver to the top and bottom of a sheet of copper or base metal. This 'silver sandwich' was then worked into finished pieces. At first it was only put on one side and later was on top and bottom.
Modern electroplating was invented by Italian chemist Luigi V. Brugnatelli in 1805. Brugnatelli used his colleague Alessandro Volta's invention of five years earlier, the voltaic pile, to facilitate the first electrodeposition. Unfortunately, Brugnatelli's inventions were repressed by the French Academy of Sciences and did not become used in general industry for the following thirty years.
Silver plate or electroplate is formed when a thin layer of pure or sterling silver is deposited electrolytically on the surface of a base metal. By 1839, scientists in Britain and Russia had independently devised metal deposition processes similar to Brugnatelli's for the copper electroplating of printing press plates.
Soon after, John Wright of Birmingham, England, discovered that potassium cyanide was a suitable electrolyte for gold and silver electroplating.
Wright's associates, George Elkington and Henry Elkington were awarded the first patents for electroplating in 1840. These two then founded the electroplating industry in Birmingham England from where it spread around the world.
Common base metals include copper, brass, nickel silver - an alloy of copper, zinc and nickel - and Britannia metal - a tin alloy with 5-10% antimony.
Electroplated materials are often stamped EPNS for electroplated nickel on silver, or EPBM for electroplated Britannia metal.

THE DIRECTORY OF BRITISH ELECTROPLATED SILVER MAKERS: Wa-Wh
SILVERPLATE MANUFACTURERS: MARKS' IMAGE & HISTORY
ALPHABETICAL LISTING OF SILVERPLATE MARKS


WADE, WINGFIELD, ROWBOTHAM & CO
WADE, WINGFIELD & ROWBOTHAM
Sheffield
The firm was established in 1751 (according to an undocumented source) and by 1816 was listed as Hoult, Rowbottam, Wingfield & Wade in Tenter Street. In 1818, John Hoult withdrew and henceforth the firm was run by John Rowbottam, John Wingfield, and Richard Wade. The firm specialised in table cutlery. Succeeded in 1832 to Wade, Wingfield, Rowbotham, and Co. The partnership between Richard Wade, John Wingfield, John Rowbotham, Alfred Rowbotham and Henry Colley was dissolved in 1851. They were Merchants, Steel Converters, and Manufacturers of Table and Pocket Knives, Files, Saws, and Razors and were succeeded by Wingfield, Rowbotham & Company (partnership of John Wingfield, Alfred Rowbotham and Henry Colley)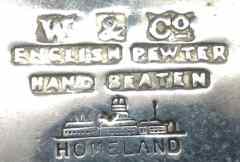 C.P. WALKER & CO LTD
Sheffield
Founded in 1907. Produced pewter from 1930 to 1935 using the trademark "HOMELAND". Active at St. Mary's St. 1907-1912; 21 Cambridge St, 1913-1918; 91 Button St, 1919-1935. In 1924 the firm became a limited company and produced electroplated wares.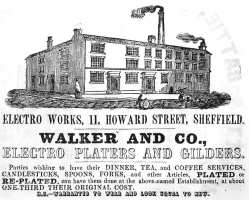 WALKER AND CO
WALKER, COULSON AND HALL
Sheffield
Partnership founded in 1845 active as electroplaters and gilders at 11 Howard Street, Sheffield, between George Walker, Samuel Coulson and William Robson. In 1848 William Robson left and Henry Hall entered in the partnership. In 1853 Walker & Hall was founded at the same address.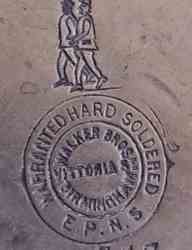 WALKER BROTHERS
Birmingham
Active at 69 Victoria St, Birmingham (1882 - c.1903)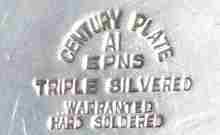 JAMES WALKER
JAMES WALKER LTD
London
The firm was founded in c. 1902 by Sidney Sanders and William Metherell. From 1907 the firm operated as Sanders & Co and later acquired the name James Walker from a jewelers shop in Peckham (established in 1823). In the 1920s the company was dissolved forming two new companies, James Walker and Sanders & Co. In 1969 the two companies were amalgamated as James Walker, Jeweller. The James Walker group was sold off in 1984 to H. Samuel, becoming later part of the Ratners jewellery Company. The firm had its headquarters and workshop at Century House Streatham using the trade mark CENTURY PLATE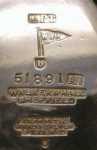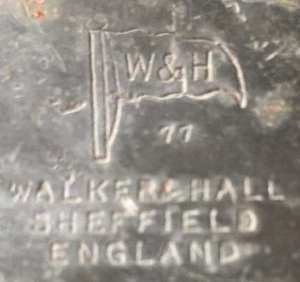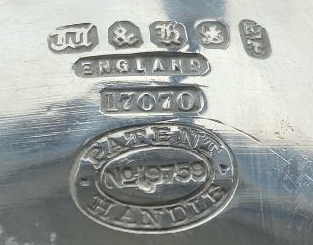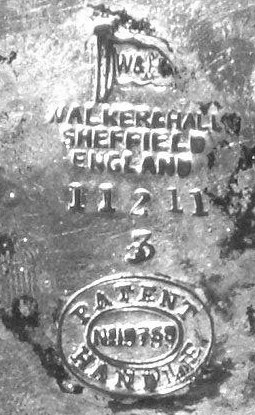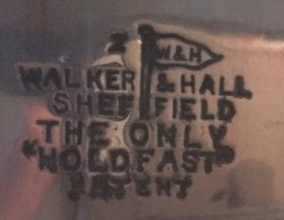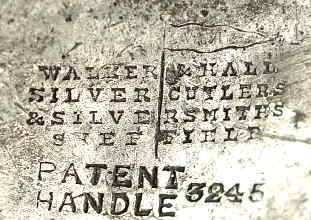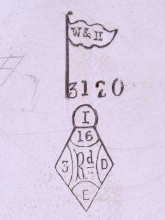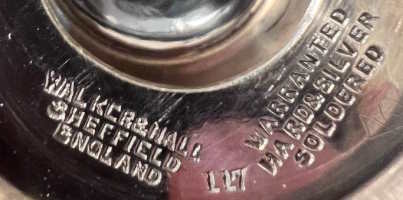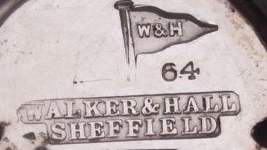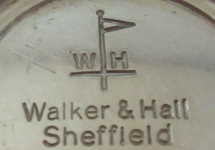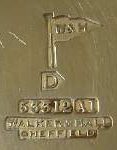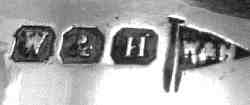 WALKER & HALL
Sheffield
The business was established in Sheffield in 1845 by George Walker. Becoming an assistant of Dr. John Wright who had conducted important experiments on electroplating Walker secured the royalty of electroplating for Sheffield. The business was joined by Henry Hall and became in 1853 Walker & Hall. The factory was at Howard Street, Sheffield, while showrooms were opened in 45 Holbornn Viaduct, London. Wholesale stock and showrooms were opened in Liverpool, Manchester, Leeds, Glasgow, Edinburgh, Newcastle, Cardiff, Belfast, Hull, Bristol, Melbourne Sydney and Adelaide (Australia), Cape Town (South Africa), Wellington (1911) Auckland (1914) Christchurch and Dunedin in New Zealand. Walker and Hall was converted into a limited liability company in 1920 under the style Walker & Hall Ltd and combined in 1963 under the British Silverware Ltd with Mappin & Webb and Elkington & Co. DISRAELI SILVER, FLAG PLATE, ORAMA, ORUBA, PALACE SILVER, SONORA SILVER, ZEEHAN SILVER are some of the trade marks used by the firm


unknown the meaning of NSPW mark (suggestions are welcome)
WALKER & HALL: HISTORY AND INFORMATION PAGE
WALKER & HALL DATE LETTERS
OLD IMAGES OF THE FACTORY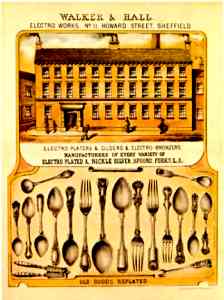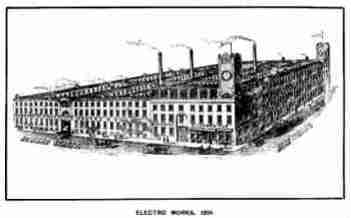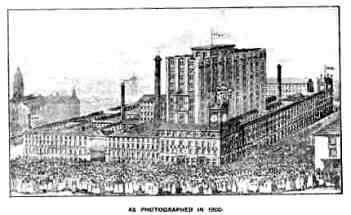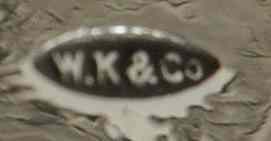 WALKER, KNOWLES & CO
Sheffield and London (possibly)
A long lasting partnership of Henry Greaves Walker and John Knowles under the firm of Walker, Knowles, and Company (hallmark entered in Sheffield Assay Office in 1836). They were silversmiths, manufacturers of Old Sheffield Plate and, later, electroplaters. Active at 55 Burgess street, Sheffield and 17 Buckingham street, Strand, London. The partnership was dissolved on November 1, 1860 and the business was continued by John Knowles solely on his own account, under the style of John Knowles and Son.
In 1909 Knowles & Sons, whose partner was George Goddard Knowles, was active as wholesale and manufacturing jewellers at 3,4 & 5 Belfast Chambers, 7 Beak Street, Regent Street, London. In 1911 G.G. Knowles joined for a short living partnership (closed in 1916) to Fredericks Ltd under the name Fredericks, Knowles & Co Ltd.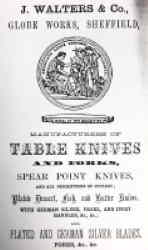 JOHN WALTERS & CO
Sheffield
John Lolewell Walters (1804-1868), active in Burgess Street, Sheffield from 1841 as maker of table and dessert knives and forks, and palette knives. In 1846 the company moved to Carver Street and in 1850 to part of Ibbotson Brothers' Globe Works in Neepsend (in 1862 Ibbotson vacated the Globe Works and it became associated entirely with John Walters). In 1865, Globe Works was occupied by Unwin & Rodgers, which acquired Walters's name and trade marks


GEORGE WARD
Sheffield & Manchester
Active at Exchange Street, Sheffield (c.1846)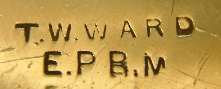 T.W. WARD
Sheffield
Thomas William Ward, active at Albion Works, Savile St, Sheffield (c.1853-1919). The firm used the trade mark BIRD IN HAND






THOMAS WARD & SONS LTD
Sheffield
Thomas Watkins Ward, originally founded his cutlery company in Warrington, Lancashire, however, by 1927 it was listed as being a cutlery and razor blade manufacturer in Wardonia Works, Countess Rd, Sheffield (1928-1952). They participated to British Industry Fair in 1929 (Thomas Ward, Chairman, Joint Managing Director and founder and Harold Ward, Joint Managing Director) and 1947. The firm used the trade mark WARDONIA PLATE and HASTINGS PLATE. Last notice 1961 as Manufacturers of razor sets, blades, cutlery and plates


W & S WARD
Manchester
Active at St. Mary Gate, Manchester (c.1858)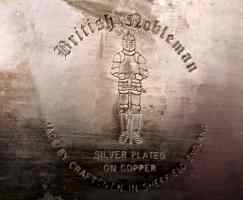 WARDLE & MATTHEWS LTD
Sheffield
Active 1966-2003 at Kimberley Street, Sheffield. The firm used a figural trademark under the name BRITISH NOBLEMAN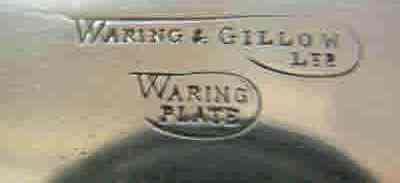 WARING & GILLOW LTD
Lancaster
A retailer business of a noted firm of English furniture manufacturers formed in 1897 by the merger of Gillow of Lancaster and Waring of Liverpool. The firm of Gillow's of Lancaster can be traced back to the luxury furniture and furnishings firm founded by Robert Gillow (1704-72) in 1730.


GEORGE WARRISS
GEORGE WARRISS & SONS
WARRISS & COMPANY (SHEFFIELD) LTD
Sheffield
George Warriss (1827-1906) active in School of Art Works Arundel Street (c.1850) and 32 Howard Street, Sheffield (1885). From 1906 the firm was styled George Warriss & Sons (John Henry Warriss,1848-1915, and George Connerath Warriss, 1861-1942). In 1946, the firm was incorporated as Warriss & Co (Sheffield) Ltd at Eyre Street moving to Arundel Street about 1973. In 2008 the company went out of business and the name was acquired by Pinder Bros.


WATCHMAKERS' ALLIANCE & ERNEST GOODE'S STORES LTD
London
A mail order business active in London, Oxford Street 184 (1885-1903)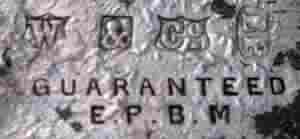 GEORGE WATERHOUSE & CO
Sheffield
active at 75 Carver Street, Sheffield








WATSON & GILLOTT
Sheffield
A partnership of William Watson and Herbert Gillott established in 1896. Cutlery manufacturers active at 23 Furnival St, (1897-1899) and Caledonia Plate Works 26 Eyre Lane, Sheffield (1900-1940). The firm used the trade mark CALEDONIA SILVER

SILVER ADVERTISEMENTS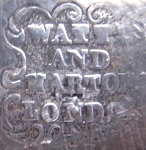 WATTS & HARTON
London
Pewter manufacturer, active 1836-1863


WILLIAM WEBSTER
Sheffield
Succeeded to Webster & Johnson at Sycamore Works, 14 Sycamore St, Sheffield (1864-1897). Became William Webster & Son c. 1870


JAMES WEIR
Glasgow
Jewellers & silversmiths at Buchanan Street, Glasgow. The firm became J Weir Ltd after c1920


WEIR & SONS
Dublin
Founded in 1869 by Thomas Weir, Weir & Sons has grown to become one of Dublins best recognised retailers. The company is still a family run business and currently has fourth and fifth generation family members working in it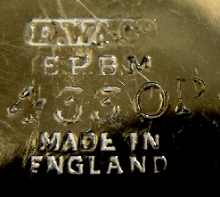 DANIEL WELBY & CO
London
active from 1897


JOSEPH WESTBY & CO
Sheffield
Active at Times Buildings, Bow St, Sheffield (1900-1911). Joseph Westby succeeded to his father John Westby, active at 20 Cambridge St, Sheffield (since 1894)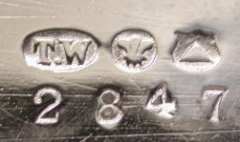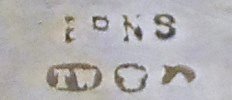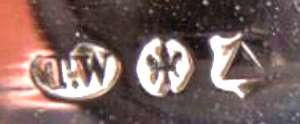 THOMAS WHITE
Sheffield
Active at 21 Westfield Terrace, Sheffield (1872-1891). Trade mark "The Squirrel"
According to another source the mark T.W refers to Thomas Woolley (both used a T.W mark into an oval and into a rectangle)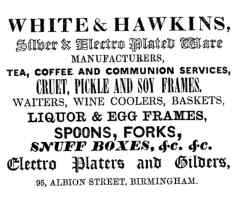 WHITE & HAWKINS
Birmingham
Partnership of Charles Henry White and Francis Henry Hawkins, manufacturers of silver and electro plated wares, active at 96 Albion Street (1858) and 15/16 Legge Lane, Birmingham. The partnership was dissolved in 1885 and F.H. Hawkins continued the business in his own name.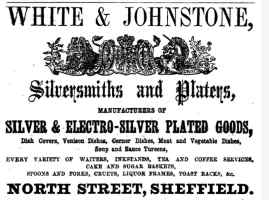 WHITE & JOHNSTONE
Sheffield
manufacturer of "silver & electro-silver plated goods". Active c.1862 in North Street, Sheffield


WHITE, HENDERSON & CO
Sheffield
Active (1866-1878) at Elcho Works, Burgess Street, Sheffield







FREDERICK WHITEHOUSE
FREDERICK WHITEHOUSE & CO
Birmingham
After 1882 succeeded to Benjamin Spittle (Spittle, Lister & Co, late David Cope & Son established 1789 and still working in 1875 at 7 New Bartolomew St/118 New Canal St). Active at Lion Works, Warstone Lane, Birmingham. The firm used the trademarks IMPERIAL SILVER, ELECTRO IMPERIAL, EVERWHITE SILVER) and AFGHAN SILVER. The trade name BRAZILIAN SILVER, property of Daniel & Arter was used without authorisation by Frederick Whitehouse & Co in the period 1885-1897.
E.P.N.S. (Electroplated Nickel Silver) and EPBM (Electroplated Britannia Metal) are the most common names attributed to silver plate items. But many other names are used for silver plate:
EPWM - Electroplate on White Metal, EPC - Electroplate on Copper, Argentium, Argentine Plate, Argentum, Ascetic, Austrian Silver, Brazilian Silver, Buxbridge, Electrum, Encore, Exquisite, Insignia Plate, Nevada Silver, Norwegian Silver, Pelican Silver, Potosi Silver, Silverite, Sonora Silver, Spur Silver, Stainless Nickel, Stainless Nickel Silver, Venetian Silver, W.M White Metal,....
WORLDWIDE DIRECTORY OF SILVERPLATE MANUFACTURERS: HISTORY & MARKS
BRITISH TOWN MARKS AND DATE LETTERS
STERLING SILVER OF ENGLAND, SCOTLAND AND IRELAND
ALPHABETICAL LISTING OF MAKER'S MARKS

www.silvercollection.it
This is a page of 'The What is? Silver Dictionary' of A Small Collection of Antique Silver and Objects of vertu, a 1500 pages richly illustrated website offering all you need to know about antique silver, sterling silver, silverplate, Sheffield plate, electroplate silver, silverware, flatware, tea services and tea complements, marks and hallmarks, articles, books, auction catalogs, famous silversmiths (Tiffany, Gorham, Jensen, Elkington), history, oddities ...
HOME - SITE MAP - SILVER DICTIONARY - COOKIES CONSENT AND PRIVACY
These pages were useful? leave your LIKE on facebook

work in progress on this page - your help, corrections and suggestions will be greatly appreciated -