ENGLISH ELECTROPLATE SILVER
MARKS AND HALLMARKS OF SHEFFIELD AND BIRMINGHAM SILVER PLATE MAKERS
WITH THE ADDITION OF OTHER BRITISH, SCOTTISH AND IRISH MANUFACTURERS
This is a page of A Small Collection of Antique Silver and Objects of vertu, a 1000 pages richly illustrated website offering all you need to know about antique silver, sterling silver, silverplate, sheffield plate, electroplate silver, silverware, flatware, tea services and tea complements, marks and hallmarks, articles, books, auction catalogs, famous silversmiths (Tiffany, Gorham, Jensen, Elkington), history, oddities ...
SITE MAP - HOME PAGE
The two common forms of plated silver are Sheffield plate and silverplate/electroplate.
Sheffield Plate is a cheaper substitute for sterling, produced by fusing sheets of silver to the top and bottom of a sheet of copper or base metal. This 'silver sandwich' was then worked into finished pieces. At first it was only put on one side and later was on top and bottom.
Modern electroplating was invented by Italian chemist Luigi V. Brugnatelli in 1805. Brugnatelli used his colleague Alessandro Volta's invention of five years earlier, the voltaic pile, to facilitate the first electrodeposition. Unfortunately, Brugnatelli's inventions were repressed by the French Academy of Sciences and did not become used in general industry for the following thirty years.
Silver plate or electroplate is formed when a thin layer of pure or sterling silver is deposited electrolytically on the surface of a base metal. By 1839, scientists in Britain and Russia had independently devised metal deposition processes similar to Brugnatelli's for the copper electroplating of printing press plates.
Soon after, John Wright of Birmingham, England, discovered that potassium cyanide was a suitable electrolyte for gold and silver electroplating.
Wright's associates, George Elkington and Henry Elkington were awarded the first patents for electroplating in 1840. These two then founded the electroplating industry in Birmingham England from where it spread around the world.
Common base metals include copper, brass, nickel silver - an alloy of copper, zinc and nickel - and Britannia metal - a tin alloy with 5-10% antimony.
Electroplated materials are often stamped EPNS for electroplated nickel on silver, or EPBM for electroplated Britannia metal.

THE DIRECTORY OF BRITISH ELECTROPLATED SILVER MAKERS: Da-Dh
SILVERPLATE MANUFACTURERS: MARKS' IMAGE & HISTORY
ALPHABETICAL LISTING OF SILVERPLATE MARKS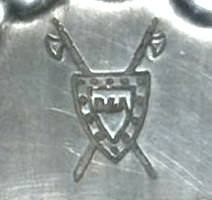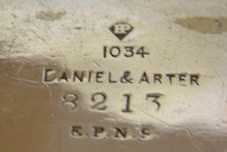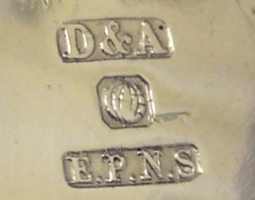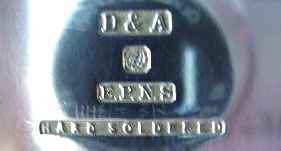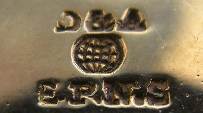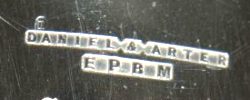 DANIEL & ARTER
DANIEL & ARTER LTD
Birmingham
Firm established by Thomas Henry Daniel and Thomas Richard Arter at the Globe Nevada Silver Works, Highgate Street, Birmingham. The firm was converted in 1920 into a limited liability company under the style Daniel & Arter Ltd. The business closed in the 1930s.
Daniel & Arter used these trade marks:
ALUMINUM SILVER, ARGELLINE, BENGAL SILVER, BRAZILIAN SILVER, BURMAROID, CONNAUGHT, INDIAN SILVER, JAPANESE SILVER, LAXEY SILVER, NEVADA SILVER
From 1881 Daniel & Arter manufactured spoons and forks under the title BRAZILIAN SILVER. The trade name was registered in 1885. The same trade name was used without authorisation by Frederick Whitehouse & Co in the period 1885-1897.
The "AS and crown" mark stands, probably, for ALBATA SILVER.

DANIEL & ARTER: HISTORY AND INFORMATION PAGE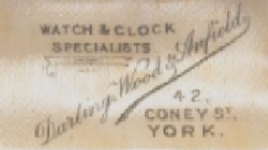 DARLING WOOD & ANFIELD
York
The partnership of Annie Wood, Walter Anfield and Alfred Anfield, Jewellers Watchmakers Clockmakers and Wireless Instrument Dealers at 42 Coney Street, York under the style of DARLING WOOD and ANFIELD was dissolved June 30, 1942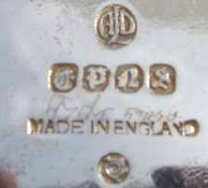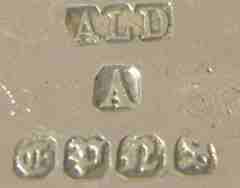 A.L. DAVENPORT Ltd
Birmingham
The firm was established by James Davenport circa 1927. In 1932 he purchased T. Wilkinson & Sons Ltd. After his death the factory was managed by his son Eric Davenport. The company ceased trading in 1971


DAVENPORT & BRAY
Sheffield
Active at Albion Works, 57 Eyre St, Sheffield (1871-c.1874). At the same address the activity was continued by George Davenport until 1884.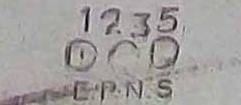 DAVIES & POWERS
Birmingham
Hockley Hill, Birmingham, 1930s/1960s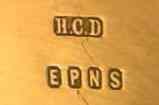 HENRY CLIFFORD DAVIS
Birmingham
Active at 121 Vyse St, (c. 1910), Hartford St, (c. 1913) and 23 Warstone Lane, Birmingham (c.1933). Similar hallmarks for sterling silver items were entered in Birmingham and in Chester (1953) Assay Offices. After 1933 the style was changed to H.Clifford Davis Ltd.

DAVIS, DUFF & SON
DAVIS, DUFF & SON LTD
Glasgow
Active as Davis, Duff & Son since late 19th century (attested by the 'crown' in the early mark). Information as Ltd c. 1937 - c. 1959

DAWSON & CO
Birmingham
c. 1897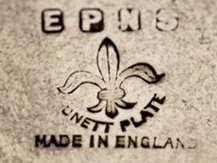 DAWSON (BIRMINGHAM) LTD
Birmingham and Sheffield
Scarce information is available about this company. The business was founded in 1884 in Birmingham, where was active at 82/83 Unett Street. A Dawson (Birmingham) Ltd was active in 1940 as cutlery manufacturer at 136 West Street, Sheffield. Probably the business moved from Birmingham to Sheffield when, in WWII, flatware production was concentrated in Sheffield by Government order (DAWSON marks with 1942 "broad arrow" are known). Out of business c. 1980. The firm used the trademark UNETT PLATE

H. DAWSON, WILKINSON & CO
Sheffield (possibly)
Active at Sycamore Street, Sheffield as Old Sheffield Plate maker (c. 1833)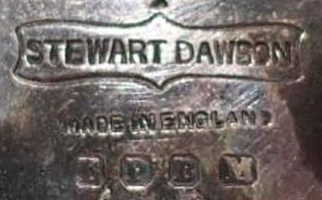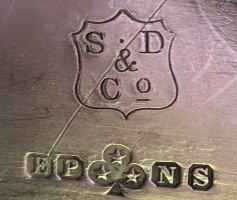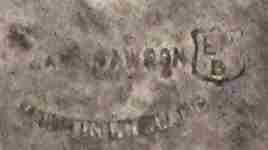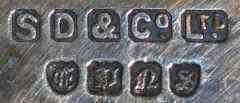 STEWART DAWSON & CO
STEWART DAWSON & CO LTD
London
A retail business established in 1869 by David Stewart Dawson. The firm Stewart Dawson & Co was active as jewellers and watch manufacturer at Hatton Garden London, with premises in Melbourne and Sydney, Australia. In 1907 the firm was converted to Stewart Dawson & Co Ltd (until c. 1935). Various sterling silver hallmarks were entered in Birmingham, Chester and London Assay Offices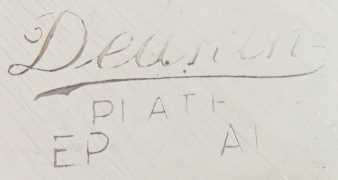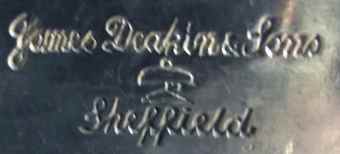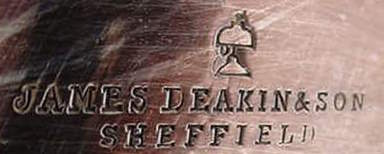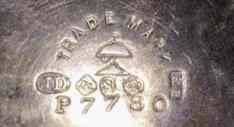 JAMES DEAKIN & SONS
JAMES DEAKIN & SONS LTD
DEAKINS (SILVERSMITHS) LTD
Sheffield
The firm was established in 1865 by James Deakin at Sidney Works, Matilda Street, Sheffield. Before 1886 he was joined in partnership by his three sons, William Pitchford, John and Albert and the style of the firm was changed to James Deakin & Sons. In 1888 they opened London offices and showrooms at 48 Holborn Viaduct. Other branches were opened at Glasgow and Belfast. In 1897 the firm was converted to James Deakin & Sons Ltd.
In 1935, James Deakin & Sons Ltd was part of a short-lived merger "Silver & Steelcrafts Ltd" that included Fenton Bros and J.H. Potter & Sons. The combine collapsed within three years. In 1939 was created Deakins (Silversmiths) Ltd, active at 6 Earl Street and, from 1943 at Sidney Works, Matilda Street. They were liquidated in 1967.
In 1961 the brand was part of the "MONOGRAM" CUTLERY GROUP belonging to I.S. Dearden & Sons Ltd. manufacturing holloware and flatware under the "Bell brand" in the patterns 'Gordon', 'Balmoral' and 'Empire'.
Trade marks used: AZTEC, BELL SILVER, BRISBANE SILVER, PURITAN, REVLIS, SARBON, SHAW & FISHER, SIDNEY SILVER. The figural trade mark (table bell) was used from 1871 to 1936.

JAMES DEAKIN & SONS: HISTORY AND INFORMATION PAGE




JOSEPH DEAKIN & SONS
Sheffield
114 Green Lane (1855-1862); Spring St (1863-1885); 51 Bridge St (1886-1891).


I.S. DEARDEN
I.S. DEARDEN & SONS LTD
Sheffield
Isaac Samuel Dearden, originally a partner in 'Goff and Dearden', circa 1945, Gell St/Monmouth Lane. Partnership dissolved 1951.
Dearden started his own company in 1957 at Dacre Works, Dacre Street. Before 1961 was created the "MONOGRAM" CUTLERY GROUP (Dacre Works, Liverpool Street) formed by I.S. Dearden & Sons Ltd (manufacturers of 'Silva Sheer' scissors and 'Monogram' cutlery), F.A. Kirk (Cutlery) Ltd, James Deakin & Sons Ltd (silversmiths and holloware and flatware manufacturers) and Stamforge (Sheffield) Ltd (forgers). The firm went bankrupt in 1969


DEARDEN & RICHMOND
Sheffield
Listed in 1927 at Watery Street and in 1934 at 15 Lister Lane. After WWII the firm was active at Enterprise Works, S.Mary's Road, Sheffield. The proprietor was Harry Dearden Turton (1884-1959) who managed the firm until his death. The "X-NS" is a generic mark put on the limited amount of cutlery made at Sheffield for public sale during the WWII period as opposed to the production made for government war contracts.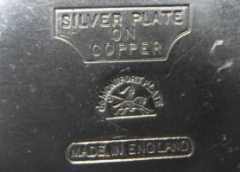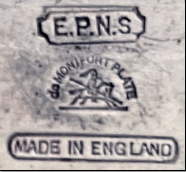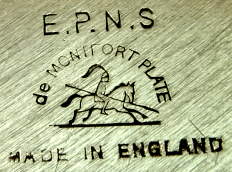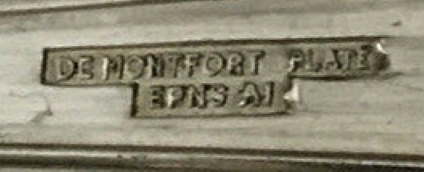 DE MONTFORT PLATE
Sheffield
manufacturer of silverplate cutlery and holloware. Probably active in the second quarter of 20th century.

E.DENT & CO
E.DENT & CO LTD
London
The firm E. Dent & Co. was originally founded by the English watchmaker Edward John Dent (1790 - 1853), renowned for the clocks he made for the Royal Exchange and Westminster (Big Ben). After a partnership with John Roger Arnold ("Arnold & Dent") he established himself at 82 Strand and at 33 Cockspur Street. After his death, the business was continued by his stepsons Frederick and Richard, followed by their successors. The company's name was changed to E. Dent & Co (1861) and in 1920 to E. Dent & Co Ltd. The firm used the trade mark BIG BEN
E.P.N.S. (Electroplated Nickel Silver) and EPBM (Electroplated Britannia Metal) are the most common names attributed to silver plate items. But many other names are used for silver plate:
EPWM - Electroplate on White Metal, EPC - Electroplate on Copper, Argentium, Argentine Plate, Argentum, Ascetic, Austrian Silver, Brazilian Silver, Buxbridge, Electrum, Encore, Exquisite, Insignia Plate, Nevada Silver, Norwegian Silver, Pelican Silver, Potosi Silver, Silverite, Sonora Silver, Spur Silver, Stainless Nickel, Stainless Nickel Silver, Venetian Silver, W.M White Metal,....
WORLDWIDE DIRECTORY OF SILVERPLATE MANUFACTURERS: HISTORY & MARKS
BRITISH TOWN MARKS AND DATE LETTERS
STERLING SILVER OF ENGLAND, SCOTLAND AND IRELAND
ALPHABETICAL LISTING OF MAKER'S MARKS

www.silvercollection.it
This is a page of 'The What is? Silver Dictionary' of A Small Collection of Antique Silver and Objects of vertu, a 1500 pages richly illustrated website offering all you need to know about antique silver, sterling silver, silverplate, Sheffield plate, electroplate silver, silverware, flatware, tea services and tea complements, marks and hallmarks, articles, books, auction catalogs, famous silversmiths (Tiffany, Gorham, Jensen, Elkington), history, oddities ...
HOME - SITE MAP - SILVER DICTIONARY - COOKIES CONSENT AND PRIVACY
These pages were useful? leave your LIKE on facebook

work in progress on this page - your help, corrections and suggestions will be greatly appreciated -