ENGLISH ELECTROPLATE SILVER
MARKS AND HALLMARKS OF SHEFFIELD AND BIRMINGHAM SILVER PLATE MAKERS
WITH THE ADDITION OF OTHER BRITISH, SCOTTISH AND IRISH MANUFACTURERS
This is a page of A Small Collection of Antique Silver and Objects of vertu, a 1000 pages richly illustrated website offering all you need to know about antique silver, sterling silver, silverplate, sheffield plate, electroplate silver, silverware, flatware, tea services and tea complements, marks and hallmarks, articles, books, auction catalogs, famous silversmiths (Tiffany, Gorham, Jensen, Elkington), history, oddities ...
SITE MAP - HOME PAGE
The two common forms of plated silver are Sheffield plate and silverplate/electroplate.
Sheffield Plate is a cheaper substitute for sterling, produced by fusing sheets of silver to the top and bottom of a sheet of copper or base metal. This 'silver sandwich' was then worked into finished pieces. At first it was only put on one side and later was on top and bottom.
Modern electroplating was invented by Italian chemist Luigi V. Brugnatelli in 1805. Brugnatelli used his colleague Alessandro Volta's invention of five years earlier, the voltaic pile, to facilitate the first electrodeposition. Unfortunately, Brugnatelli's inventions were repressed by the French Academy of Sciences and did not become used in general industry for the following thirty years.
Silver plate or electroplate is formed when a thin layer of pure or sterling silver is deposited electrolytically on the surface of a base metal. By 1839, scientists in Britain and Russia had independently devised metal deposition processes similar to Brugnatelli's for the copper electroplating of printing press plates.
Soon after, John Wright of Birmingham, England, discovered that potassium cyanide was a suitable electrolyte for gold and silver electroplating.
Wright's associates, George Elkington and Henry Elkington were awarded the first patents for electroplating in 1840. These two then founded the electroplating industry in Birmingham England from where it spread around the world.
Common base metals include copper, brass, nickel silver - an alloy of copper, zinc and nickel - and Britannia metal - a tin alloy with 5-10% antimony.
Electroplated materials are often stamped EPNS for electroplated nickel on silver, or EPBM for electroplated Britannia metal.

THE DIRECTORY OF BRITISH ELECTROPLATED SILVER MAKERS: Ha-Hh
SILVERPLATE MANUFACTURERS: MARKS' IMAGE & HISTORY
ALPHABETICAL LISTING OF SILVERPLATE MARKS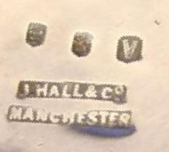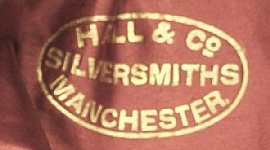 JOHN HALL (possibly)
JOHN HALL & CO
Manchester
Origin of the business in 1830 as Hatfield & Hall, 68 King Street, Manchester. In 1860 the firm was restyled as John Hall & Co. by partners John Hall Sr, John Clapham, Willian Henry Hall and John Hall Jr.


W. HALL
Sheffield
An 'Old Sheffield Plate' maker active c. 1820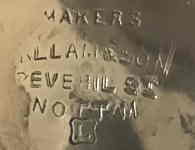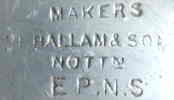 H.HALLAM & SON
Nottingham
Clockmaker active 1849-1856 at Peveril Street, Nottingham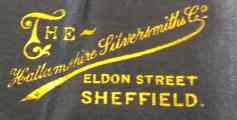 THE HALLAMSHIRE SILVERSMITHS CO
Sheffield
Active at Eldon Street, Sheffield


HAMILTON & CO
London
The firm succeeded in 1901 to Incorporated Goldsmiths Realization Co. The sole partner was Edward J. Duveen, active at 202 Regent St, London (1903). The business was continued until late 1904/early 1905 when the lease was disposed of and the stock sold by Debenham, Storr & Son Ltd. Altough is said that the business was discontinued, Hamilton & Co were still listed as Jewellers from 1908 at 432 Strand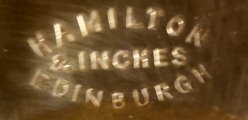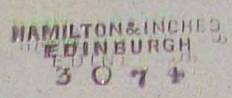 HAMILTON & INCHES
Edinburgh
The firm began in 1866 as a family business and founded its silver shop in 1896. The firm is still active and holds a Royal Warrant as Silversmiths of Her Majesty The Queen

HAMILTON & INCHES: HISTORY and MARKS




HAMILTON, CRICHTON & CO (possibly)
Edinburgh
Active c. 1874-1884. Also referred to as Hamilton & Crichton. The two names seem to represent the same business, conducted from two different premises. Continuation of John Hamilton & Son (1867-1874) at the same address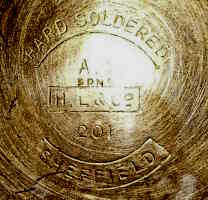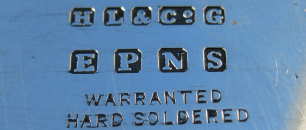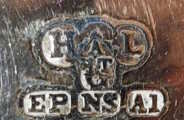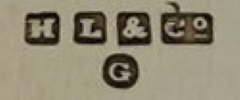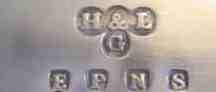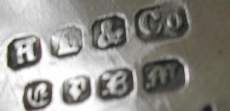 HAMILTON & LAIDLAW
HAMILTON, LAIDLAW & COMPANY
Glasgow and Sheffield
Jewellers active at Queen Street and now at 84 Miller Street, Glasgow. Registered marks at Glasgow in 1891 (as "Ltd" from 1961 to 1987) and Edinburgh Assay Offices. The firm used the trade mark DORRIT SILVER (possibly). Found the trademark ARGENT SILVER in a couple of spoons marked "H.L & Co G" and "M.L & Co G"


HAMMOND CHARLES
Sheffield (possibly)
An OSP maker, active at Church Ln, Sheffield, c. 1824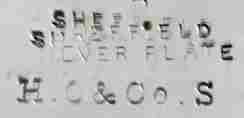 HAMMOND, CREAKE & CO
Sheffield
Active at St. Mary's Rd, Sheffield (1886-1935). Converted into a limited liability company in 1920. The mark SAC into a trefoil stands for Saint Arnaud Creake





THOMAS HANDS
THOMAS HANDS & SON
Birmingham
Active from 1850 at 8 New Hall St and 38 Suffolk St, Birmingham. In 1861 the firm changed to Thomas Hands & Son. The firm used the trade mark PERUVIAN SILVER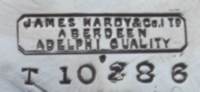 JAMES HARDY & CO
JAMES HARDY & CO LTD
Aberdeen
Probably successor to James Hardy, clock and watchmaker, 14 Union Street, Aberdeen, 1860, at No 41 in 1865 and No 53 by 1880. Became James Hardy & Son and James Hardy & Co (c.1880). Branches were opened in Edinburgh and Glasgow. London branch was sold to William Duncan Cooper in 1897.
James Hardy & Co Ltd was active in Edinburgh 1939-70 succeeding to Mackay, Cunningham & Co as diamond merchants, watchmakers, jewellers & silver smiths.
Hardy & Co and Hardy & Co Ltd acted as retailers of Roberts & Belk ('Aladdin lamp' trade mark) and Allen & Darwin ('Hourglass' trade mark) .


HARDY BROTHERS
HARDY BROTHERS LTD
London
The London branch of Hardy Brothers Ltd (of Sydney and Brisbane) active at St. Ives and Huntington, moving to 43 Old Burlington Street, Regent Street (1916) and 52 Highpoint, North Road, Highgate (1943). Founded in 1853 by John Hardy and his elder brother Samuel Hardy. John Hardy sailed to Australia where shops were established in Sydney, Brisbane and Melbourne while the London Branch was administered by Samuel Hardy. In 1907 the firm was converted into a limited liability company under the style Hardy Brothers Ltd.


JAMES HENRY HARDY
Sheffield
Active at 2 Charles St and 95 Upper St, Philips Rd (1872-1885), 33 Leicester St (1886-1897)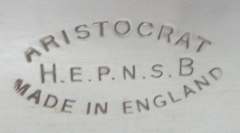 HARMAN BROS LTD
Birmingham
Manufacturers of cigarette cases. cigarette boxes, ashtrays, tankards and child sets, napkin rings. Established c. 1918, active at Great King Street and later at 115-118 Vyse Street, Birmingham. Acquired by Kenneth West c. 1965 continued activity until c. 1997. The firm used the trade marks ARISTOCRAT, HAR-BRO, LEATHERLITE, PANDORA and RICHMOND


GEORGE W. HARRIS & CO
Sheffield
Started electroplating in 1858 at 83 Arundel St. Sheffield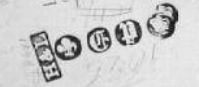 HARRIS & LAND
Sheffield
1863-1864 at 23 Orchard Lane, Sheffield. Formerly traded as William Harris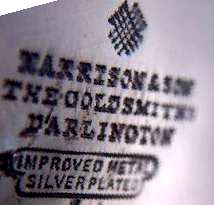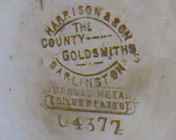 HARRISON & SON
HARRISON & SONS
Darlington (Durham)
Supposedly a retailer, active at High Row, Darlington. Entered hallmarks in Birmingham Assay Office c. 1911/1938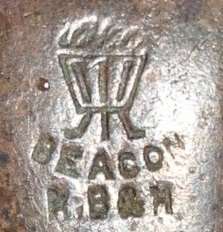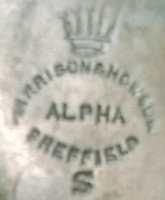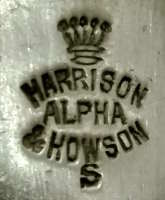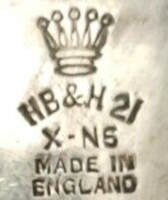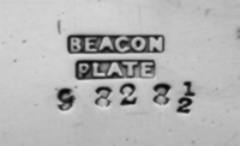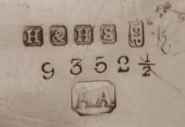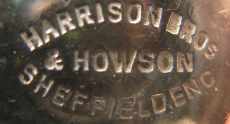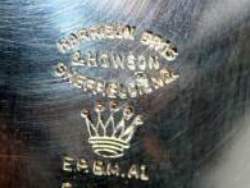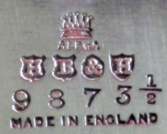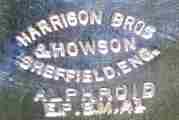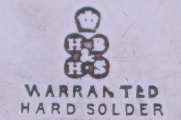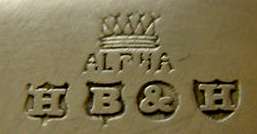 HARRISON BROTHERS & HOWSON
Sheffield
Founded in 1847 by James William Harrison, Henry Harrison and William Howson. The firm, originally at Norfolk Street, Sheffield expanded in the 1880s to Shoreham Street Works. A new factory was built at Carver Street in 1898. The trademark was taken over by Viners of Sheffield in 1923.
The firm used the trade mark ALPHA PLATE, BEACON PLATE, HALPHROID and LUSTROUS

HARRISON BROTHERS & HOWSON: HISTORY and MARKS













JOHN HARRISON
JOHN HARRISON & CO
JOHN HARRISON & CO LTD
Sheffield
Active at Norfolk Lane (1833-1843) and Norfolk Works 116-122 Scotland St, (1843-1865). The firm was the first to start electroplating in Sheffield. The firm became John Harrison & Co in 1866 and John Harrison & Co Ltd in 1873. The business was taken over by Richard Richardson in 1889





W.W. HARRISON
W.W. HARRISON & CO
Sheffield
William Wheatcroft Harrison, Montgomery Works, Pepper Alley, Fargate (1857-1883), 230 Rockingam St. (1884-1911), Arundel St., Sheffield (1912-1918). London Wharehouse at 99 Hatton Garden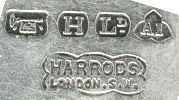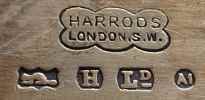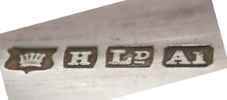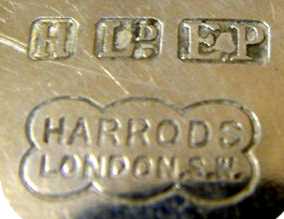 HARROD STORES LTD (HARRODS)
London
The Knightsbridge department store was founded in 1849 by Henry Charles Harrod. The business was converted to a limited liability company in 1889. In 1928 Harrods Ltd bought Edwards & Sons and in 1934 Elkington & Co Ltd.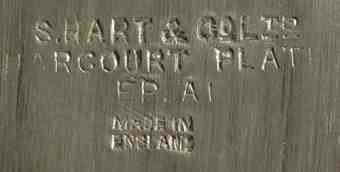 S. HART & CO LTD
Sheffield
c. 1950. The firm used the trademark HARCOURT PLATE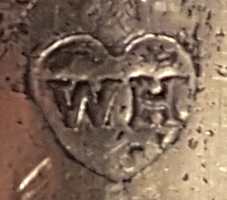 THE WAYNE HART & CO
Birmingham
Leslie James Anthony Hartley trading as The Wayne Hart Co, Warstone Lane, Birmingham c.1946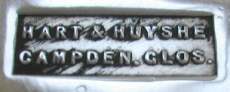 HART & HUYSHE
Campden, Glos.
George Henry Hart (1882-1973) was one of the original silversmiths who moved with Charles Ashbee and the Guild of Handicraft from London to Chipping Camden in 1902. After 1933 he was joined by his half-brother Reynell Huyshe and the impressed mark on some metal wares was Hart and Huyshe, Campden, Glos.



W.A. HARTLEY
HARTLEY, BAXTER & CO
HARTLEY & BAXTER
Sheffield
Business opened in c. 1894 by William Albert Hartley (Central Works, West Street). In 1898 Arthur Baxter joined to the business founding Hartley, Baxter & Co Ltd sharing its premises with S. Hibbert & Son at 82 Tenter St. Sheffield. In 1902 the company was liquidated and Hartley & Baxter began a new partnerhip at Bath Works, Bath Street. In 1921 the partnership was dissolved and Hartley continued to sell silver and silverplate as Hartley & Baxter (he died in 1928). The company was listed until 1936 and from 1933 to 1940 was active at 40 Matilda St. sharing its premises with Harold Jay.



HENRY MILLINGTON HARWOOD & SON
Birmingham
active at Newhall St. Birmingham, c. 1894/1896



HENRY MILLINGTON HARWOOD & HENRY HODSON PLANTE
Birmingham
see Henry Hodson Plante & Co and HENRY HODSON PLANTE for further information







THOMAS HARWOOD
THOMAS HARWOOD & SONS
Birmingham
Thomas Harwood, active in Birmingham as close plater (c.1816) and plater (1845-1864). Succeeded by Thomas Harwood & Sons (1864-1896)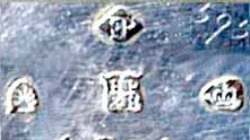 HARWOOD, PLANTE & HARRISON
Birmingham
successors to Harwood, Sons & Harrison

see HENRY HODSON PLANTE for further information



HARWOOD, SONS & HARRISON
Birmingham
partnership of Henry Millington Harwood and Walter Andrew Harrison owners of Harwood, Sons & Harrison. Circa 1883-1886 Henry Hodson Plante entered in the partnership and the silversmiths and spoon makers' activity changed its name to Harwood, Plante & Harrison (active at 185-187 Newhall Street, Birmingham and 12 Hatton Garden, London). In 1886 Walter Andrew Harrison left the partnership and the activity continued at the same address as Harwood & Plante. The partnership between Harwood and Plante was dissolved in 1892 (the activity was continued as Harwood & Son until c. 1894-1899). The lozenge/diamond with "P" is a mark used by Henry Hodson Plante.

see HENRY HODSON PLANTE for further information

EDWARD JOHN HASELER
HASELER BROTHERS
Birmingham - possibly -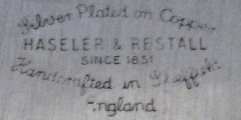 HASELER & RESTALL
Sheffield (possibly)
The firm claims to be a silver plate manufacturer since 1851. A sterling silver hallmark was entered in 1946 in Birmingham Assay Office





AARON HATFIELD
AARON HATFIELD & SONS
Sheffield
Aaron Hatfield (or Hadfield) (1763-1844) was active at Pepper Alley, Sheffield registering in 1808 the mark 'AH symbol JH' as close plater (the JH could refer to John Hand, who patented the close plating method). In 1818 registered his own hallmark as silversmith at Sheffield Assay Office and another similar mark in 1823 as John Hatfield & Sons, in partnership with his sons William (until 1827) and John (until 1830s).



CHARLES HENRY HATTERSLEY
Sheffield
Snider Works 105 Napier St, Sheffield (1891-1918). Formerly a partner of Hattersley & Falding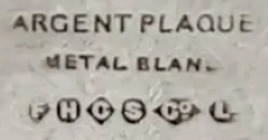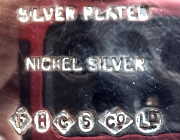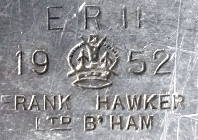 FRANK HAWKER LTD
FRANK HAWKER CARPATHIAN SILVER CO LTD
Birmingham
Carpathian Silver Company (founded by Frank Hawker in 1886) was known simply as Frank Hawker Ltd. The business was active in Argosy Works, 44-54 Spencer Street, Birmingham. The firm survived the death of the founder (Frank Hawker 1868-1938) and participated until 1953 to British Manufacturers Fairs. The firm used the trade mark CARPATHIAN SILVER.
ARGENT PLAQUÉ/METAL BLANC mark was probably used for export to France and another to celebrate Queen Elizabeth II coronation.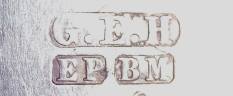 GEORGE ERNST HAWKINS
Birmingham
Active from 1888 at 15/16 Legge Ln, Birmingham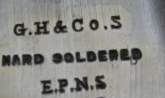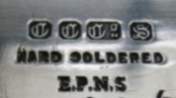 GEORGE HAWKSLEY & CO
Sheffield
Charlotte St.Works (1864-1865) and Carver St, Sheffield (1866-1946). Ceased electroplating in 1867 (succeeded by Edwin John Makin)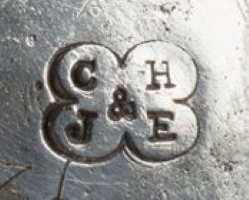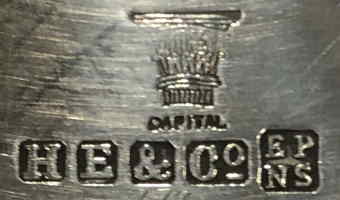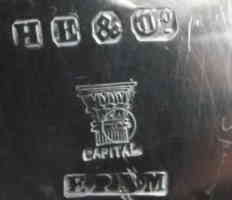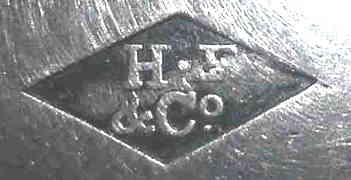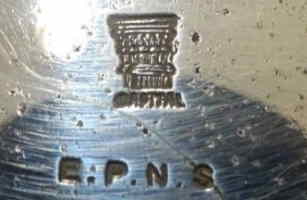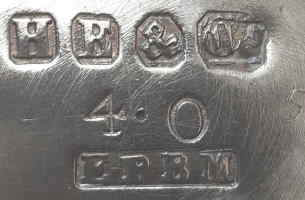 CHARLES HAWKSWORTH & JOHN EYRE
HAWKSWORTH, EYRE & CO
HAWKSWORTH, EYRE & CO LTD
Sheffield
The firm started its trade in 1821 as Blagden, Hodgson & Co producing Old Sheffield Plate (their mark, a cross over a circle, has probably been reused by by Hawksworth, Eyre & Co in late 19th century). The firm was converted into Ltd in 1872. The letters C & J stand for Charles & John. Active in Nursery St until 1878 and later in Rockingham St, Sheffield. The dies and goodwill of Hawksworth, Eyre & Co were bought by Ellis and Co (Birmingham), Empire Plate Works, Hall Street, Birmingham, in 1932/1933.
The firm used also the trademark SIBERIAN SILVER and CAPITAL.
SIBERIAN SILVER trademark was used also by Henry Lewis Hayman, Manufacturer of clocks and instruments, dealers, 120 Edmund Street, Birmingham

HAWKSWORTH, EYRE & CO: HISTORY, MARKS & HALLMARKS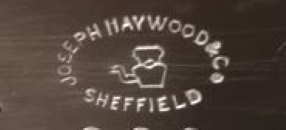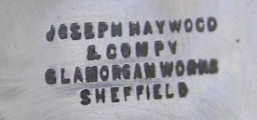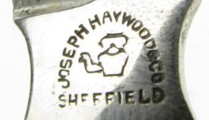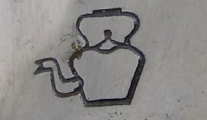 JOSEPH HAYWOOD & CO
Sheffield
Active c. 1872 at Glamorgan Works, 45-61 Pond Street, Sheffield. In addition to the usual "EP" (Electro Plated) and "BP" (Britannia Plate) the firm used two uncommon marks to qualify his silverplate: "MP over B" (possibly a "B" quality mark under Magneto Plate) and "SS" (meaning unknown, possibly Sheffield Silver)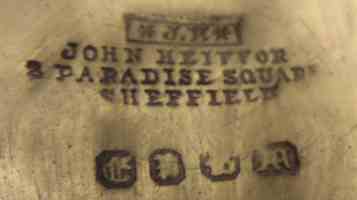 JOHN HEIFFOR
Sheffield
active at 3 Paradise Square, Sheffield. Origin of the firm with John Heiffor (1780-1849) manufacturer of razors since early 1800s. He was succeeded by his son Thomas Heiffor (1820-1886), who added to razors the manufacture of cutlery. At his death (1886), the successor in the business was his manager and nephew James Hill (son of Martha Heiffor, Thomas's sister). James died in 1911 and his son James Hill continued the activity until 1951.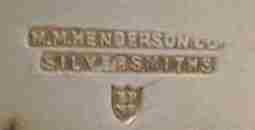 M.M. HENDERSON LTD
Glasgow
Established in Coatbridge by Matthew McLaren Henderson (1886). Converted in 1925 in M.M. Henderson Ltd. Active at 141-143 Argyle Street Glasgow, 143 Princes Street and Shandvick Place Edinburgh, Dundee, Aberdeen and Airdrie. The firm, owned by Ketling Ltd, was placed in liquidation in 2013 and closed in 2014. The firm traded as Henderson The Jewellers with branches in Airdrie, Ayr, Bishopbriggs, Braehead, Clydebank, Cumbernauld, Dundee, Dunfermline, Edinburgh, Glasgow, Hamilton, Kilmarnock, Kirkcaldy, Motherwell and Newton Mearns.
E.P.N.S. (Electroplated Nickel Silver) and EPBM (Electroplated Britannia Metal) are the most common names attributed to silver plate items. But many other names are used for silver plate:
EPWM - Electroplate on White Metal, EPC - Electroplate on Copper, Argentium, Argentine Plate, Argentum, Ascetic, Austrian Silver, Brazilian Silver, Buxbridge, Electrum, Encore, Exquisite, Insignia Plate, Nevada Silver, Norwegian Silver, Pelican Silver, Potosi Silver, Silverite, Sonora Silver, Spur Silver, Stainless Nickel, Stainless Nickel Silver, Venetian Silver, W.M White Metal,....
WORLDWIDE DIRECTORY OF SILVERPLATE MANUFACTURERS: HISTORY & MARKS
BRITISH TOWN MARKS AND DATE LETTERS
STERLING SILVER OF ENGLAND, SCOTLAND AND IRELAND
ALPHABETICAL LISTING OF MAKER'S MARKS

www.silvercollection.it
This is a page of 'The What is? Silver Dictionary' of A Small Collection of Antique Silver and Objects of vertu, a 1500 pages richly illustrated website offering all you need to know about antique silver, sterling silver, silverplate, Sheffield plate, electroplate silver, silverware, flatware, tea services and tea complements, marks and hallmarks, articles, books, auction catalogs, famous silversmiths (Tiffany, Gorham, Jensen, Elkington), history, oddities ...
HOME - SITE MAP - SILVER DICTIONARY - COOKIES CONSENT AND PRIVACY
These pages were useful? leave your LIKE on facebook

work in progress on this page - your help, corrections and suggestions will be greatly appreciated -