HAWKSWORTH, EYRE & CO LTD
This is a page of A Small Collection of Antique Silver and Objects of vertu, a 1000 pages richly illustrated website offering all you need to know about antique silver, sterling silver, silverplate, sheffield plate, electroplate silver, silverware, flatware, tea services and tea complements, marks and hallmarks, articles, books, auction catalogs, famous silversmiths (Tiffany, Gorham, Jensen, Elkington, WMF, Reed & Barton, Mappin & Webb, Bateman Family), history, oddities ...
SITE MAP HOME PAGE



MARKS - HALLMARKS - HISTORY

Charles Hawksworth and John Eyre were the successors of Blagden, Hogson & Co, from 1821 Old Sheffield Plate manufacturers in Sheffield.
In 1833 they founded Hawksworth, Eyre & Co at White Rails, Sheffield registering their first hallmark as "plate workers" at Sheffield Assay Office in July 25, 1833. Other marks were registered in London Assay Office in 1852 (16 Devereux Court, Strand), Sheffield (1867, 1869 at Nursery Street, 1873, 1892 and 1894 at 60 Rockingham Street) and Chester (1896).
Hawksworth and Eyre partnership was dissolved in 1869 and the business was continued under the same style by James Kebberling Bembridge, Thomas Hall and George Woodhouse. In 1873 Hall and Woodhouse retired leaving the sole control to Bembridge. Soon after the firm was converted into a limited liability company under the style Hawksworth, Eyre & Co Ltd.
Acting as silversmiths, platers, electrogilders and platers, silver and plate lamp manufacturers they were active at 25 Bouverie Street, Fleet Street, London (1892) and 16 St John Street, Montreal Canada. An additional branch address was at 28 Cliff Street, New York, USA. The factory was at 60 Rockingham Road, Sheffield (1892 - 1912).
In 1897 they moved their London showrooms and offices to 49 Holborn Viaduct and later to 46 Atlantic House, Holborn Viaduct (1912) and Golden House, Great Pulteney Street, Soho and in 1920 to 19 Charterhouse Street, Holborn.
Hawksworth, Eyre & Co went into liquidation in 1932/1933 and dies and goodwill were purchased by Ellis &amp: Co (Birmingham) Ltd, a subsidiary of Barker Brothers (Silversmiths) Ltd. The name and the Charterhouse Street Showroom were maintained for a while.
Hawksworth, Eyre & Co participated to the 1851 Great Exhibition showing a wide range of their silver and electroplate production.

CHRONOLOGY
successors to Blagden, Hodgson & Co c. 1833
Hawksworth, Eyre & Co c. 1833 - 1873
Hawksworth, Eyre & Co Ltd 1873 - 1933


STERLING SILVER HALLMARKS



Hawksworth, Eyre & Co
hallmark entered in Sheffield (July 25, 1833)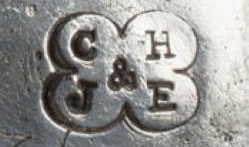 Charles Hawksworth & John Eyre
hallmark entered in London (21st April, 1866) and Sheffield (July 17, 1867)



Hawksworth, Eyre & Co (James Kebberling Bembridge, Thomas Hall and George Woodhouse)
hallmark entered in Sheffield (November 18, 1869)



James Kebberling Bembridge for Hawksworth, Eyre & Co Ltd
hallmark entered in Sheffield (May 7, 1873). A similar mark (without pellet) has been registered in London (7th August, 1873)



Hawksworth, Eyre & Co Ltd
hallmark entered in London (20th December, 1892) and Sheffield (December 8, 1892)



Hawksworth, Eyre & Co Ltd
hallmark entered in Sheffield (March 9, 1894)


SILVERPLATE MARKS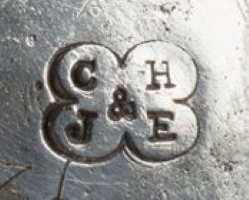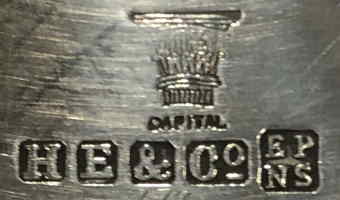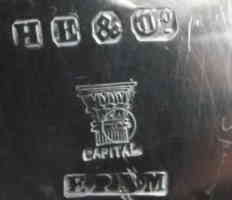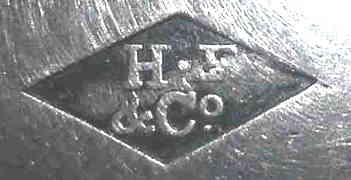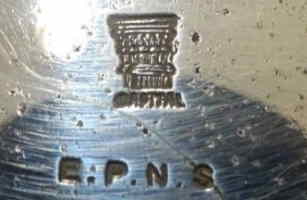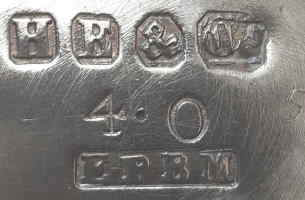 Old Sheffield Plate mark of Blagden, Hodgson & Co probably used by Hawksworth, Eyre & Co in late 19th century (MADE IN ENGLAND was introduced only in the 1890s)




Hawksworth, Eyre & Co retailed in the USA by Bailey, Banks & Biddle, Philadelphia (the English company opened a branch in the USA at 28 Cliff Street, New York)

HAWKSWORTH, EYRE & CO AT THE 1851 GREAT EXHIBITION
from the Great Exhibition Art Journal Catalogue, 1851, page 241

The CENTRE-PIECE, serving the double purpose of an epergne and a candelabrum, is manufactured by Messrs HAWKSWORTH, EYRE & Co, of Sheffield. It is a testimonial presented to Mr. M.J. Ellison, of that place, by the fellow-townsmen, for his exertions in promoting there the manly game of cricket, for which Sheffield has, within the last few years, become celebrated.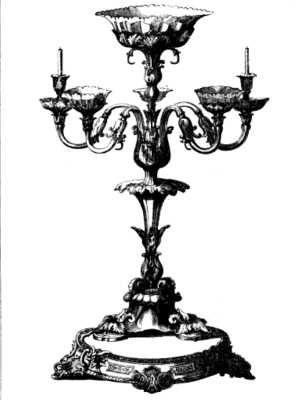 The TUREEN, by the same manufacturer is an adaptation of what is generally known as the "melon pattern, " with scroll handles and feet, &c., in the Louis Quatorze style; it is elegant in form and far more consistent with our ideas of beauty than if more elaborately ornamented.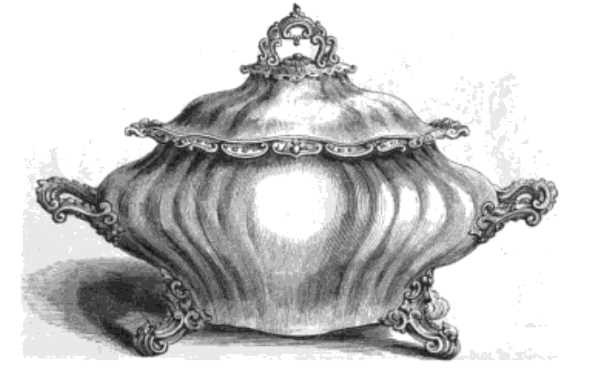 HAWKSWORTH, EYRE & CO: ANCIENT ADVERTISEMENT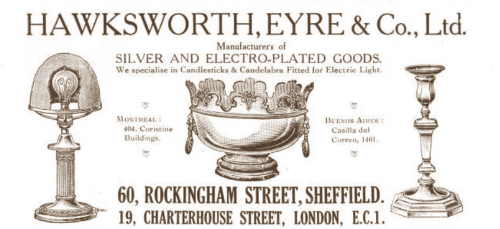 BRITISH SILVER MAKERS: MARKS, HISTORY AND INFORMATION
BRITISH SILVERSMITHS - ILLUSTRATED LISTING OF MAKER'S AND SPONSOR'S MARKS
BRITISH TOWN MARKS AND DATE LETTERS

www.silvercollection.it
This is a page of 'The What is? Silver Dictionary' of A Small Collection of Antique Silver and Objects of vertu, a 1500 pages richly illustrated website offering all you need to know about antique silver, sterling silver, silverplate, Sheffield plate, electroplate silver, silverware, flatware, tea services and tea complements, marks and hallmarks, articles, books, auction catalogs, famous silversmiths (Tiffany, Gorham, Jensen, Elkington), history, oddities ...
HOME - SITE MAP - SILVER DICTIONARY - COOKIES CONSENT AND PRIVACY
This page was useful? leave your LIKE on facebook

- work in progress on this page - your help, corrections and suggestions will be greatly appreciated -