ROBERT FEAD MOSLEY
R.F. MOSLEY & CO - R.F. MOSLEY & SON - MOSLEY & CO LTD
This is a page of A Small Collection of Antique Silver and Objects of vertu, a 1000 pages richly illustrated website offering all you need to know about antique silver, sterling silver, silverplate, sheffield plate, electroplate silver, silverware, flatware, tea services and tea complements, marks and hallmarks, articles, books, auction catalogs, famous silversmiths (Tiffany, Gorham, Jensen, Elkington, WMF, Reed & Barton, Mappin & Webb, Bateman Family), history, oddities ...
SITE MAP HOME PAGE



MARKS - HALLMARKS - HISTORY

Robert Fead Morley was born into a family of well-known London jewellery and allied trades manufacturers. Since the early 1800s several branches of the family were active or had connection with the jewellery trade around Hatton Garden area of London.
Robert Fead Mosley (1841 - 1921) was the son of Cornelius Lewis Morley a "steel pen holder & pencil case makers & Birmingham & Sheffield factors". Soon he began his own business in Sheffield and in 1864 he was listed as "scissor and table knife manufacturer, 214 Brook Hill", moving to Portland Works in Portland Lane just off West Street in 1871 (Portland Works consisted of small units used as temporary manufactories for smaller businesses unable to keep a whole premises).
The business was managed in partnership with Henry Lawton under the style R.F. Mosley & Co. The partnership was dissolved in 1873 (but Lawton family continued to be linked to the firm).
In 1879 the activity was transferred in a new building in Randall Street and R.F. Mosley called these new works, Portland Works.
The firm was incorporated in 1897 under the style R.F. Mosley & Co Limited. Its first directors were Robert Fead Mosley (Managing Director), Arthur Lawton, Henry Hobson Mosley and Samuel Lawton.
The firm ceased its activity in 1935 transferring goodwill, premises, customers, stock and machinery to the new Company of R. F. Mosley & Co Ltd managed by Albert Oswald Mosley (until 1968).



STERLING SILVER HALLMARKS
R.F. Mosley,
hallmark entered in Sheffield in 1890


R.F. Mosley & Co,
Sheffield 1896 hallmark
hallmark entered in 1894


R.F. Mosley & Co Limited,
Sheffield 1912 hallmark
hallmark entered in 1907


R.F. Mosley & Co Ltd
Sheffield 1944 hallmark
---
Portland Works, Randall Street, Sheffield, c. 1895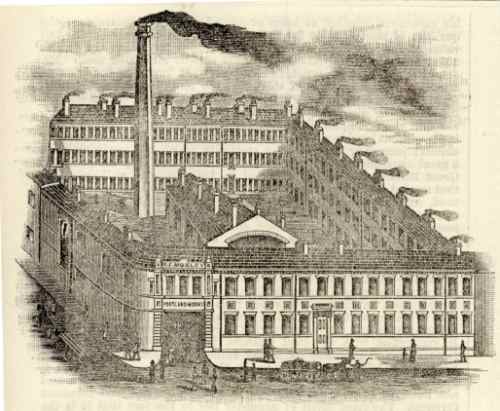 BRITISH SILVER MAKERS: MARKS, HISTORY AND INFORMATION
BRITISH SILVERSMITHS - ILLUSTRATED LISTING OF MAKER'S AND SPONSOR'S MARKS
BRITISH TOWN MARKS AND DATE LETTERS

www.silvercollection.it
This is a page of 'The What is? Silver Dictionary' of A Small Collection of Antique Silver and Objects of vertu, a 1500 pages richly illustrated website offering all you need to know about antique silver, sterling silver, silverplate, Sheffield plate, electroplate silver, silverware, flatware, tea services and tea complements, marks and hallmarks, articles, books, auction catalogs, famous silversmiths (Tiffany, Gorham, Jensen, Elkington), history, oddities ...
HOME - SITE MAP - SILVER DICTIONARY - COOKIES CONSENT AND PRIVACY
This page was useful? leave your LIKE on facebook

- work in progress on this page - your help, corrections and suggestions will be greatly appreciated -