MEXICAN STERLING SILVER MARKS
MARKS AND HALLMARKS OF MEXICO SILVER MAKERS
R - S - T - U - V - W - X - Y - Z
This is a page of A Small Collection of Antique Silver and Objects of vertu, a 1000 pages richly illustrated website offering all you need to know about antique silver, sterling silver, silverplate, sheffield plate, electroplate silver, silverware, flatware, tea services and tea complements, marks and hallmarks, articles, books, auction catalogs, famous silversmiths (Tiffany, Gorham, Jensen, Elkington, WMF, Reed & Barton, Mappin & Webb), history, oddities ...
SITE MAP - HOME PAGE
AN INTRODUCTION TO MEXICO SILVER MARKING
In the first half of the 20th century silver items manufactured in Mexico were marked simply "silver" or "sterling". Usually a location (Mexico or a town name) and silver fineness (925, 925/1000, 950, 980) was included.
In 1948 the Government of Mexico promoted the reintroduction of the "eagle mark" to identify the manufacturers of silver items. The "eagle" was stamped with a number associated to a silver manufacturing company. This system was unsuccessful, eagle stamps were misused or "loaned" to more than one artist of maker and was abandoned in the 1980s. It was substituted by the "letter and number" system adopted circa 1980 and still in use.
In the "Letter and number" system a letter identifies a location (T for Taxco, M for Mexico City), the second letter is the first letter of an individual's first or last name of the maker. The number is the number of registration of the maker.
From left to right: early Mexican mark (before 1948), eagle mark (1948-c.1980), "letter and number" mark (c.1980-present).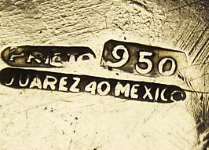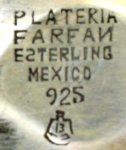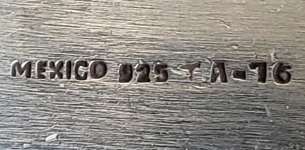 (click on image to enlarge)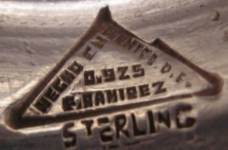 F. RAMIREZ
Active in Distrito Federal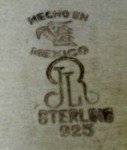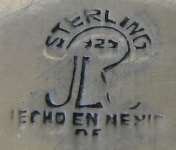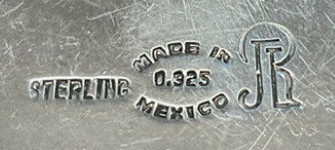 Juventino Lopez REYES
Opened in 1935 his workshop Plateria del Recreo. JLR conjoined mark was used in several distinct version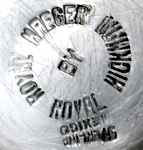 ROYAL HICKMAN
Royal Haeger by Royal Hickman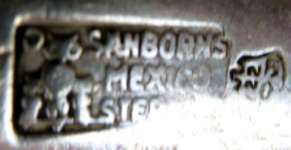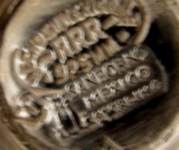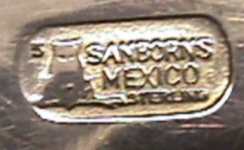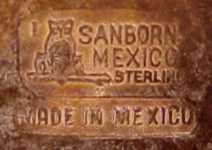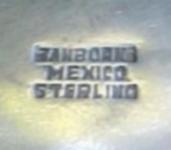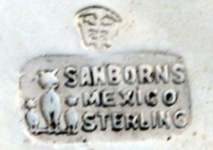 SANBORN HNOS S.A.
Founded by Walter and Frank Sanborn in Mexico City in 1903
SIGI
see Sigfrido PINEDA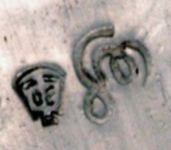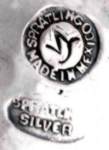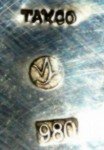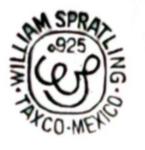 WILLIAM PHILIP SPRATLING
American born, William Spratling opened his shop in Taxco in 1929 (Telles de las Delicias). Spratling is regarded as the most influential designer in Mexico

WILLIAM SPRATLING: HISTORY & MARKS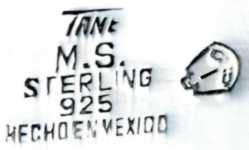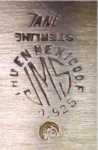 TANE ORFEVRES
A primary silver house in Mexico City since 1950s. In most cases TANE mark is accompanied by a silversmith's mark (JMS: possibly José Marmolejo)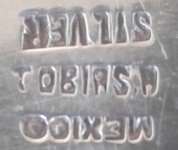 A.TOBIAS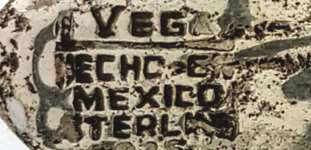 A.TORRES VEGA
Eagle 1, 141, 144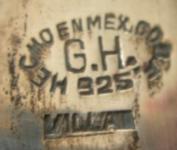 VILLA
mark coupled with G.H. silversmith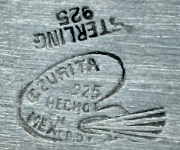 C. ZURITA
manufacturer mainly of hollowware. Retailer were Perlita and Caral. Eagle 1 and registration number TZ-05
STERLING SILVER OF ENGLAND, SCOTLAND AND IRELAND
This is a page of Silvercollection.it "A Small Collection of Antique Silver and Objects of vertu", a 1000 pages widely illustrated website offering all you wish to know about antique silver, sterling silver, silverplate, sheffield plate, electroplate silver, silverware, flatware, tea services and tea complements, marks and hallmarks, articles, books, auction catalogs, famous silversmiths (Tiffany, Gorham, Jensen, Elkington), history, oddities ...
HOME - SITE MAP - SILVER DICTIONARY