MEXICO STERLING SILVER AND SILVERPLATE MARKS
MARKS AND HALLMARKS OF MEXICAN SILVER MAKERS
M - O



created by Giorgio B. owner of
www.silvercollection.it ©

This is a page of A Small Collection of Antique Silver and Objects of vertu, a 1000 pages richly illustrated website offering all you need to know about antique silver, sterling silver, silverplate, sheffield plate, electroplate silver, silverware, flatware, tea services and tea complements, marks and hallmarks, articles, books, auction catalogs, famous silversmiths (Tiffany, Gorham, Jensen, Elkington, WMF, Reed & Barton, Mappin & Webb), history, oddities ...
SITE MAP - HOME PAGE
AN INTRODUCTION TO MEXICO SILVER MARKING
In the first half of the 20th century silver items manufactured in Mexico were marked simply "silver" or "sterling". Usually a location (Mexico or a town name) and silver fineness (925, 925/1000, 950, 980) was included.
In 1948 the Government of Mexico promoted the reintroduction of the "eagle mark" to identify the manufacturers of silver items. The "eagle" was stamped with a number associated to a silver manufacturing company. This system was unsuccessful, eagle stamps were misused or "loaned" to more than one artist of maker and was abandoned in the 1980s. It was substituted by the "letter and number" system adopted circa 1980 and still in use.
In the "Letter and number" system a letter identifies a location (T for Taxco, M for Mexico City, G for Guadalajara and C for Cuernavaca), the second letter is the first letter of an individual's first or last name of the maker. The number is the number of registration of the maker.
From left to right: early Mexican mark (before 1948), eagle mark (1948-c.1980), "letter and number" mark (c.1980-present).
Alongside EAGLE and STERLING, the most frequently marks present on Mexican silver are HECHO EN MEXICO, MEXICO, TAXCO, PLATA, SILVER and fineness numbers as 0.900, 925, 0.925, 940, 950, 980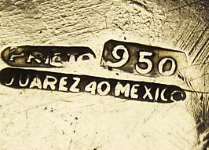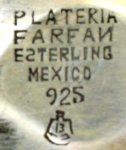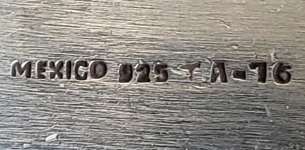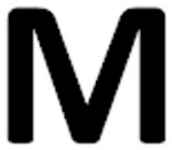 (click on image to enlarge)

M stylized
see Miguel MELENDEZ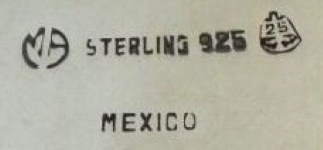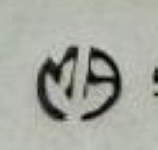 MA stylized
Eagle 25 unidentified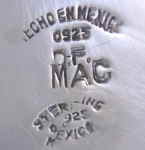 MAC
D.F. unidentified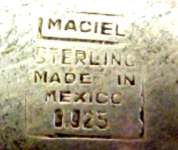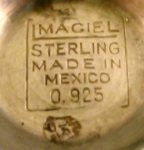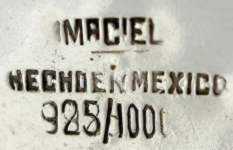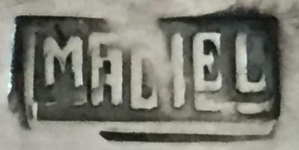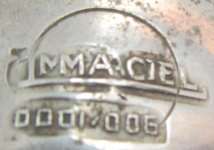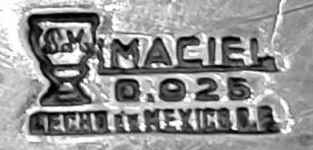 MACIEL SILVER FACTORY
Firm based in Mexico City since the 1930s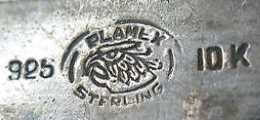 MANUFACTURERA PLAMEX S.A.
Active in Ciudad Juarez, Ave. Hipodromo and Paraguay
Plamex was specialized in the manufacture of silver and leather items: belt buckles, brooches, cufflinks of typical Mexican design marked 925 sterling and, sometimes, 10K or 18K. MORE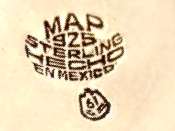 MAP: eagle 61
unidentified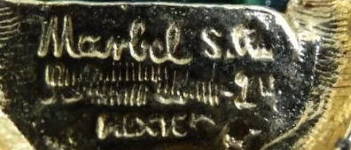 MARBEL S.A.
a retail store
MARGARITA
see PLATERIA MARGARITA
MARGOT DE TAXO
see Margot VAN VOORHIES CARR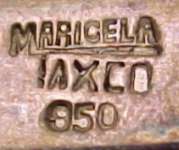 MARICELA by ISIDRO GARCIA PINA
Firm established in 1943 in Taxco. Out of business in 1986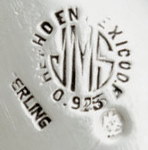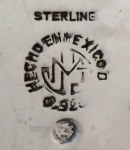 Jose MARMOLEJO
A master silversmith with workshop in Mexico City. José Marmolejo collaborated often with Tane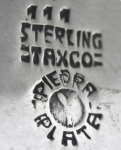 Felipe MARTINEZ
In the 1940s worked for Hubert Harmon. In 1950 opened his own shop Piedra Y Plata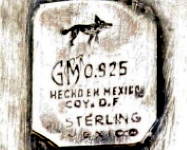 Gustavo MARTINEZ
Worked as maestro at Héctor Aguilar's Taller Borda. The GM mark is accompanied by the image of a coyote

Miguel Garcia MARTINEZ
was the main designer of Rancho Alegre. Some of his items are marked JFL (José Luis Flores), VJC (Victor Jaimez), RJA, MR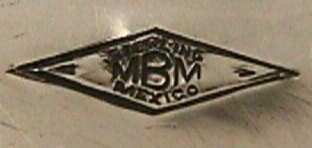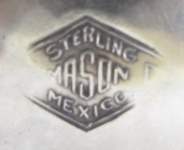 MASON, BURNS AND McALLISTER
Firm active in Mexico City in the 1930s and 1940s
MATL
see Ricardo SALAS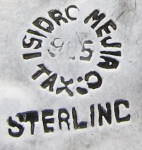 Isidro MEJIA
Worked for William Spratling (c.1938)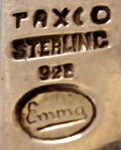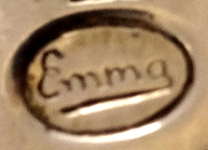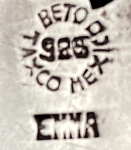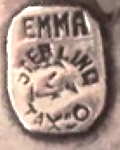 Emma MELENDEZ
Emma was the niece of Rafael Melendez, She opened her workshop in 1953. Designers and silversmiths working for Emma Melendez were Johny Melendez, Del Rio, Jose Luis Flores, Miguel Garcia Martinez, Victor Jaimez, Francisco Rivera and many others.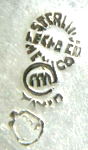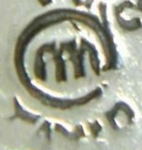 Miguel MELENDEZ
Apprenticed and worked in the 1940s at Las Delicias under Antonio Castillo. In 1948 left Los Castillos to join Margot de Taxco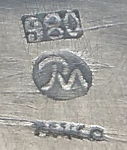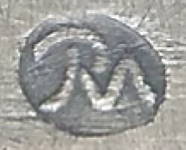 Rafael MELENDEZ
Worked with William Spratling from 1932 to 1939. In 1939 he started his own workshop under the name Plateria Melendez. Rafael was the uncle of the well known silversmith Emma Melendez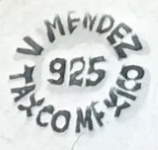 V. MENDEZ
Taxco
MENDOZA
see PLATERIA MENDOZA

METASCO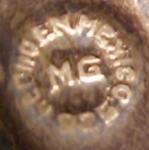 MG
unidentified
MILTON
see JOYERIA MILTON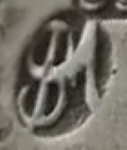 Serafin MOCTEZUMA
manufacturer of items closely copied from William Sprating designs. Also the mark SM intertwined imitated the style of WS mark of Spratling.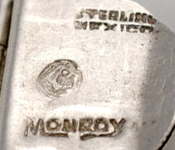 MONROY
Manufacturer of jewelry, hollowware and equestrian equipment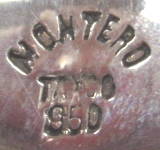 MONTERO
Taxco unidentified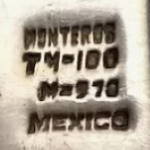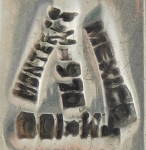 MONTEROS
Taxco TM-100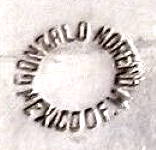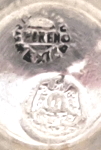 Gonzalo W. MORENO
manufacturer of holloware and, occasionally, jewelry. Eagle numbers 1 and 11

Fortino MOTA
Worked for Antonio Pineda in the 1950s-1960s
MR
see Melecio RODRIGUEZ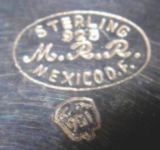 M.R.R. in script: eagle 156
unidentified (a silversmith mark often associated to PERLITA)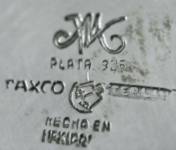 MV in script conjoined - eagle 1
unidentified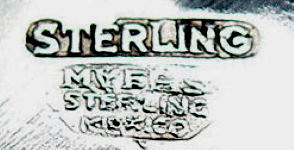 MYERS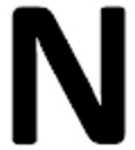 (click on image to enlarge)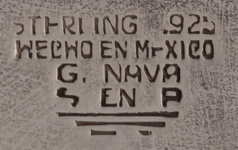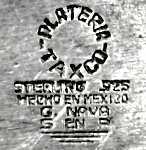 Guillermo NAVA
Plateria Taxco G. Nava

Artemio M. NAVARRETE
In 1931 he collaborated with William Spratling on the launch of Taller de Las Delicias. In 1936 he opened in Taxco his own shop Chichén-Itza. Manufacturer mostly of jewelry and some flatware, often resembling Spratling's design. His mark, conjoined AN into a circle, closely resembles the conjoined AV of Alfredo Villasana, but the AV is incised while the AN is raised. His works are in 980 and 940 silver fineness.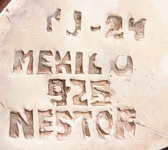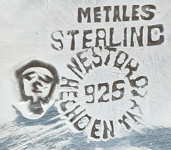 NESTOR
Eagle 3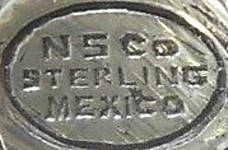 NS Co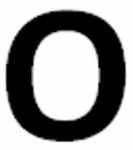 (click on image to enlarge)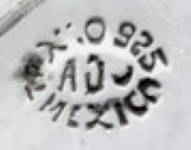 Alberto Diaz OCAMPO
designer for Taller Borda a sometimes for Rancho Alegre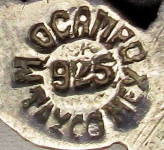 M. OCAMPO
active in Taxco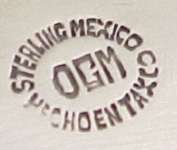 OGM Taxco
unidentified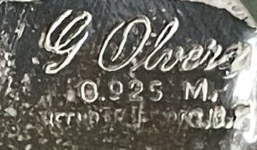 G. OLVERA
Manufacturer of flatware and hollowware in Mexico City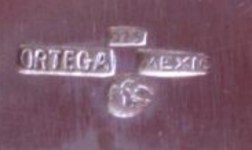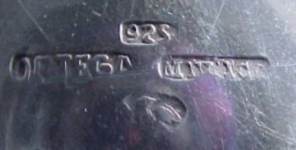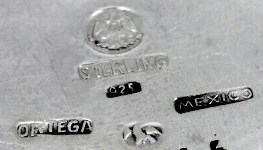 Alfredo ORTEGA AND SONS
Active since the 1930s in Mexico City. They used the 19th century style eagle mark in addition to the standard eagle mark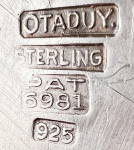 OTADUY.
PAT 6981, Eagle number 19
STERLING SILVER OF ENGLAND, SCOTLAND AND IRELAND
This is a page of Silvercollection.it "A Small Collection of Antique Silver and Objects of vertu", a 1500 pages widely illustrated website offering all you wish to know about antique silver, sterling silver, silverplate, sheffield plate, electroplate silver, silverware, flatware, tea services and tea complements, marks and hallmarks, articles, books, auction catalogs, famous silversmiths (Tiffany, Gorham, Jensen, Elkington), history, oddities ...
HOME - SITE MAP - SILVER DICTIONARY
These pages were useful? leave your LIKE on facebook

work in progress on this page - your help, corrections and suggestions will be greatly appreciated