This is a page of A Small Collection of Antique Silver and Objects of vertu, a 1000 pages richly illustrated website offering all you need to know about antique silver, sterling silver, silverplate, sheffield plate, electroplate silver, silverware, flatware, tea services and tea complements, marks and hallmarks, articles, books, auction catalogs, famous silversmiths (Tiffany, Gorham, Jensen, Elkington, WMF, Reed & Barton, Mappin & Webb, Bateman Family), history, oddities ...
SITE MAP HOME PAGE


HISTORY AND MARKS
The inception of silver plated ware industry dates back to 1847 and to the efforts of Rogers brothers who in their little shop at Hartford developed the electro-plating process.
But the business finds its origin as early as 1808, with the establishment in Meriden of a small plant for the production of pewter or Britannia ware.
At a later date, it was the foresight of the Britannia makers which turned into a success the efforts of the Rogers brothers. Joining together of the mechanical genius of the Hartford experimenters and the practical business ability of the Britannia makers constituted the definite beginning of silverware making as a business.
The Rogers brothers had met with success their activity, but were hampered by lack of capital and qualified organization to market their product.
In 1852 six or seven small Britannia ware plants in the town of Meriden were organized by Horace C. and Dennis C. Wilcox into the Meriden Britannia Co supplying Britannia, Albata and German silver ware, both plated and unplated, to many other firms.
An agreement was reached whereby the genius and skill of the Rogers were joined with the initiative and business ability of the Meriden concern, and the latter began the production of goods that were later to be described in the catalogue of the Meriden Britannia Co., in the year 1867, as supplying "all the advantages of silver in durability and beauty at one-fifth the cost".

In 1862 Meriden Britannia Company bought the hollowware division, tools and dies of Rogers Brothers Mfg Co (incorporating Rogers, Smith & Co).
The production of the '1847 Rogers Bros' line continued under the direction of William Rogers and in 1865 the plating shop was transferred from New Haven to Meriden and merged with Meriden Britannia Co in 1866.
Meriden Britannia Company adopted in its flatware production the "sectional plate" under an 1868 patent obtained by Marshall L. Forbes. The process consisted in depositing an extra amount of silver on spoons and forks parts suffering the harder wear. Meriden Britannia Co wrote about its spoons and forks "... means they are plated three times heavier on the three points most exposed to wear ... adding correspondingly to their durability..."


By the year 1869 the Meriden Britannia Co. had taken over the interests of Rogers Smith & Co, although it continued in New Haven until 1877, when it was moved to Meriden and became merged with the Meriden Britannia Co. Rogers, Smith & Co ceased to exist as a separate entity and was used as a trademark of Meriden Britannia Co.

In 1894 the Meriden Britannia Co. began the making of the Forbes Silver Co. hollowware, which has always been popular and has grown to be a very extensive line.

In 1895 Meriden Britannia Co bought Wilcox & Evertsen of New York, beginning the manufacture of a quality line of sterling silver hollowware. This production was soon transferred to Meriden and continued also when the firm became part of International silver Company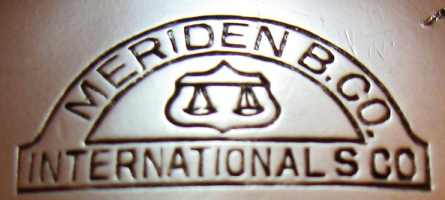 photo courtesy http://myworld.ebay.com/shiny_treasures/



In 1902 salesrooms were active in New York (opened 1856 at 90 John St. and later at 45 Beekam St. The store was from 1864 to 1873 at 199 Broadway and later at n. 550 Broadway), Meriden, San Francisco (opened in 1867: 134 Sutter Street and later 150 Post St.), Chicago (opened in 1878 at 154 State Street) and London (with the addition of Hamilton Ont. and Paris quoted in an 1891 advertisement)

Meriden Britannia Co Ltd, Hamilton, Ontario, Canada (founded 1879) was a subsidiary of Meriden Britannia Company of Meriden, Connecticut. It produced 1847 Rogers Bros silverplate, sterling silver flatware, silverplated nickel silver and white metal hollowware.
In 1924 International Silver Company incorporated International Silver Company of Canada, Ltd with its Canadian subsidiaries Meriden Britannia Co Ltd (Hamilton, Ontario), Standard Silver Co of Toronto Ltd (Toronto, Ontario) and William Rogers Manufacturing Company Ltd (Niagara Falls, Ontario).

SILVERPLATE AND ELECTROPLATED SILVER OF USA AND CANADA
STERLING SILVER OF USA AND CANADA