SIMPSON, HALL, MILLER & CO
This is a page of A Small Collection of Antique Silver and Objects of vertu, a 1000 pages richly illustrated website offering all you need to know about antique silver, sterling silver, silverplate, sheffield plate, electroplate silver, silverware, flatware, tea services and tea complements, marks and hallmarks, articles, books, auction catalogs, famous silversmiths (Tiffany, Gorham, Jensen, Elkington, WMF, Reed & Barton, Mappin & Webb, Bateman Family), history, oddities ...
SITE MAP HOME PAGE


HISTORY AND MARKS
The firm was organized by Samuel Simpson in 1866. In 1878 Simpson made an agreement with William Rogers Jr to supervise the manufacture and marketing of Simpson, Hall, Miller & Co Rogers "Eagle" brand.
The "Eagle" was a brief duration business (1862 - c. 1865) managed by William Henry Rogers (often identified as William Rogers Jr, he died in 1896) after the retirement of his father in 1861. In 1872, when the William Rogers Manufacturing Co was incorporated, the Rogers were no longer associated to the firm and in the 1880s the firm had a bitter controversy with William Rogers Jr. about the right to use William Rogers name.
Thanks to this contract, Wallingford factory manufactured under the name "Rogers" large quantities of electro-plated table ware in competition with William Rogers Mfg Co.
The manufacturing of sterling silverware started in 1895 and in 1898 Simpson, Hall, Miller & Co entered in the International Silver Co. The Wallingford's factory became International's sterling center.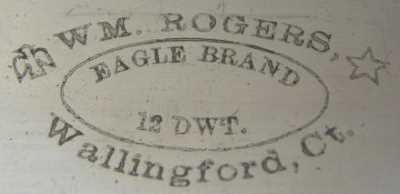 Marks used by Simpson, Hall, Miller & Co after the agreement with William Rogers Jr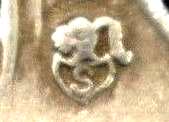 The "Knight's head" mark was used in flatware produced after 1895. The same mark was continued by the International Silver Co


SILVERPLATE AND ELECTROPLATED SILVER OF USA AND CANADA
FIGURAL MARKS
anchors
,
animals
,
arrows
,
bells
,
birds
,
candelabra
,
crosses
,
crowns
fantastical entities
,
horses
human figures
,
lions
,
musical instruments
plants and vegetables
,
stars
swords axes blades
,
tools
,
windmills
,
others
STERLING SILVER OF USA AND CANADA
SILVER MANUFACTURERS: MARKS, HISTORY AND INFORMATION

www.silvercollection.it
This is a page of 'The What is? Silver Dictionary' of A Small Collection of Antique Silver and Objects of vertu, a 1500 pages richly illustrated website offering all you need to know about antique silver, sterling silver, silverplate, Sheffield plate, electroplate silver, silverware, flatware, tea services and tea complements, marks and hallmarks, articles, books, auction catalogs, famous silversmiths (Tiffany, Gorham, Jensen, Elkington), history, oddities ...
HOME - SITE MAP - SILVER DICTIONARY - COOKIES CONSENT AND PRIVACY