This is a page of A Small Collection of Antique Silver and Objects of vertu, a 1000 pages richly illustrated website offering all you need to know about antique silver, sterling silver, silverplate, sheffield plate, electroplate silver, silverware, flatware, tea services and tea complements, marks and hallmarks, articles, books, auction catalogs, famous silversmiths (Tiffany, Gorham, Jensen, Elkington, WMF, Reed & Barton, Mappin & Webb, Bateman Family), history, oddities ...
SITE MAP HOME PAGE


HISTORY AND MARKS
The firm's origin in 1890 when Boston silversmith Timothy Tuttle was commissioned to copy old English silver. Tuttle dated his original production in the English custom with the crest of the reigning monarch.
In 1915 the company was listed as Tuttle Silver Co and by 1922 it was incorporated.
During the term of office of President Calvin Coolidge, Tuttle adopted the custom of marking each piece with a crescent and the initials of the incumbent President of the United States.
The Roman numeral under the crescent indicates on what year of the presidency the piece was produced.
The mark is completed by the pine tree, a patriotic symbol taken from the ancient Pine Tree Shilling of Massachusetts colony.
In 1958 Tuttle Silversmiths was purchase by R. Wallace & Sons Mfg Co.
In 1986 Wallace was purchased by Syratech Corporation and both Tuttle and Wallace operate under the ownership of Lifetime Brands.

Every piece of Tuttle silver is sterling. This is a rare example of silverplate production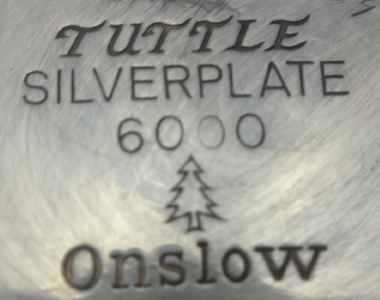 SILVERPLATE AND ELECTROPLATED SILVER OF USA AND CANADA
FIGURAL MARKS
anchors
,
animals
,
arrows
,
bells
,
birds
,
candelabra
,
crosses
,
crowns
fantastical entities
,
horses
human figures
,
lions
,
musical instruments
plants and vegetables
,
stars
swords axes blades
,
tools
,
windmills
,
others
STERLING SILVER OF USA AND CANADA
SILVER MANUFACTURERS: MARKS, HISTORY AND INFORMATION

www.silvercollection.it
This is a page of 'The What is? Silver Dictionary' of A Small Collection of Antique Silver and Objects of vertu, a 1500 pages richly illustrated website offering all you need to know about antique silver, sterling silver, silverplate, Sheffield plate, electroplate silver, silverware, flatware, tea services and tea complements, marks and hallmarks, articles, books, auction catalogs, famous silversmiths (Tiffany, Gorham, Jensen, Elkington), history, oddities ...
HOME - SITE MAP - SILVER DICTIONARY - COOKIES CONSENT AND PRIVACY