HALLMARKS OF AUSTRIAN SILVER
MARKS AND HALLMARKS OF AUSTRIA AND AUSTRIA-HUNGARY
- 1737 - 1921 -
This is a page of A Small Collection of Antique Silver and Objects of vertu, a 1500 pages richly illustrated website offering all you need to know about antique silver, sterling silver, silverplate, sheffield plate, electroplate silver, silverware, flatware, tea services and tea complements, marks hallmarks, silver marking system and silver hallmarks guide, articles, books, auction catalogs, famous silversmiths (Tiffany, Gorham, Jensen, Elkington, WMF, Reed & Barton, Mappin & Webb, Bateman Family), history, oddities ...
SITE MAP - HOME PAGE
Habsburg Monarchy or Habsburg Empire is a term coined by historians to denote the numerous lands and kingdoms of the Habsburg dynasty, especially those of the Austrian line.
The Habsburg monarchy was thus a union of crowns, with no single constitution or shared institutions other than the Habsburg court itself, with territories inside and outside the Holy Roman Empire that were united only in the person of the monarch.
The unification of the Habsburg monarchy took place in the early 19th century. The Habsburg Monarchy was formally unified from 1804 to 1867 as the Austrian Empire and from 1867 to 1918 as the Austro-Hungarian Empire.
SILVER HALLMARKS BEFORE 1807 (HABSBURG EMPIRE)
VIENNA HALLMARKS

The first officially known Viennese hallmark dates to 1524, which, apart from a few alterations, was used up to the 18th century

County mint offices were established in 1696 to supervise the fineness of gold and silver manufactures.
New hallmarks with the "Habsburg coat-of arms" were introduced in 1696 and maintained until 1737
Silver fineness was indicated in "loth" (until 1867):
12 loth = 750/1000
13 loth = 812/1000
14 loth = 875/1000
15 loth = 937/1000.
A figural or alphabetic symbol (in some cases accompanied by a number) identified the town control office.

In 1737 the "Habsburg coat-of arms" was replaced by the "Viennese cross-shield" with date and silver fineness (in loth)

Triest/Trieste, (possibly)(Istrien/Istria, now Italy), 1776
Graz (Steiermark/Styria, Austria), 1778
Laibach/ Ljubljana (Krain, now Slovenia), 1783
Prag/Prague (Böhmen, now Czechia), 1800
Raab/Gyor (now Hungary), 1804





Czernowitz (Bukowina, now Chernivtsi, Ukraine), 1789
Dobromil (Galitzien, now Dobromyl, Ukraine), 1787
Drohobycz (Galitzien, now Drohobych, Ukraine), 1787
Lemberg (Galitzien, now Lviv, Ukraine), 1800
Lemberg (Galitzien, now Lviv, Ukraine), 1802
Stryj (Galitzien, now Ukraine), 1787
Stanislau/Stanislawow (now Ivano-Frankivsk, Ukraine), 1787







Dukla (now Poland), 1787
Bochnia (now Poland), 1787
Tarnow (now Poland), 1787
Rzeszow (now Poland), 1787
Zamosc (now Poland), 1787








SILVER HALLMARKS 1807 - 1866 (AUSTRIAN EMPIRE)

In 1806 Emperor of Austria issued a manifesto providing for taxation and duties on gold and silver. A new mark (Repunzierung) was introduced as acknowledgement of receipt of paid taxes.
The Assay Office codes were: A Vienna, B Prague, C Salzburg, D Lemberg, E Cracow, F Brunn, G Linz, H Graz, I Klagenfurt, K Leibach, L Trieste.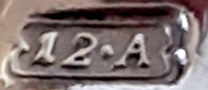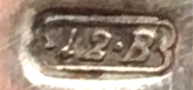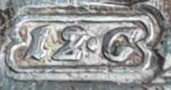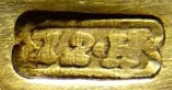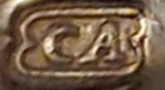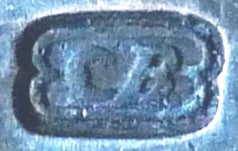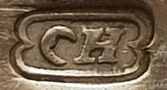 The obligatory re-marking of old articles was abolished on August 1, 1807. Only new objects had to be marked with a hallmark and a re-mark (Repunze). Objects missing of the re-mark were confiscated.

hallmark for stored wares allowed to be remarked only in case of sale (vorratstempel)
On December 19, 1809, the patent for the delivery of silver was issued by the respective authorities in order to fight the indebtedness of the state resulting from the war against France. Except small objects like spoons (table cutlery), watch cases, etc. all silverware had to be delivered to the recent installed redemption offices. Only if the metal could be paid for by the owner in conventional money or silver it wasn't subject to this regulation. In such cases the object was marked with the monogram "FR". As only few large gold and silver smiths could afford to pay such a tax, a large number of silver objects of historic and high artistic value were melted down.
The notstempel-frei, freistempel was used in 1809/10 for those objects which did not have to be delivered to the redempion offices


The mark "TF" was used in 1810 for ecclesiastical silver not subject to delivery to the authority (taxfreistempel).

(left to right): A=Vienna, B=Prague, B1=Karlsbad, D=Lemberg, D6=Rzeszow (Galicia), F=Brno, F1=Olmütz, H=Graz


SILVER HALLMARKS 1807 - 1866
(left to right):
Pápa, c.1800 (Hungary),
Székesfehérvár/Stuhlweissenburg, c.1800 (Hungary),
Székesfehérvár/Stuhlweissenburg, c.1830 (Hungary),
Gyor/Raab c. 1810 (Hungary),
Gyor/Raab 1821 (Hungary),
Eger/Erlau (Hungary),
Szamosújvár/Neuschloss (Hungary, now Gherla, Romania),
Arad c. 1830/1840 (Hungary, now Romania),
Arad 1853 (Hungary, now Romania),
Sathmar/Satu Mare/Szatmárnémeti 1850 (Transylvania, now Romania),
Hermanstadt/ Nagyszeben/ Sibiu (Transylvania, now Romania),
Krakau/Kraków 1851 (Galitzien, now Poland 1835-1858),
Krakau/Kraków 1862 (Galitzien, now Poland),














Ottoman expansion shifted the Hungarian kingdom under the rule of the Habsburg emperors and after the conclusion of the Great Turkish War the whole of Hungary became part of the Habsburg Monarchy. Following the nationalist uprisings of 1848, the Austro-Hungarian Compromise of 1867 elevated Hungary's status by the creation of a joint monarchy with the Austrian Empire, ruled in personal union as Austria-Hungary by the Austrian emperors during 1867-1918.
SILVER HALLMARKS 1867 - 1872 (AUSTRIA - HUNGARY)

From 1867 the silver fineness was indicated by a number next to "Diana head" hallmark:
1=950/1000
2=900/1000
3=800/1000
4=750/1000
The Assay office control mark (town mark) was in a separate square/rectangular shaped punch


SILVER HALLMARKS 1872 - 1922 (AUSTRIA - HUNGARY)

In 1872 the alphanumeric code identifying the town control office was reinstated inside the "Diana" or "small piece" hallmarks.
TOWN IDENTIFICATION LETTER FROM 1867
("Diana" and "Import marks" 1872-1901 and 1902-1921).
1867-1872
town code in a separate punch
.
1872-1922 code inside "Diana head" or "small pieces" mark:
A=Vienna
(1867-1922) -
B=Linz/Lintz
(1867-1922) -
C=Prag/Prague
(1867-1922) - D=Brno/Brunn (1867-1872) - E=Krakow/Cracau (1867-1920) -
F=L'viv/Lemberg
(1867-1920) -
G=Graz
(1867-1922) - H=Hall (1866-1868) - H=Bregenz (1868-1922) - K=Klagenfurt (1867-1872) - L=Ljubljana/Laibach (1866-1868) -
M=Trieste/Triest
(1867-1922) - N=Zadar/Zara -
P=Budapest/Pest
(1867-1937) - R=Kassa/Kosice/Kaschau (1867-1872) - T=Temeschwar/Timisoara/Temesvar (1867-1872) - U=Alba Julia/Gyulafehervar/Karlsburg (1867-1872) -
U=Kolozsvar/Klausenburg
(1872-1921) - V=Zagreb/Aram (1867-1872)
Various other combined letter/number town codes identified control offices in Austria (from A to N) and Hungary (from P to V):
A1=Wr. Neustadt (1867-1922) - A2=St. Pölten (1867-1922) - A3=Waidhofen a.d. Ybbs (1867-1922) - A4=Ybbs (1867-1872) - A5=Krems a.d. Donau (1872-1922) - A6=Brno/Brunn (1872-1921) - A7=Jihlava/Iglau (1872-1921) - A8=Olomouc/Olmutz (1872-1921) - A9=Bruntal/Freudemthal (1872-1921) - A10=Opava/Troppau (1872-1921) - A11=Teschen (1872-1921) - B1=Steyr (1867-1922) - B2=Ried (1867-1922) - B3=Braunau am Inn (1867-1922) - B4=Salzburg (1867-1922) -
B5=Ischl (1870-1874)
- B5=Gmunden (1875-1922) - C1=Liberec/Reichenberg (1867-1922) - C2=Teplitz (1867-1922) - C3=Karlsbad/Karlovy Vary (1867-1922) - C4=Plzen/Pilsen (1867-1922) - C5=Budweis (1867-1922) -
C6=Czaslau/Caslau (1867-1922)
- C7=Cheb/Eger (1872-1922) - D1=Jihlava/Iglau (1867-1872) - D2=Olomouc/Olmutz (1867-1872) - D3=Bruntal/Freudenthal (1867-1872) - D4=Opava/Troppau (1867-1872) - D5=Cieszyn/Teschen (1867-1868) - E1=Biala (1866-1920) - E2=Bochnia (1867-1920) - E3=Tarnow (1867-1914?) - E4=Rzeszow/Reischshof (1867-1914?) - E5=Nowy Sacz/Neu-Sandec (1868-1914?) - F1=Przemysl/Peremyshl (1867-1914?) - F2=Ivano-Frankivsk/Stamislav (1867-1914?) - F3=Brody (1867-1914?) - F4=Ternopol/Tarnopol (1867-1914?) -
F5=Chernivtsi/Czernowitz (1867-1914?)
- F6=Brzeziny/Brsesan (1867-1914?) - F7=Drohobych/Drohobycz (1867-1914?) - G1=Maribor/Marburg (1867-1922) - G2=Klagenfurt (1872-1922) - G3=Ljubljana/Laibach (1868-1919) - H1=Bregenz (1867-1872) - H1=Innsbruck (1872-1922) - H2=Bolzano/Bozen (1867-1922) - H3=Trento/Trient (1867-1922) - M1=Gorizia/Gorz (1867-1922) - M2=Rovinj/Rovigno (1867-1922) - M3=Zadar/Zara (1872-1919) - M4=Split/Spalato (1872-1919) - M5=Dubrovnik/Ragusa (1872-1919) - M6=Piran/Pirano (1872-1922) - M7=Kotor/Cattaro (1872-1922) - M8=Sibenek/Sebenico (1872-1922) - M9=Pula/Pola (1872-1922) - N1=Split/Spalato (1867-1872) - N2=Dubrovnik/Ragusa (1867-1872) - P1=Eger/Erlau (1867-1872) - P1=Miskolc 1872-1937) -
P2=Selmecbanya/Banska Stiavmica/Schemnitz (1867-1872)
- P3=Besztercebanya/Banska Bistrica/Neusohl (1867-1872) - P4=Pozsony/Bratislava/Pressburg (1867-1872) - P5=Geor/Gyor/Raab (1867-1872) - P6=Sopron/Ödenburg (1867-1872) - P6=Lugos (1872-1919) - P7=Pecs/Funfkitchen (1867-1872) - P8=Sombor/Zombor (1867-1872) -
P8=Szabadka (1872-?)
- P9=Sgeged/Szegedin (1867-1872) - P12=Arad (1872-1919) - P13=Pancsova/Pantschowa (1872-1919) - R1=Eperjes/Presov/Eperies (1867-1872) - R2=Baia Mare/Nagy-Banya (1867-1872) - R3=Carei/Nagy-Karoly (1867-1872) - R4=Debrecen/Debreczin (1867-1872) - R5=Oradea/Grosswardein (1867-1872) -
R6=Locse/Levoca (1872-1922)
-T1=Lugos (1867-1872) - T2=Novi Sad/Neusatz (1867-1872) - T3=Arad (1867-1872) - T4=Pancevo/Pancsova/Pantschowa (1867-1872) - U1=Kolozsvar Cluj/Cluj-Napoca/Klausenburg (1867-1872) - U1=Baja (?-1937) U2=Bezterce/Bistrita/Bistrirz (1866-1921) - U3=Tirgu Mures/Maros-Vasarely (1867-1872) - U4=Nagyzsrbrn/Hermannstadt (1867-1872) U5=Kronstadt (1867-1921) - V=Agram/Zagreb (1866-1919) - V1=Osijek/Esseg (1867-1872) -
V2=Rijeka/Fiume (1867-1872)
After the dissolution of Austrian-Hungarian Empire (1918) the
Diana head mark was maintained in use until 1937
by the short-lived People's Republic and by the restored Kingdom of Hungary
IMPORT MARKS 1872-1901 and 1902-1921
(AUSLANDSVERKEHR):
the letter of the left identifies the town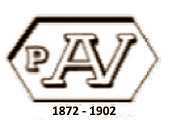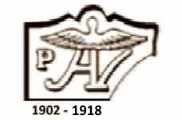 ALPHABETICAL LISTING OF AUSTRIAN SILVERSMITHS
EXAMPLES OF AUSTRIAN SILVER MARKS
SILBERWARENFABRIK ALEXANDER STURM, Vienna
Alexander Sturm was born 1851 in Vienna and received the business license as silverware producer in 1882. One year later he opened his own shop. After initial difficulties he finally succeeded to sell his products with the help of the so called nouveau riche Vienna society. In particular the families of the new bourgeoisie (Manner, Seligmann, Wittgenstein etc.) were customers of Alexander Sturm. From 1926 also artist of the Wiener Werkstätte worked for the company, which had its own design studio, where the artist created their designs for the silver manufacture. After the war Adalbert Sturm revived the plant and design drawings by Otto Prutscher and Josef Hoffmann entered in the inventory of the factory. In early 2000s Christa Berghaus Fölster (1950-2013) saved and continued the business. She bought machines, tools and blankings as well as the comprehensive company archive, to preserve and revive the old Viennese silversmith tradition.
SCHEID GEORG ADAM, Vienna
Scheid completed a commercial apprenticeship until 1853 and subsequently worked in Pforzheim and Stuttgart. In 1858 he went to Vienna and worked there in the workshop of his future father-in-law, the silverware producer and jeweler Michael Markowitsch. Together they founded the OHG Markowitsch & Scheid in 1862. 20 years later, he left the thriving company and founded in 1882 under his name a jewelry factory and 1884 also the Georg Adam Scheid'sche Affinerie, from which later the Ögussa emerged. In 1911 he retired. His jewelery works bear the marks "G.A.S. " or "S.G.A. " and often the German hallmark "Crescent and Crown"

FRANK RUDOLF
active 1882-1914

ARGENTOR WERKE RUST & HETZEL
active 1887-1957.The origin of the firm dates to 1863 when Carl Adalbert Münchmeyer and Ernst Rust founded C.A. Münchmeyer & Co. The firm was specialised in silver and gold plating metal objects through galvanic process.
Factories were opened in Berlin (managed by C.A.Münchmeyer), Vienna (managed by Ernst Rust and Adolf Wilhelm Hetzel) and Paris. Argentor-Werke Rust & Hetzel, founded in 1902 and managed by Georg Ferdinand Rust and Adolf Wilhelm Hetzel, became one of the most important metalware manufacturers of Viennese Art Nouveau movement.
The company was very successful and produced hundreds of models for worldwide export, obtaining the award of supplier of Austro-Hungarian Imperial House. Branches were active in Budapest and Brno. Argentor-Werke survived WWII but continued to suffer increasing financial losses until the closure in 1970.
DIETRICH OSCAR JULIUS
(b.1853- d.1940), active in Vienna, 1881-1924. Partecipated in the Exhibition in Paris in 1900 and 1925. Executed designs by Franz Delavilla, Emanuel Josef Margold, Dagobert Peche and the architects Hans Bolek and A.O. Holub. The workshop closed in 1931
DUB VINCENT CARL
active Vienna, 1886-1924 (b. 1852 - d. 1924)

KLINKOSCH JOSEPH CARL (1822-1888)
was the son of the silversmith Carl Klinkosch and apprenticed at his father workshop. He became a certified silversmith in 1844 and took over his father business in 1851. In 1864, Klinkosch formed a partnership with Stephan Mayerhofer trading as Mayerhofer & Klinkosch. The firm participated to the Viennese World Exhibition of 1873 and the Parisian Exposition Universelle in 1878. In 1869/1870, Klinkosch ended his partnership with Mayerhofer and continued to run the company alone, renaming it J. C. Klinkosch. From 1855 Klinkosch held the Imperial Warrant to the Court of Emperor Franz Josef of Austria. Klinkosch retired in 1884 and the company passed to his two sons, Arthur and Isidor. In 1918, the company was acquired by Arthur Krupp and was incorporated under the name J.C. Klinkosch AG. The company was deleted from the Commercial Register in 1972.

FRIEDMAN EDUARDactive Vienna, 1881-1919. Executed designs by Rudolf Karger, Milla Weltmann, and by the architects Hans Bolek, Philippe Hauser, Emanuel Josef Margold and Otto Prutscher.

KALMAN POLGARactive in Budapest

RATZERDORFER HERMANNactive Vienna, 1843-1881.Hermann Ratzersdorfer was born in 1817 and raised in Pressburg, Austria (Bratislava now, the capital of Slovakia). His father Salomon was a dealer in true antiquities and Hermann moved at the beginning of the forties to Vienna. Soon found it more lucrative to imitate rare pieces, instead of searching out and carefully picking originals, and he established such a factory, the first of its kind in Austria. On December 14, 1843 he started his business and registered his own maker's mark certifying his recognition as a master silversmith.Two years later he showed his workmanship at the Viennese Trade Exhibition,1845. He exhibited also at the London Exhibition of 1851, the Paris Exhibition of 1855 (where he won a 2nd class medal), the London Exhibition of 1871 and the 1873 Exhibition in Vienna
He retired in 1881, having turned his business over to his son Julius
(for these information I'm in debt with the wide article about Hermann Ratzersdorfer written by Jayne W. Dye and Karin Sixl-Daniell for ASCAS web site)
SCHWARZ EMANUELactive in Vienna 1876-1910. Born in 1841. Silversmith and jeweller

WIENER WERKSTATTEactive Vienna 1903 - 1932. Designers for Vienna Workshop were Carl Otto Czeschka, Josef Hoffmann, Koloman Moser, Dagobert Peche, Otto Prutscher and Eduard Josef Wimmer-Wisgrill. Silversmiths with a maker's monogram were Josef Berger, Adolf Erbrich, Augustin Grotzbach, Josef Hossfeld, Josef Husnik, Josef Czech, Karl Kallert, Alfred Mayer, Anton Pribit, Eugen Pflaumer, Karl Ponocny, J. Sedlicky and Josef Wagner.

This is a page of A Small Collection of Antique Silver and Objects of vertu, a 1500 pages richly illustrated website offering all you need to know about antique silver, sterling silver, silverplate, sheffield plate, electroplate silver, silverware, flatware, tea services and tea complements, marks and hallmarks, articles, books, auction catalogs, famous silversmiths (Tiffany, Gorham, Jensen, Elkington, WMF, Reed & Barton, Mappin & Webb, Bateman Family), history, oddities ...
SITE MAP SILVER DICTIONARY