SILVER ADVERTISING:
BENJAMIN GRAYSON & SON
The origin of the firm dates to the partnership of Roger Broadhead and Henry Atkin at Love St, Sheffield (1834-1853) active in North St. Works, Sheffield. In 1853 the partnership was dissolved and they formed respectively R. Broadhead & Co and Atkin Brothers.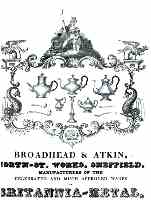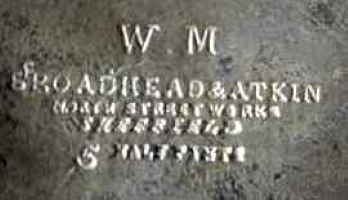 "R. Broadhead & Co was active at Britannia Works, Love Street, Sheffield. In an 1858 advertisement the firm is described as manufacturers of Electro-Plated, British Plate, Britannia Metal Goods, Mounted Earthenware Jugs.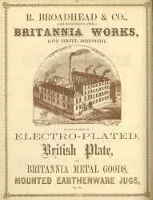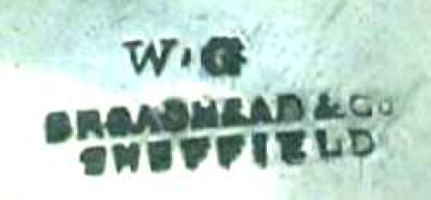 R. Broadhead & Co was succeeded by Benjamin Grayson & Son active at British Works, 58 Holly St. Sheffield (1872-1885), 16-18 Garden St. (1886-1893), 19 Carver Lane (1894-1900) and 99 Napier St., Sheffield (1901-1910).
The firm used the figural trade mark BRITISH illustrated in this advertisement (exists also a documented example of conjoined use with Lee & Wigfull mark).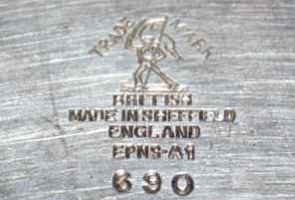 SILVER ADVERTISEMENTS
FACTORIES, PLANTS, SALESROOMS, SHOPS AND WORKSHOPS: OLD IMAGES

www.silvercollection.it
This is a page of 'The What is? Silver Dictionary' of A Small Collection of Antique Silver and Objects of vertu, a 1500 pages richly illustrated website offering all you need to know about antique silver, sterling silver, silverplate, Sheffield plate, electroplate silver, silverware, flatware, tea services and tea complements, marks and hallmarks, articles, books, auction catalogs, famous silversmiths (Tiffany, Gorham, Jensen, Elkington), history, oddities ...
HOME - SITE MAP - SILVER DICTIONARY - COOKIES CONSENT AND PRIVACY