A SMALL COLLECTION OF ANTIQUE SILVER
AND OBJECTS OF VERTU
THE WHAT IS? SILVER DICTIONARY
HOW TO READ, DECRYPT AND IDENTIFY THE MARKS
ON AMERICAN SILVERPLATE AND ELECTROPLATED SILVER
THE STEP BY STEP GUIDE TO TRACE USA AND CANADA SILVERPLATE MARKS
"How can I identify the marks on silver I inherited from my grandmother? ..." "I'm trying to find information about a nice silver piece I bought on a thrift store...."
Questions as these are the most frequent I receive everyday by site visitors. I always try to satisfy the requests, but following the instruction on this page you will be able, expert or not of the matter, to find directly the information you are looking for.
The tutorial is thought to guide you in a step-by-step path into the site.
I suggest to read the instructions and to follow examples and links!
You will be surprised to find how easy it is.
TRY NOW, ISN'T DIFFICULT!!!! choose your case and go directly to your starting point

1) mark with the NAME of the maker

2) mark with ALPHABET LETTERS only

3) mark with SYMBOLS only

4) mark with LETTERS and SYMBOLS

and "how to date my silverplate?"





The trademark (or trade mark) is a distinctive sign or indicator used by an individual or business organization to signify to consumers that the products or services originate from a unique source and to distinguish the products or services from those of other entities.
In some cases the manufacturers of American electroplated silver did not include the firm name in their trademark, preferring to use some alphabet letter (usually the firm's initials), figural or graphic symbols or a mix of letters and symbols.
This feature, while often obtaining a pleasing visual effect, makes difficult the identification of the name of the manufacturer.





1) AMERICAN SILVERPLATE MARKS
ALPHABETICAL DIRECTORY BY NAME

Aa / Al Am / Az Ba / Bh Bi / Bz C D E F G H I J K L Ma / Mh Mi / Mz N O P Q Ra / Rn Ro / Rz Sa / Sl Sm / Sz T U V Wa / Wd We / Wz X Y Z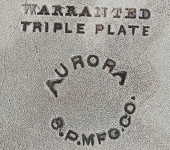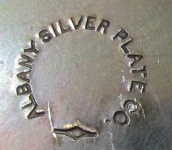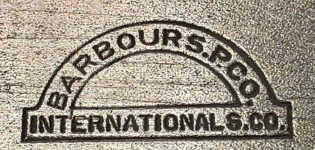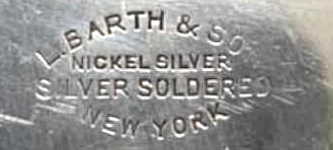 Most of American silverplate manufacturers use a mark including their name and, often, their location.
In this case the research of information about the maker of your item is extremely simple.
Knowing the name of the maker, you can use the ALPHABETICAL DIRECTORY of this site, find the name you are looking for and obtain details about the history of the factory, when and where it was active and compare your mark with those illustrated in the page.

If the mark bears, for example, the name AURORA, click on Am/Az and you will be redirected to the page containing, in alphabetical order, AURORA SILVER PLATE CO


2) AMERICAN SILVERPLATE MARKS
TRADEMARKS CONTAINING ONLY ALPHABET LETTERS

If the trade mark contains only alphabet letters (usually name's initials) the search of information requests a previous step: to find the name of the maker.
In this case the identification of the mark is less simple but not too difficult. You need to use the page of LITERAL MARKS, find the corresponding image of the mark and click on the maker's name next to the photo. You will be redirected to the page containing the ALPHABETICAL DIRECTORY and the information you are looking for.

LITERAL MARKS

A - B - C - D - E- F - G - H - I - J - K - L- M - N - O - P - Q - R - S- T - U - V - W - X - Y - Z-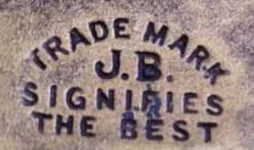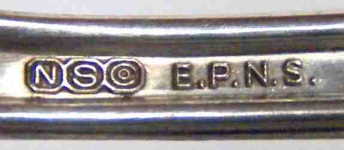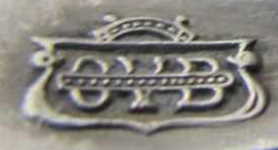 If, for example, the mark is JB, click on the initial letter J and you will be redirected to the page containing the list of trademarks having the corresponding initial letter J and the link to JENNINGS BROS. MFG. CO, its history and further marks


4) AMERICAN SILVERPLATE MARKS
TRADEMARKS CONTAINING FIGURAL OR GRAPHIC SYMBOLS TOGETHER WITH ALPHABET LETTERS
If the trademark contains figural of graphic symbols together with alphabet letters you can make your search indifferently through the ALPHABETIC or the FIGURAL channels as illustrated in examples 2) and 3)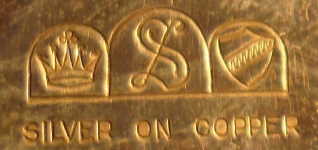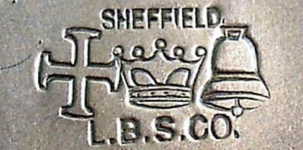 If, for example, the mark is a CROWN and an "S", you can click indifferently on the links crowns or S. You will be redirected to the pages containing the list of trademarks using the crown symbol or to the list of marks containing an "S". There, you'll find the name of the maker, SHERIDAN SILVER CO, and the corresponding link to its information history and marks


HOW TO DATE YOUR SILVERPLATE
The absence of an official dating system makes it difficult to date silver plated wares. An approximate date can be determined by examining:
- the style of the object
- the date of registration of the pattern at the Patent Office
- the presence of a dated dedication
Few manufacturers introduced, on a voluntary basis and for a more or less long period, a dating system of their silver based on various symbols added next to the trademark. The first was
Gorham
(1868-1969), followed by
Whiting Mfg Co
(1905-1924) and
Reed & Barton
(1928-1942).
Other approximate dating is possible for
Tuttle Silversmiths
(1923-1981) which adopted the custom of marking each piece with a crescent and the initials of the incumbent President of the United States and
Tiffany & Co
(1861-1965) which used a date letter based on the initial of the current Tiffany president.

www.silvercollection.it
This is a page of 'The What is? Silver Dictionary' of A Small Collection of Antique Silver and Objects of vertu, a 1500 pages richly illustrated website offering all you need to know about antique silver, sterling silver, silverplate, Sheffield plate, electroplate silver, silverware, flatware, tea services and tea complements, marks and hallmarks, articles, books, auction catalogs, famous silversmiths (Tiffany, Gorham, Jensen, Elkington), history, oddities ...
HOME - SITE MAP - SILVER DICTIONARY - COOKIES CONSENT AND PRIVACY