This is a page of A Small Collection of Antique Silver and Objects of vertu, a 1000 pages richly illustrated website offering all you need to know about antique silver, sterling silver, silverplate, sheffield plate, electroplate silver, silverware, flatware, tea services and tea complements, marks and hallmarks, articles, books, auction catalogs, famous silversmiths (Tiffany, Gorham, Jensen, Elkington, WMF, Reed & Barton, Mappin & Webb, Bateman Family), history, oddities ...
SITE MAP HOME PAGE


HISTORY AND MARKS
The firm was established by Georg Peter Bruckmann (1778-1850) in Heilbronn (Germany) in 1805 succeeding to his father Johann Dietrich Bruckmann (1736-1807).
In 1810 Bruckmann first used self-made steel stamps in Germany for embossing silverware and the company's products were exhibited at the fairs in Frankfurt and Leipzig becoming known nationwide.
The firm continued to promote technical innovations in metalware manufacture. In 1820 was installed the first large silverware press and in 1839 metal processing machines from Alfred Krupp were introduced in Bruckmann factory.
At his death he left a growing and flowering hollowware and flatware manufactory which was managed by his widow and his sons Wolfgang Peter Bruckmann (1818-1891) and Ernst Dietrich Bruckmann (1829-1870).
After the death of Ernst Dietrich Bruckmann the business was continued by his widow Pauline along with Wolfgang Peter Bruckmann.
Later, two sons of Ernst Dietrich Bruckmann entered in the activity: Peter Bruckmann (1865-1937) in 1885 and Ernst Bruckmann in 1887.
Under their guidance the activity developed and in 1898 a new factory, considered the larger German silverware manufactory, was opened in Lerchenstra▀e.
After the destruction suffered in WWII and the new factory rebuilt after the war the business was sold in 1968 to Gerofabriek NV.
In 1970 the production was transferred in Neckarsulm until 1973 bankruptcy.
The maker's mark for silver wares was the "Eagle with spread wings and legs" while for plated flatware the "Locomotive" symbol was used.


BRUCKMANN & SOHNE SILVER MARKS





.800 silver fineness


.925 silver fineness

.930 silver fineness


BRUCKMANN & SOHNE SILVERPLATE MARKS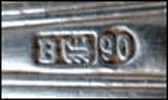 BRUCKMANN & SOHNE FLATWARE PATTERNS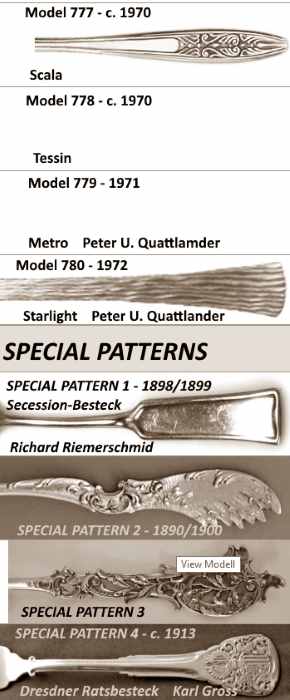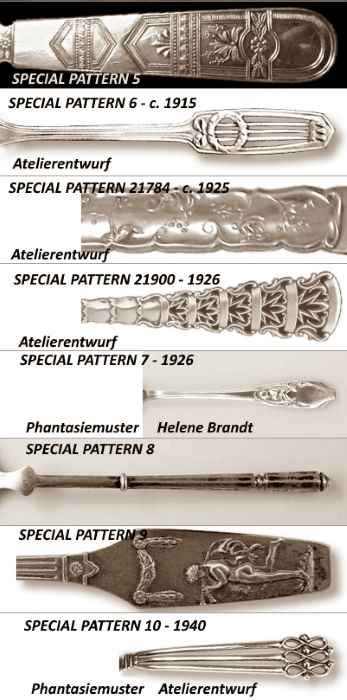 www.silvercollection.it
This is a page of 'The What is? Silver Dictionary' of A Small Collection of Antique Silver and Objects of vertu, a 1500 pages richly illustrated website offering all you need to know about antique silver, sterling silver, silverplate, Sheffield plate, electroplate silver, silverware, flatware, tea services and tea complements, marks and hallmarks, articles, books, auction catalogs, famous silversmiths (Tiffany, Gorham, Jensen, Elkington), history, oddities ...
HOME - SITE MAP - SILVER DICTIONARY - COOKIES CONSENT AND PRIVACY