SILVER HALLMARKS WORLDWIDE OVERVIEW
ARGENTINA - AUSTRALIA - AUSTRIA - BELGIUM - BRAZIL
The word "HALLMARK" derives from the fact that precious metals were sent to the London Goldsmiths' Hall for testing to ensure that the correct standard of silver had been used.
In most countries, silver objects are stamped with one or more hallmarks indicating the purity of the metal and the mark of the manufacturer or silversmith. Other marks can indicate the date of manufacture and additional information about the piece.
In some countries, the testing of precious metal objects and marking of purity is controlled by a national assay office.
Depending on the national legislation the use of hallmarks may be compulsory, voluntary or provided by a manufacturer's declaration.
This page presents a general overview on a series of national hallmarking systems. More detailed information and further hallmarks are available following the respective links.


---
COUNTRY: A-B C-F G-L M-R S-Z
---
ARGENTINA
Unofficial standard marks started to be used in the late 19th century.
From c.1875 to 1959 the marks consisted of the name or the symbol of the maker and the silver fineness (.800 or .925).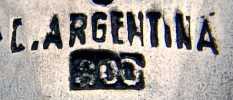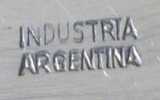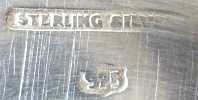 From 1959 a lozenge shaped mark is used for silver fineness.



---
AUSTRALIA

1

2

3

4

5
1: Alexander Dick, New South Wales, c. 1837 2: Fairfax & Roberts, Sydney, since 1920 3: William Kerr, Sydney, active 1870s/1930s 4: Arold F. Sargison, Hobart, active 1920 - c.1980 5: Jochim Matthias Wendt, Adelaide, c.1850s- c.1910s

No form of official mark or date letter system was introduced into the hallmarking of Australian silver. Early Australian silversmiths marked their objects with their full name or initials and imitations of English hallmarks as leopard's heads, lions and anchors. In 1988 was formed the Gold and Silversmiths Guild of Australia. A voluntary system of marking was introduced (maker's mark, standard mark, guild mark and date letter).

AUSTRALIAN MARKS PAGES


---
AUSTRIA

1

2

3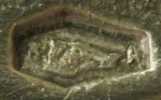 4

5

6

7
1: 13 lot fineness, 1810-1866 2: large articles, .800 fineness, 1872-1922 3: large articles, .750 fineness, 1872-1922 4: small articles, .750 fineness, 1872-1922 5: Vienna import mark 1872-1902 6: Vienna import mark 1902-1937 7: .800 fineness, 1922-2001

AUSTRIA-HUNGARY HALLMARKS PAGE

REPUBLIC OF AUSTRIA MARKS PAGE


---
BELGIUM

1

2

3

4

5

6

7

8

9
1: .934 fineness, 1814-1831 2: .833 fineness, 1814-1831 and Assay Office Gand/Gent (D) 3: warranty mark, 1814-1831 4: 'recense' 1831 5: .950 fineness, 1831-1868 6: .800 fineness, 1831-1868 7: warranty mark, 1831-1868 8: Assay Office Liège/Luik (D), 1831-1868 9: .900 and .800 fineness, voluntary mark, 1869-1942

From 1942 to 1990 silverware was marked on a voluntary basis with a four-petal flower and the fineness mark featured the letter A followed by the fineness indication within an oval frame.
Silver fineness was .900 and .800 (1942-1990, letter code A), raised to .925 and .835 after 1990 (letter code AG)



.800 fineness and Walraevens & Cie maker's mark



.830 fineness and J. Roosen, Bruxelles maker's mark (note the use of A830 unknown to literature)

BELGIUM MARKS PAGE

BELGIUM PRESENT MARKS PAGE


---
BRAZIL
In the 19th century there was no official silver control in Brazil and silversmiths emulated hallmarks from Portugal, France and the UK to better sell their products. In fact the quality of the work was good but the public, apparently, preferred foreign hallmarks, even fake ones.


1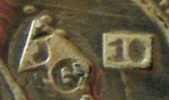 2

3

4


5
1: Rio de Janeiro, maker Bennassi Bernard, c.1810 2: José Ferreira Guimaraes, c. 1850 3: Rio de Janeiro, unidentified maker 4: Rio de Janeiro, Francisco Duarte Graça, circa 1854 5: Rio de Janeiro, Francisco Duarte Graça, circa 1854 and pseudo Lisbon hallmark

BRAZIL MARKS PAGE


---
COUNTRY: A-B C-F G-L M-R S-Z
---

www.silvercollection.it
This is a page of 'The What is? Silver Dictionary' of A Small Collection of Antique Silver and Objects of vertu, a 1500 pages richly illustrated website offering all you need to know about antique silver, sterling silver, silverplate, Sheffield plate, electroplate silver, silverware, flatware, tea services and tea complements, marks and hallmarks, articles, books, auction catalogs, famous silversmiths (Tiffany, Gorham, Jensen, Elkington), history, oddities ...
HOME - SITE MAP - SILVER DICTIONARY - COOKIES CONSENT AND PRIVACY