SILVER HALLMARKS WORLDWIDE OVERVIEW
GERMANY - HUNGARY - IRAN (PERSIA) - ITALY - LATVIA - LITHUANIA
The word "HALLMARK" derives from the fact that precious metals were sent to the London Goldsmiths' Hall for testing to ensure that the correct standard of silver had been used.
In most countries, silver objects are stamped with one or more hallmarks indicating the purity of the metal and the mark of the manufacturer or silversmith. Other marks can indicate the date of manufacture and additional information about the piece.
In some countries, the testing of precious metal objects and marking of purity is controlled by a national assay office.
Depending on the national legislation the use of hallmarks may be compulsory, voluntary or provided by a manufacturer's declaration.
This page presents a general overview on a series of national hallmarking systems. More detailed information and further hallmarks are available following the respective links.


---
COUNTRY: A-B C-F G-L M-R S-Z
---
GERMANY

GERMANY MARKS FROM 1888 PAGE








GERMANY ANCIENT MARKS

GERMANY HANAU MARKS

GERMANY PRESENT MARKS PAGE
---
HUNGARY
The Austro-Hungarian Compromise of 1867 elevated Hungary's status by the creation of a joint monarchy with the Austrian Empire, ruled in personal union as Austria-Hungary by the Austrian emperors during 1867-1918. After the First World War and the dissolution of the Habsburg Monarchy, Hungary became a Republic continuing to use Austro-Hungarian silver hallmarks until 1937. Afterwards, five silver hallmarks change have been occurred, 1937, 1966, 1999, 2006 and the last in 2016.


1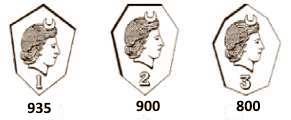 2

3
1: 1866 - 1937 2: 1937 - 1966 3: 1966 - 1999

HUNGARY MARKS PAGE


---
IRAN (PERSIA)
First silver marks showing the maker's name and his city came into use in late 19th century.
Imitation of 84 Russian marks appeared c. 1890, possibly introduced by Armenian goldsmiths emigrated to Tabriz.
National marks with the "Armed Lion" in various shapes (fineness .840 and .900) were introduced in 1967.
The last shah was deposed in 1979 and Republican marks were intended to be introduced.







84 imitation of Russian mark (meaning .840 rather than .875), Parsi and Arabic 84




"Armed Lion" mark 1967-1979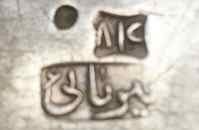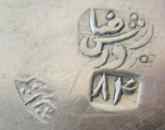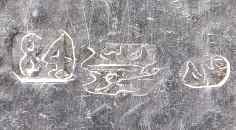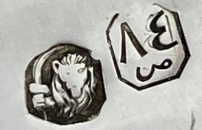 ---
ITALY
ANCIENT STATES


1

2

3

4

5

6

7
1: Genoa 2: Lombardo Veneto 3: Naples 4: Rome 5: Turin 6: Sicily 7: Venice

ITALIAN ANCIENT STATES HALLMARKS PAGES: GENOA LOMBARDO VENETO NAPLES ROME TURIN SICILY VENICE

FROM 1872 TO PRESENT


1

2

3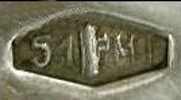 4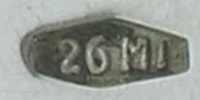 5

6
1: .950 fineness, 1872-1935 2: .900 fineness, 1872-1935 3: .800 fineness, 1872-1935 4: town and maker's code, 1935-1944 5: town and maker's code, 1945-1970 6: town and maker's code, 1971-present

ITALIAN HALLMARKS FROM 1872 PAGE


---
LATVIA
Russian hallmarks were used from 1840 to 1918 and from 1946 to 1990
From 1925/1927 to 1939 was used a slightly rounded corners rectangular mark containing a head with the Latvian crown and the silver fineness. A similar mark was reinstated after independence from Soviet Union.


1

2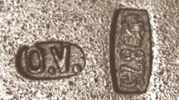 3

4

5

6
1: Russian/Latvian mark - unidentified PJS St. Petersburg silversmith 2: Bernhard Bergholtz (Riga) 3: Oskar Vük (Riga) 4: unidentified maker 5: unidentified maker 5: unidentified maker

LATVIA MARKS PAGE

LATVIA PRESENT MARKS PAGE


---
LITHUANIA
Medieval Lithuania was a powerful independent state before to be absorbed from Poland and, from 1796, from Russia.
Independence from Russian was obtained from 1922 to 1940 and again after 1991.
Russian hallmarks were used from early 19th century until 1918 and from 1946 to 1990.




LITHUANIA MARKS PAGE
---
COUNTRY: A-B C-F G-L M-R S-Z
---

www.silvercollection.it
This is a page of 'The What is? Silver Dictionary' of A Small Collection of Antique Silver and Objects of vertu, a 1500 pages richly illustrated website offering all you need to know about antique silver, sterling silver, silverplate, Sheffield plate, electroplate silver, silverware, flatware, tea services and tea complements, marks and hallmarks, articles, books, auction catalogs, famous silversmiths (Tiffany, Gorham, Jensen, Elkington), history, oddities ...
HOME - SITE MAP - SILVER DICTIONARY - COOKIES CONSENT AND PRIVACY