EUROPEAN COUNTRIES SILVER AND GOLD HALLMARKS
LITHUANIA
A silver or gold object that is to be sold commercially is, in most countries, stamped with one or more hallmarks indicating the purity of the metal and the mark of the manufacturer or silversmith
The word "HALLMARK" derives from the fact that, since the 16th century, precious metals were sent to the London Goldsmiths' Hall for testing to ensure that the correct standard of silver had been used. The Goldsmiths' Hall was the headquarters of the Goldsmiths' Company and the home of the Assay Office.
In some countries, the testing of precious metal objects and marking of purity is controlled by a national assay office.
Depending on the national legislation the use of hallmarks may be compulsory, voluntary or provided by a manufacturer's declaration.
The Lithuanian hallmarking system is organized on a compulsory base.

Medieval Lithuania was a powerful independent state before to be absorbed from Poland and, from 1796, from Russia.
Independence from Russian was obtained from 1922 to 1940 and again after 1991.
Russian hallmarks were used from early 19th century until 1918 and from 1946 to 1990.





OTHER PRECIOUS METALS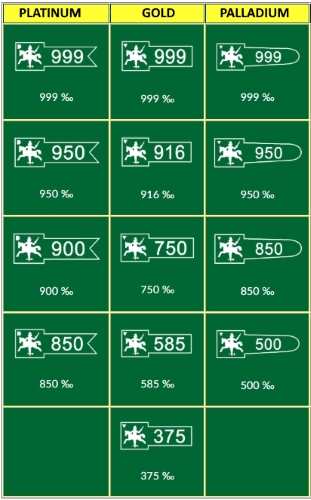 The present Lithuanian hallmarking system is based on two mandatory marks:
- control mark, consisting of national symbol (on the left) metal fineness (on the right) and assay office code (upper left corner)
- maker's mark
and a voluntary mark:
- date code



Assay Office codes: D - Druskininkai V - Vilnius K - Kowno L - Klaipeda S - Saul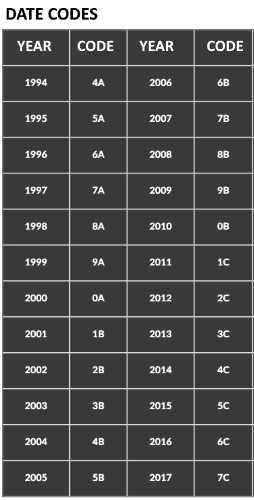 HALLMARKING CONVENTION
Lithuania is from 2004 a country member of the Convention on the Control and Marking of Articles of Precious Metals, an international treaty between States on the cross border trade in precious metal articles. It was signed in Vienna in November 1972 and entered into force in 1975.
The Convention's Common Control Mark (CCM) has the same legal status as a national Assay Office mark. The CCM is applied by national Assay Offices to articles of platinum, gold, palladium and silver after the fineness of the alloy has been checked in accordance with agreed testing methods.
Articles bearing the CCM - together with the national Assay Office Mark, the responsibility mark (manufacturer or sponsor) and the fineness mark indicating its purity - do not have to be re-controlled or re-marked in the states members of the Convention.


www.silvercollection.it
This is a page of 'The What is? Silver Dictionary' of A Small Collection of Antique Silver and Objects of vertu, a 1500 pages richly illustrated website offering all you need to know about antique silver, sterling silver, silverplate, Sheffield plate, electroplate silver, silverware, flatware, tea services and tea complements, marks and hallmarks, articles, books, auction catalogs, famous silversmiths (Tiffany, Gorham, Jensen, Elkington), history, oddities ...
HOME - SITE MAP - SILVER DICTIONARY - COOKIES CONSENT AND PRIVACY