EUROPEAN COUNTRIES SILVER AND GOLD HALLMARKS
HALLMARKING CONVENTION
The Convention on the Control and Marking of Articles of Precious Metals is an international treaty between States on the cross border trade in precious metal articles. It was signed in Vienna in November 1972 and entered into force in 1975.

The countries members are AUSTRIA (1975), CROATIA (2018), CYPRUS (2007), CZECH REPUBLIC (1994), DENMARK (1988), FINLAND (1975), HUNGARY (2006), IRELAND (1983), ISRAEL (2005), LATVIA (2004), LITHUANIA (2004), NETHERLANDS (1999), NORWAY (1983), POLAND (2005), PORTUGAL (1982), SLOVAKIA (2007), SLOVENIA (2009), SWEDEN (1975), SWITZERLAND (1975), UNITED KINGDOM (1976).

The Convention's Common Control Mark (CCM) has the same legal status as a national Assay Office mark. The CCM is applied by national Assay Offices to articles of platinum, gold, palladium and silver after the fineness of the alloy has been checked in accordance with agreed testing methods.


Articles bearing the CCM - together with the national Assay Office Mark, the responsibility mark (manufacturer or sponsor) and the fineness mark indicating its purity - do not have to be re-controlled or re-marked in the states members of the Convention.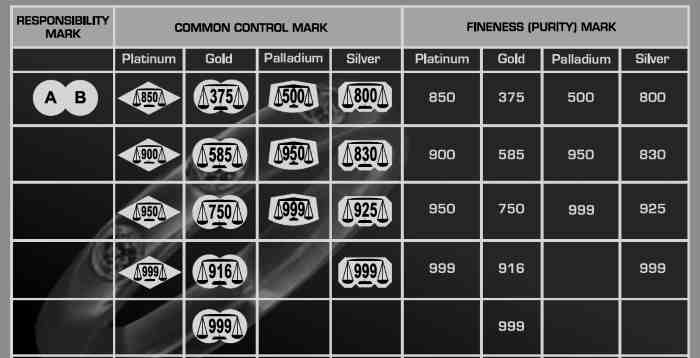 NATIONAL CONTROL MARKS


www.silvercollection.it
This is a page of 'The What is? Silver Dictionary' of A Small Collection of Antique Silver and Objects of vertu, a 1500 pages richly illustrated website offering all you need to know about antique silver, sterling silver, silverplate, Sheffield plate, electroplate silver, silverware, flatware, tea services and tea complements, marks and hallmarks, articles, books, auction catalogs, famous silversmiths (Tiffany, Gorham, Jensen, Elkington), history, oddities ...
HOME - SITE MAP - SILVER DICTIONARY - COOKIES CONSENT AND PRIVACY