ITALIAN SILVER MARKS AND HALLMARKS
REPUBLIC OF VENICE
This is a page of A Small Collection of Antique Silver and Objects of vertu, a 1000 pages richly illustrated website offering all you need to know about antique silver, sterling silver, silverplate, sheffield plate, electroplate silver, silverware, flatware, tea services and tea complements, marks and hallmarks, silver marking system and silver hallmarks guide, articles, books, auction catalogs, famous silversmiths (Tiffany, Gorham, Jensen, Elkington, WMF, Reed & Barton, Mappin & Webb, Bateman Family), history, oddities ...
SITE MAP - HOME PAGE
THE DIRECTORY OF 20th CENTURY ITALIAN SILVERSMITHS (SORTED BY PROVINCE)
The Venetian Republic was a state originating from the city of Venice in Northeastern Italy. It existed for over a millennium, from the late 7th century AD until the year 1797.
Venice became extremely wealthy through its control of trade between Europe and the Levant and expanded into the Adriatic Sea, in Italy, along the Dalmatian coast from Istria to Albania and in the island of Cyprus.
In the 17th and 18th century began the decline and Venice lost most of its overseas possessions
By 1797, the Republic of Venice could no longer defend itself and the French army under Napoleon Bonaparte conquered the neutral Venice and with the Peace of Leoben the town and its territories were taken by Austria until 1805.
From 1805 until 1814 Venice returned under French domination as part of the Regno d'Italia, founded in Northern Italy by Napoleon.
After the fall of Napoleon and the Congress of Vienna, the town became part of the Regno Lombardo Veneto, again under Austrian domination. In 1866 these territories were annexed to the Kingdom of Italy unified under the Savoy House.
REPUBLIC OF VENICE SILVER MARKS
The silver marks of the Republic of Venice (except a brief period in 1805 when were adopted Austrian marks) were used until 1812. In this year was introduced the French system approved (December 25, 1810) by the Viceroy of Italy Eugene de Beauharnais.
---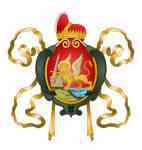 VENICE
the hallmarking was based on a system of five marks
maker's mark
(usually silversmith's initials)
workshop's mark
(workshop's -"bottega"- name in various shapes - contrassegno di bottega)
assayer's mark
(usually St.Mark's lion in "moleca" over assayer's initials
or initials and a symbol between)
assayer's mark
(usually St.Mark's lion in "moleca" over assayer's initials
or initials and a symbol between)
Assay Office (Zecca) mark
(St.Mark lion in "moleca")





Below the evolution of Venice "seal" from the 14th to the end of the 18th century
These rules were scarcely applied by Venetian silversmiths. No object with five marks is known, while most of silver is punched with two marks only (usually assayer and Zecca marks).
---
VENICE TERRITORIES
Little is known about the marks used in Venetian Territories. Before 1664 these marks were used:
Bergamo, "bollo dell'Arte", shape unknown
Brescia, the lion rampant (town coat of arms)
Padova, St. Antony
Verona, a Shield with a cross (town coat of arms)
Vicenza, an Angel
In 1774 Assay Offices were activated in twelve towns. and silver was marked with assayer's mark (initials with town's number or symbol between)
PADOVA 1
VICENZA 2
VERONA 3
BRESCIA 4
BERGAMO 5
CREMA 6
MARK NOT
AVAILABLE
TREVISO 7
BASSANO 8
FELTRE 9
MARK NOT
AVAILABLE
UDINE 10
MARK NOT
AVAILABLE
ROVIGO 11
MARK NOT
AVAILABLE
PALMA 12
MARK NOT
AVAILABLE
---
AUSTRIAN MARKS
In 1805 Austria extended to Venice its hallmarking system. Two new marks were introduced, but this innovation lasted only few months and, with the return of French domination, the old hallmarks were resumed lasting until 1810.
---
This is a page of Silvercollection.it "A Small Collection of Antique Silver and Objects of vertu", a 1000 pages widely illustrated website offering all you wish to know about antique silver, sterling silver, silverplate, sheffield plate, electroplate silver, silverware, flatware, tea services and tea complements, marks and hallmarks, articles, books, auction catalogs, famous silversmiths (Tiffany, Gorham, Jensen, Elkington), history, oddities ...
HOME - SITE MAP - SILVER DICTIONARY
work in progress on this page - your help, corrections and suggestions will be greatly appreciated -