A SMALL COLLECTION OF ANTIQUE SILVER AND OBJECTS OF VERTU
silver cigarette case - England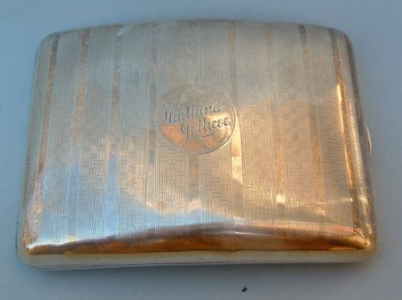 this sterling silver cigarette case is hallmarked Birmingham 1910, silversmith D & F (Deakin & Francis Ltd), retailer FINNIGANS Ltd Manchester.
The cigarette case bears guilloché working with a reserve engraved "Maitland Jellicoe". The interior is gilded with original rubber bands.
The cigarette case is 4 1/2 in. wide (cm. 11) and was bought from an Italian dealer in an Antique Market.

Deakin & Francis Ltd, were active at Regent Place, Birmingham. The original proprietors were Stephen Henry Deakin & John Horace Francis (brothers-in-law). The firm, founded in 1786 by Benjamin Woolfield, is still active in present days managed by brothers Henry and James Deakin representing the seventh generations of the property.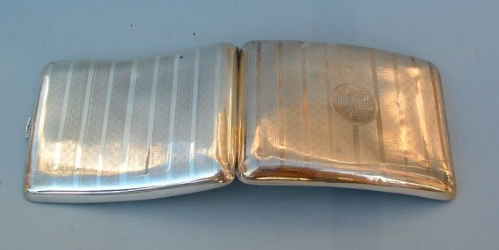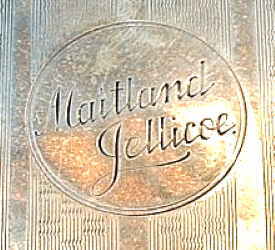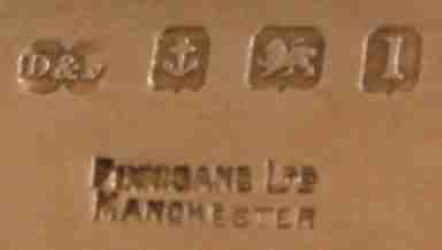 Recent research has probably made possible the identification of the original owner of the cigarette case. It is, possibly, British Army Lieutenant, Nottinghamshire and Derbyshire Regiment, 6th Battalion ERIC MAITLAND JELLICOE.
Eric Maitland Jellicoe was born in Southsea, Hampshire, in 1896 from James T. and Lilian Jellicoe. In service in the British Army, Nottinghamshire and Derbyshire Regiment, 6th Battalion as Second Lieutenant from 3rd October 1914 and as Lieutenant from 22nd March 1915. Lieutenant Jellicoe was Killed in Action at Foncquevillers, France, July 1st, 1916 (first day of the Battle of the Somme). He is buried in Foncquevillers Military Cemetery, Pas de Calais, France. (ref. IWM LIVES OF THE FIRST WORLD WAR )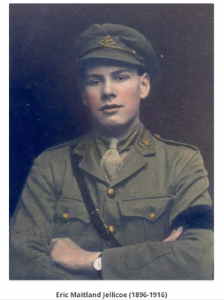 This is a page of Silvercollection.it "A Small Collection of Antique Silver and Objects of vertu", a 1000 pages widely illustrated website offering all you wish to know about antique silver, sterling silver, silverplate, sheffield plate, electroplate silver, silverware, flatware, tea services and tea complements, marks and hallmarks, articles, books, auction catalogs, famous silversmiths (Tiffany, Gorham, Jensen, Elkington, WMF, Mappin & Webb, Reed & Barton), history, oddities ...
SITE MAP - SILVER DICTIONARY