EGYPT SILVER HALLMARKS
EGYPTIAN MARKS FROM 19TH CENTURY TO PRESENT
This is a page of A Small Collection of Antique Silver and Objects of vertu, a 1000 pages richly illustrated website offering all you need to know about antique silver, sterling silver, silverplate, sheffield plate, electroplate silver, silverware, flatware, tea services and tea complements, marks and hallmarks, silver marking system and silver hallmarks guide, articles, books, auction catalogs, famous silversmiths (Tiffany, Gorham, Jensen, Elkington, WMF, Reed & Barton, Mappin & Webb, Bateman Family), history, oddities ...
SITE MAP - HOME PAGE
The Ottoman Empire conquered Egypt in 1517. France occupied the country from 1798 to 1891, after which it reverted to Turkish rule. Britain took over the administration in 1882, seizing the country at the outbreak of WWI. It became independent in 1922.

The first hallmarks were introduced by Turkey in 1575 but the first "modern" marks were adopted in the 19th century. In this period three laws were passed regarding hallmarking in Egypt:
1. In 1847 a law known as the Gashanjy Law was passed during the reign of Khedive Abbas I. This regulated the standards of gold and silver, and indicated how metals should be marked. It appears, however, that it did not make marking compulsory.
2. In the reign of Khedive Abbas Helmy II (1892-1914) a second law was passed that regulated the hallmarking process, and stipulated standards in gold and silver. The silver standards were, respectively, .900/.800/.600/.450. Unfortunately, isn't known the actual year in which the act was enacted and brought into force.
3. In the reign of Sultan Hussein Kamel (1914-1917) a third law was passed "which prohibited the buying and selling of any precious metals that were not stamped by the Egyptian assay office". Hence it seems that it is only from the time of the third law that marking became compulsory. Unfortunately, it's uncertain the actual year in which this law was enacted and brought into force (possibly 1916). In this period the .450 standard was abolished.
The ancient Turkish tughra mark used before adoption of Egyptian marking
The lion mark and the assay office mark with silver fineness in use before 1916. The "lion" mark (vaguely similar to English "lion passant") was abolished under British rule. Before 1916 the town is shown below the numerical fineness


In 1916 was introduced a marking system with date letters, similar to British model.
The mark consisted of the "standing cat facing left with raised tail into a square with cut-corners frame". The gold hallmark (Ibis) was occasionally used for silver (c.1920)
In October 1946, the silver mark was changed to the "lotus flower blossom" (papyrus according to Miller's).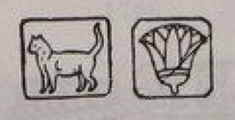 town and silver fineness (in two Hindu-Arabic numerals under the town name)














and date letter (in Latin characters, until 1940). The first was a capital letter "R" (as Birmingham in UK).








From 1941 the Latin characters have been replaced by Arabic characters.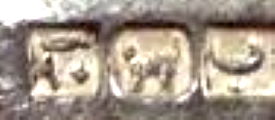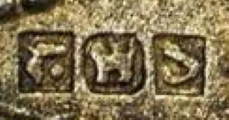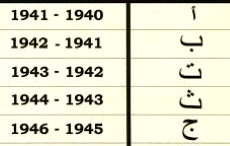 In October 1946, the "cat facing left" mark was changed to the "lotus flower blossom (cut corners mark)" (papyrus according to Miller's).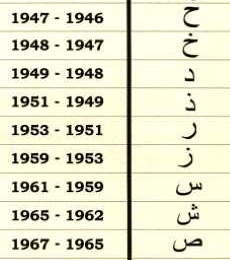 From 1966 the "lotus" marks have been replaced by the "lotus with dots on the sides". Corresponding dots were added to the date letters. According to a source, when the war between Egypt and Israel occurred in 1967, Egypt stopped until 1974 importing from England the steel pens used to trace hallmarks on jewelry in order to conserve their reserves of foreign currency.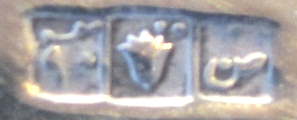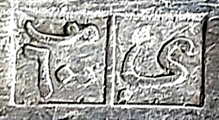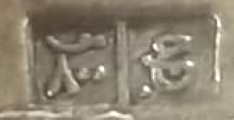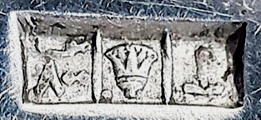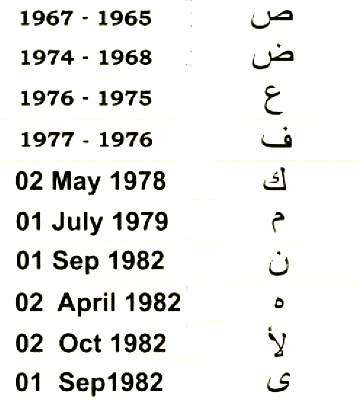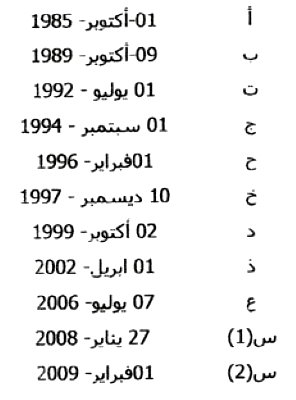 Originally the silver fineness was indicated in hundredths (two digits: 60, 80 and 90), later (possibly after 1975) silver fineness was expressed in thousandths (three digits: 600, 800 and 900)








WORLD HALLMARKS OVERVIEW A-B C-F G-L M-R S-Z
SILVER FINENESS NUMBERS

EUROPEAN HALLMARKS (under construction) and HALLMARKING CONVENTION

AUSTRIA BELGIUM CYPRUS CZECHIA/CZECH REPUBLIC DENMARK ESTONIA FINLAND FRANCE GERMANY GREECE HUNGARY IRELAND ITALY LATVIA LITHUANIA LUXEMBOURG MALTA THE NETHERLANDS NORWAY POLAND PORTUGAL ROMANIA SLOVAKIA SLOVENIA SPAIN SWEDEN SWITZERLAND UNITED KINGDOM

This is a page of A Small Collection of Antique Silver and Objects of vertu, a 1500 pages richly illustrated website offering all you need to know about antique silver, sterling silver, silverplate, sheffield plate, electroplate silver, silverware, flatware, tea services and tea complements, marks and hallmarks, articles, books, auction catalogs, famous silversmiths (Tiffany, Gorham, Jensen, Elkington, WMF, Reed & Barton, Mappin & Webb, Bateman Family), history, oddities ...
SITE MAP SILVER DICTIONARY