CHINESE EXPORT SILVER
By the late 18th/early 19th centuries, the phenomenon we now know as Chinese Export Silver was well-entrenched. It happened simply because silver, as a material, was more plentiful in China than anywhere else and the art of silversmithing had been perfected to such a high level. It was also relatively cheap, compared to Western counterparts.
This capability was quick to be recognized; merchants and sea-captains began to bring western silver items as examples to be copied, while the demand for bespoke items also increased. It is because of this surge of requests to "copy" that we find a peculiarly Chinese Export Silver circumstance mainly in relation to silver created in the 1785/1840 period.
The phenomenon is often referred to as "pseudo-hallmarks" and most Chinese silversmiths adopted them. But, initially they did so unwittingly, since when they were asked to faithfully copy items brought from the West, many of them had British hallmarks - and so the silversmiths copied "faithfully" hallmarks and all! Yet, not fully understanding the significance of the information these marks imparted, a degree of artistic license was applied; date letters were replaced by a letter that might have been the first Latin letter of the silversmith's name, often using local transcribing. Nearly all silver created during this period was of Western form.



It is during the 1840/1880 period of Chinese Export Silver making we see a change in appearance of the silver produced and the marks makers used on them. Chinese motifs begin to appear on items. It is also during this period we see more silversmiths appearing. Makers' marks also changed in as much as some makers began to use marks that combined Latin initials of the maker along with a mark in Chinese characters or ideograms of the actual artisan silversmith that carried out the work under the roof of the master silversmith. This latter mark is known as the "chopmark". This indicates that makers probably ran workshops where several experienced silver makers operated until the master artisan silversmith,the man behind the Chinese chopmark, finished it.
The 1880/1940 manufacturing period of Chinese Export Silver is where we find a larger number of known silversmiths operating. As with the preceding periods, makers' marks are equally non-consistent in format.
In any case, keep in mind that name or initials in Latin characters are not the name of the actual maker. They will almost certainly identify the retail silversmith or, more correctly, the name under which he trades.




---
A - B -C - D - E - F
G - H - I - J - K
L - M - N - O - P - Q - R - S
T - U - V - W - X - Y - Z
---
CHINESE EXPORT SILVER MAKER'S MARKS
A - B -C - D - E - F
---
A

unidentified
---
ACAO

unidentified - Canton
active c.1825-1850
---
C

unidentified - possibly Canton
active c.1800-1850
---
CC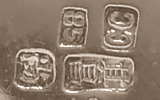 unidentified - Canton


(Chinese name)
active 1800-1850 working both English and Chinese taste
workshop/artisan marks



---
CHEONGSHING

Cheong Shing, 21 Nanking Road, Shanghai & Canton
active c.1880-1915
---
CHICHEONG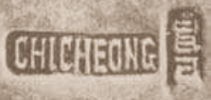 unidentified
---
CHIENAM

Chienam - place undocumented
active c.1850-1860
---
C.J C.J.Co


unidentified - Shanghai
active c.1875-1930
---
CS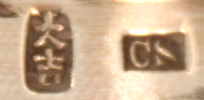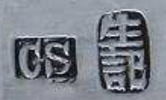 Cumshing - Canton
active c.1775-1825
workshop/artisan marks


---
CU (conjoined) CUT




Cutshing, 8 New China Street and Old China Street, Canton
active c.1825-1875. The CU conjoined mark was used 1825-1840, the CU 1850-1860 and the CUT 1840-1870
---
CW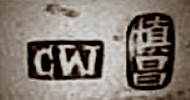 Cumwo, Queens Road, Hong Kong
active c.1850-1900
workshop/artisan mark


---
---
Guang Yuan (Kuang Yuan)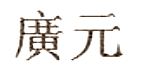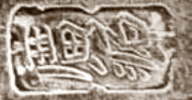 Guang Yuan (Kuang Yuan)
workshop/artisan mark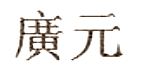 ---
GW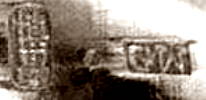 Gen Wo or Gem Wo - Canton
active c.1850-1875
---
H (Lombardic character)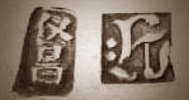 Hoaching, Club Street, Honam Island, Canton
active c.1850-1890
---
HC HUNGCHONG&CO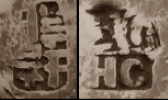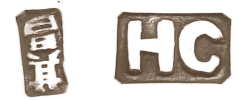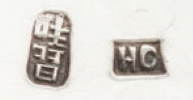 Hung Chong & Co, Club Street, Canton
11b Nankin Road, Shanghai (c.1888)
active c.1860-1930
---
HCG

Houcheong or Houchong, New China Street, Canton
active c.1825-1850
---
HCH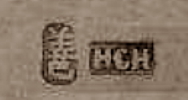 unidentified, Canton
active c.1830-1875
---
H.G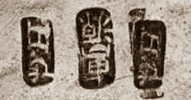 unidentified
---
HHC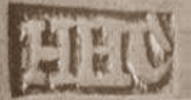 Hei Hing Ch'eung, Canton
active c.1830-1890
---
HK

unidentified
---
HM

unidentified
---


Hui - Hong Kong
active 1850-1900
workshop/artisan mark


---
---
I&CO

unidentified
---
---
JK

unidentified
active last quarter 19th century (possibly)
---
K (Gothic)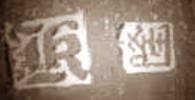 unidentified, possibly Canton
active 1825-1875 (possibly)
---
KC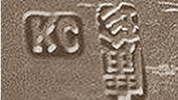 unidentified, Canton
active c. 1825-1875
---
KH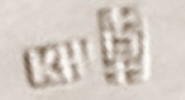 Kwan Hing, Shanghai (possibly)
active c. 1875-1930 (possibly)
---
KHC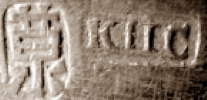 Kecheong, Old China Street, Canton & Club Street, Honam Island, Canton


(Chinese name)
active c. 1840-1870

---
KL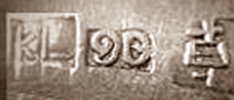 Guang Li - Shanghai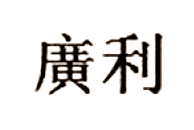 (Chinese name) active 2nd quarter 20th century
---
KMS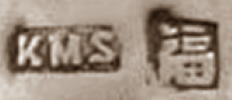 Kwong Man Shing - 24 Queen's Road-Hong Kong and, possibly, Canton


(Chinese name) active 1875-1925
---
---
KW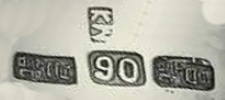 Kwan Wo - Canton or Hong Kong (possibly)


(Chinese name)
active 1870-1925
workshop/artisan marks


---
K.W


Kwong Wa - Hong Kong
active c.1865-1895
---

Feng Xiang (Lao Feng Xiang) - Shanghai


(Chinese name)
active mid 19th (possibly earlier) to present day
---
L

Linchong (Lin Chong) - New China Street, Canton
active c.1790-1850
---
LAINCHANG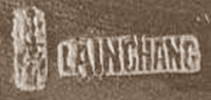 Lianchang? - Shanghai
the maker using the mark LAINCHANG is unknown. Possibly the mark refers to Lianchang, active in Shanghai c. 1900-1940

---

Lao Tian Bao - Hankou



(Chinese name)
---
---
LC LEECHING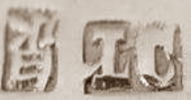 Leeching
Canton, East Street; Canton, Sai Hing Kai; Canton, Club Street, Honam Is; Hong Kong, Queens Road; Hong Kong, 24A Queens Road; Shanghai, Nanking Road


(Chinese name)
active c.1840-1900
---
LEO

unidentified, Canton
active c.1825-1875
---
LH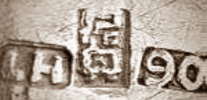 Luen Hing, 231 Szechuen Road, Shanghai
active c.1875 - 1930
---

Liang Shun Chi - Hong Kong (possibly)


(Chinese name)
active early 20th century (possibly)
---
LOCK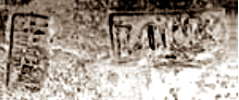 Lock Hing - Canton, Hong Kong & Shanghai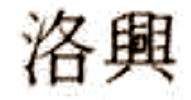 (Chinese name)
active c.1880-1915
---
LW LUEN WO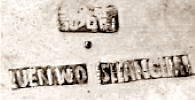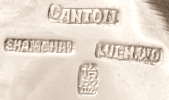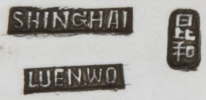 Luen Wo - Canton & Shanghai


(Chinese name)
active c.1865-1920
---
MB

unidentified - Canton
active 1825-1850
---
MH

unidentified - Canton (possibly)
---
MK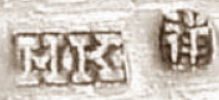 unidentified - Canton
active 1825-1875
---
NK

unidentified - Nanking (possibly)
active late 19th/early 20th century (possibly)
---
OS

unidentified, possibly Onn Sing
---
PC

Po Cheng (possibly) - Hong Kong (possibly)
active late 19th/early 20th century (possibly)
---
PL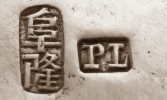 unidentified
---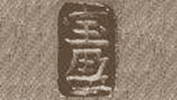 Powing (or Pao Ing) - Canton
active c.1775 - 1820



(Chinese name)
---
---
SF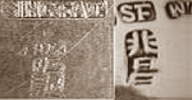 Sing Fat - Canton & Hong Kong
in partnership with Wing Fat (WF) c. 1870-1930


(Chinese name)
active c.1850-1930
---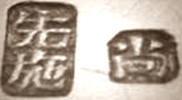 Sincere and Company (Shih Hsien) - Canton, Hong Kong, Shanghai and Peking
active c.1875 - 1935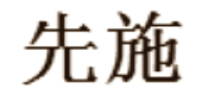 (Chinese name)
---
SS


Sunshing, New China Street, Canton
active c. 1790-1830
---
S.S

Sun Shing, Canton and 90 Queens Road Central New China Street, Hong Kong
active c. 1840-1910
---
T

Tu Hopp - Canton
active c. 1830-1840
---
TAIKUT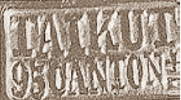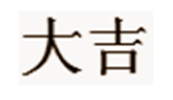 Taikut - Hong Kong
active c. 1870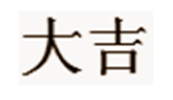 (Chinese name)
---
TC TUCK CHANG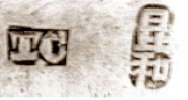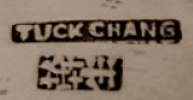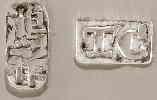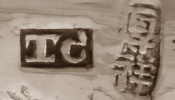 Tuck Chang & Company Ltd - Shanghai


(Chinese name) active 1890-1915
---
TS T.S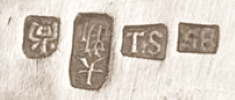 Tin Sheng, Tin Shing, or Tien Sheng, 46 Stanley Street, Queen's Road Central, Hong Kong
active c. 1870-1925
---
TSUN TSUN

Tsun Tsun - Shanghai
operated out of Shanghai 1926-40 as a Chinese registered department store
---
W

Wong Shing, 15 Old China Street, Canton
active c. 1820-1860
---
WA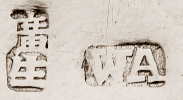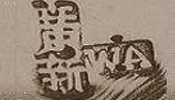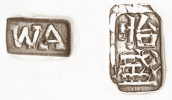 unidentified, Canton
active c.1825-1875
---
WC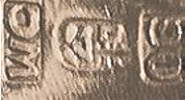 Wing Chung - Hong Kong
active c.1850-1900
---
WE WE WC

WE WE WC, Canton
active c. 1820-1880
a Chinese silversmith who copied British hallmarks when requested to faithfully copy items brought to Canton by sea captains and merchants. It is supposed the maker copied a hallmarked item made by English silversmiths William Eley, William Fearn and William Chawner (WE WF WC) mistaking the "F" of "Fearn" for an "E" and continuing to use it for 60 years
---
WF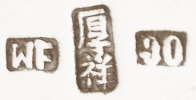 Wing Fat - Hong Kong and Canton
active c. 1900
---
WH WANG HING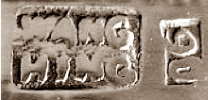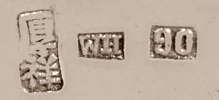 Wang Hing & Company, Zetland House, 10 Queen's Road, Hong Kong;
1 Sai Sing Street, Canton (Guangzhou) and Shanghai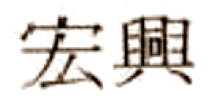 (Chinese name)
active c. 1854-1925
workshop/artisan marks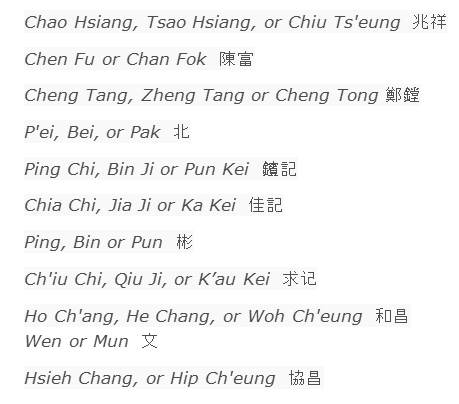 ---
---
WHS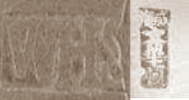 Wen Hua Shun - possibly Peking


(Chinese name) active 1900-1925
---
WING CHEONG

Wing Cheong - Hong Kong
active c. 1890
---
WN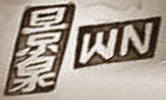 Wing Nam & Company, 65 Queen s Road-Hong Kong (probably a retailer)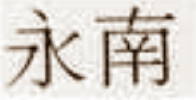 (Chinese name)
active 1890-1940
workshop/artisan marks



---
W.O WING ON CO (possibly)


Wing On & Company, Des Voeux Road, Hong Kong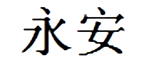 (Chinese name) active 1900-1950
---
WOSHING WS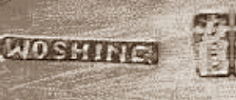 Woshing, Kiangse Road, Shanghai


(Chinese name)
active 1875-1915
workshop/artisan marks


---
YOK SANG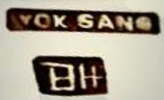 unidentified
---
YS

Yatshing - Canton
active c. 1800-1850
---
ZEE SUNG


Zee Sung - Shanghai
active c. 1910-1950
---
ZW ZEEWO ZEEWO SHANGHAI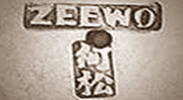 Zee Wo & Company - 370 Honan Road - Shanghai


(Chinese name)
active c. 1900-1940
workshop/artisan marks


---
CHINESE EXPORT SILVER MAKERS
A - B -C - D - E - F
G - H - I - J - K
L - M - N - O - P - Q - R - S
T - U - V - W - X - Y - Z
---