ELKINGTON ELECTROPLATE SILVER AND SILVER PLATE
Elkington - Elkington & Co - Elkington & C.
MARKS - HALLMARKS - DATE LETTERS
This is a page of A Small Collection of Antique Silver and Objects of vertu, a 1000 pages richly illustrated website offering all you need to know about antique silver, sterling silver, silverplate, sheffield plate, electroplate silver, silverware, flatware, tea services and tea complements, marks and hallmarks, articles, books, auction catalogs, famous silversmiths (Tiffany, Gorham, Jensen, Elkington, WMF, Reed & Barton, Mappin & Webb, Bateman Family), history, oddities ...
SITE MAP HOME PAGE
The earliest electroplate made by Elkington's was marked with 'E & Co' crowned in a shield and the word ELEC TRO PLATE in three portions.
| | |
| --- | --- |
| | |
| | |
| --- | --- |
| | |
---
DATE LETTERS 1841 - 1848
In 1841 and again in 1842 the mark was changed and a date number was added. The date number was in use from 1841 to 1848 (the 6 was reversed).


(click on "yellow date" for image)
see (note 6) for 1845, 1847 and 1848 mark
---
DATE LETTERS 1849 - 1864
In 1849 the series was altered to letters, beginning with K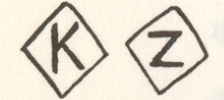 (click on "yellow date" for image)
see (note 1) for 1849(K), 1852(N), 1853(O), 1854 and 1861 marks
see (note 5) for a variant of 1853 mark
see (note 7) for 1849, 1850 and 1858 mark
see (note 10) for 1851 "M" mark
see (note 20) for "HP" intertwined letters into a lozenge
see (note 21) for "F" and "H" letter into a lozenge

---
DATE LETTERS 1865-1885
With the beginning of the new series of letters in 1865 the mark was also changed. The date letter left out B, C, I and J, while Q, not used by the sheet department and only partially by the cast department, was used as well R in 1877.
(click on "yellow date" for image)
see (note 2) for 1881(V), 1883(X), 1884 (Y) and 1885 (Z) mark
---
DATE LETTERS 1886 - 1911


| | |
| --- | --- |
| Slightly different marks were used in 1898-1899 and from 1900 onwards. | |
(click on "yellow date" for image)
---
DATE LETTERS 1912 - 1936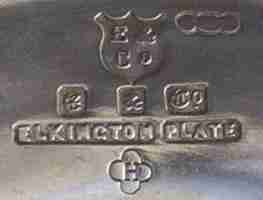 (click on "yellow date" for image)
see for 1914 "C" mark
see for 1912 "A" mark
see for 1921 "J" mark
---
DATE LETTERS 1937 - 1960


(click on "yellow date" for image)
---
DATE LETTERS 1961 - 1986
(but production at Walsall stopped in 1968)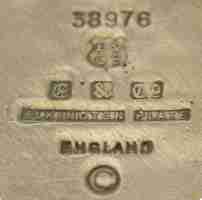 (click on "yellow date" for image)
---
---
ELKINGTON HISTORY

Elkington & Co. are one of the most important names in English silver and certainly the most important in silver plate. They began life in Birmingham as a company of silversmiths in 1836, and experimented with improving gilding techniques. By 1838 they had discovered and patented a new way to electroplate one metal on to the surface of another. By 1840 production was already underway with silver electroplated wares. The company received financial backing from Josiah Mason in 1842 (renaming the firm Elkington, Mason & Co between 1842 and 1861) and was extremely successful. It introduced electrotyping as a new method of production for silver plated items. Elkington & Co exhibited at the Great Exhibition of 1851 with enormous success.
An Australian branch was active in Sydney (before 1888) with manufacture at 396 Pitt Street and retail shop at 384 George Street.




In 1885 Elkington registered designs by Christopher Dresser. Dresser's designs included tea services, sugar bowls, claret jugs, kettles, cruet stands, baskets, a tureen and a tankard. His models are recorded in Elkington's silver and plated ware pattern-books.
Elkington held Royal Warrants for Queen Victoria, King Edward VI, King George V, King Edward VIII and King George VI. The Elkington & Co. name is still in use today as manufacturers under the auspices of British Silverware Ltd.


ELKINGTON AT THE 1851 GREAT EXHIBITION

Elkington partecipated in the Metalware section of the 1851 Great Exhibition held in Hyde Park in London in the specially constructed Crystal Palace.
These are images of Elkington production exhibited at Crystal Palace obtained from "The Art Journal illustrated catalogue. The industry of all nations 1851. London, George Virtue, 1851"


BRITISH SILVER MAKERS: MARKS, HISTORY AND INFORMATION
BRITISH SILVERSMITHS - ILLUSTRATED LISTING OF MAKER'S AND SPONSOR'S MARKS
BRITISH TOWN MARKS AND DATE LETTERS

www.silvercollection.it
This is a page of 'The What is? Silver Dictionary' of A Small Collection of Antique Silver and Objects of vertu, a 1500 pages richly illustrated website offering all you need to know about antique silver, sterling silver, silverplate, Sheffield plate, electroplate silver, silverware, flatware, tea services and tea complements, marks and hallmarks, articles, books, auction catalogs, famous silversmiths (Tiffany, Gorham, Jensen, Elkington), history, oddities ...
HOME - SITE MAP - SILVER DICTIONARY - COOKIES CONSENT AND PRIVACY
This page was useful? leave your LIKE on facebook

- work in progress on this page - your help, corrections and suggestions will be greatly appreciated -