EUROPEAN COUNTRIES SILVER AND GOLD HALLMARKS
CZECHOSLOVAKIA
CZECHIA/CZECH REPUBLIC & SLOVAKIA
A silver or gold object that is to be sold commercially is, in most countries, stamped with one or more hallmarks indicating the purity of the metal and the mark of the manufacturer or silversmith
The word "HALLMARK" derives from the fact that, since the 16th century, precious metals were sent to the London Goldsmiths' Hall for testing to ensure that the correct standard of silver had been used. The Goldsmiths' Hall was the headquarters of the Goldsmiths' Company and the home of the Assay Office.
In some countries, the testing of precious metal objects and marking of purity is controlled by a national assay office.
Depending on the national legislation the use of hallmarks may be compulsory, voluntary or provided by a manufacturer's declaration.

The territories of Bohemia, Moravia, Slovakia and Carpathian Ruthenia were under Habsburg Monarchy and silver hallmarking system was that of Austrian and Austro-Hungarian Empire.
After WWI and dissolution of the Austrian Empire and the unification as Czechoslovakia new hallmarks were adopted in 1921.
The Czech areas were occupied by Germany in 1939, with consequent secession of Slovakia and creation of the Protectorate of Bohemia and Moravia under German control. After WWII the region came under Soviet influence until 1989 revolution.
Following the end of Communist rule the state of Czechoslovakia was separated in 1993 into the countries of Czech Republic (from 2016 the preferred name is Czechia) and Slovakia.
The two countries cooperate closely and retain the Czechoslovakian hallmarks of 1962 using only different positions of the code letters to identify the assay offices of each country.

SILVER HALLMARKS AUSTRIA-HUNGARY 1807 - 1866
SILVER HALLMARKS AUSTRIA-HUNGARY 1866-1918






IDENTIFICATION LETTER OF CZECHOSLOVAKIAN TOWNS FROM 1867 ("Diana" and "Import marks" 1872-1901 and 1902-1921).
1867-1872 code in a separate punch. 1872-1922 code within "Diana head" mark or "small pieces" mark:
A8=Olomouc/Olmutz (now Czechia 1872-1921) - C=Praha/Prag/Prague (now Czechia 1867-1922) - C4=Plzen/Pilsen (now Czechia) - D=Brno/Brunn (now Czechia 1867-1872) - A6=Brno/Brunn (now Czechia 1872-1921) - P4=Bratislava/Pozsony/Pressburg (now Slovakia 1867-1872) - R=Kosice/Kassa/Kaschau (now Slovakia 1867-1872)
CZECHOSLOVAKIA SILVER HALLMARKS 1921 - 1929
LARGE WORKS




SMALL WORKS

OTHER MARKS



CZECHOSLOVAKIA SILVER HALLMARKS 1929 - 1941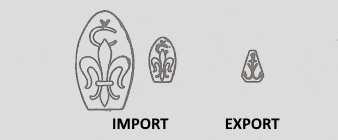 PROTECTORATE OF BOHEMIA AND MORAVIA SILVER HALLMARKS 1942 - 1945
CZECHOSLOVAKIA SILVER HALLMARKS 1945 - 1949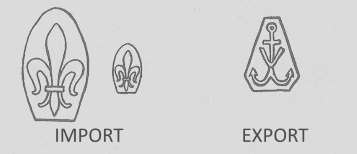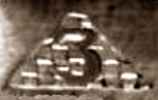 SLOVAKIA SILVER HALLMARKS 1941 - 1949
CZECHOSLOVAKIA SILVER HALLMARKS 1949 - 1962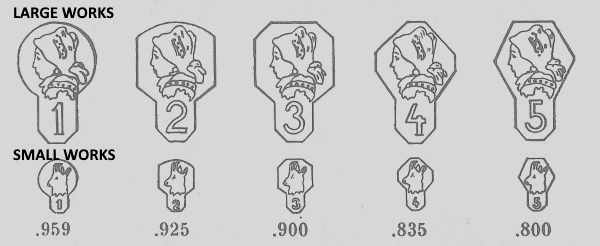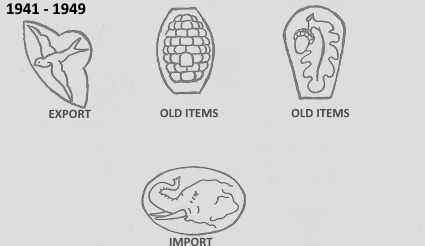 ASSAY OFFICE LETTER CODE:
P=Praha B=Brno J=Joblonec O=Ostrava B=Bratislava K=Kosice

CZECHOSLOVAKIA SILVER HALLMARKS 1962 - 1993



ASSAY OFFICE LETTER CODE:
P=Praha B=Brno J=Joblonec O=Ostrava B=Bratislava

CZECHIA SILVER HALLMARKS 1993 - present
SLOVAKIA SILVER HALLMARKS 1993 - present


CZECHIA ASSAY OFFICE LETTER CODE:
P=Praha, J=Jablonec nad Nisou, B=Brno, O-Ostrava, T=Turnov, R=Tabor, Z=Plzen, L=Olomouc, H=Hradec Kralove, K=Cerveny Kostelec
The miniature code letter of Czechia is placed near the fineness number and differentiates from the corresponding Slovakia code being orientated upright to the vertical axis of the hallmark

SLOVAKIA ASSAY OFFICE LETTER CODE:
B=Bratislava K=Kosice T=Trencin L=Levice
The miniature code letter of Slovakia is placed near the fineness number and differentiates from the corresponding Czechia code being orientated parallel with the vertical axis of the hallmark

CZECHIA AND SLOVAKIA OTHER PRECIOUS METALS HALLMARKS 1993 - present



www.silvercollection.it
This is a page of 'The What is? Silver Dictionary' of A Small Collection of Antique Silver and Objects of vertu, a 1500 pages richly illustrated website offering all you need to know about antique silver, sterling silver, silverplate, Sheffield plate, electroplate silver, silverware, flatware, tea services and tea complements, marks and hallmarks, articles, books, auction catalogs, famous silversmiths (Tiffany, Gorham, Jensen, Elkington), history, oddities ...
HOME - SITE MAP - SILVER DICTIONARY - COOKIES CONSENT AND PRIVACY