EUROPEAN COUNTRIES SILVER AND GOLD HALLMARKS
FINLAND
A silver or gold object that is to be sold commercially is, in most countries, stamped with one or more hallmarks indicating the purity of the metal and the mark of the manufacturer or silversmith
The word "HALLMARK" derives from the fact that, since the 16th century, precious metals were sent to the London Goldsmiths' Hall for testing to ensure that the correct standard of silver had been used. The Goldsmiths' Hall was the headquarters of the Goldsmiths' Company and the home of the Assay Office.
In some countries, the testing of precious metal objects and marking of purity is controlled by a national assay office.
Depending on the national legislation the use of hallmarks may be compulsory, voluntary or provided by a manufacturer's declaration.
The Finnish hallmarking system is organized on a compulsory base.
Finland was part of the Kingdom of Sweden until 1809 when it was ceded to Russia becoming an autonomous province.
Hallmarking in Finland was compulsory since 1754 and a date mark system introduced in 1759.
In 1810 the Swedish hallmarking system was abandoned and a new sequence of date letters introduced.

Since 1810 the national mark is one crown in a heart shaped contour.


In the period 1925 - 1998 the crown into an oval mark was used for imported items.



Until 1891 silver fineness was measured in luoti (13 and 13L) or in Russian zolotniks (84 and 78). From 1891 fineness is indicated in parts per thousand followed until 1973 by the letter H (from hopea, meaning silver).



After 1891 a variety of silver fineness mark were used in Finland:
800 from 2001 to present
813H from 1895 to 1972
813 from 1892 to 1894 and from 1973 to 1974
830H from 1969 to 1972
830 from 1973 to present
875H from 1895 to 1968
916H from 1925 to 1968
925H from 1969 to 1972
925 from 1973 to present







This is the table of the sequence of date letter marks introduced in 1810 (no standard pattern for date letter mark)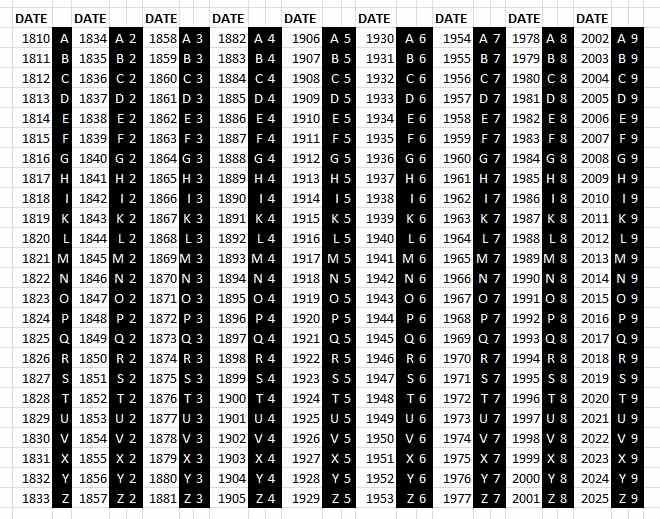 The town mark is represented by symbols, full name or initial letters. Only from 1925 the town ceased to be created by the silversmith and the punches had to be ordered to a central supplier. Today they exist about 35 approved town marks.

20TH CENTURY FINNISH TOWN MARKS SELECTION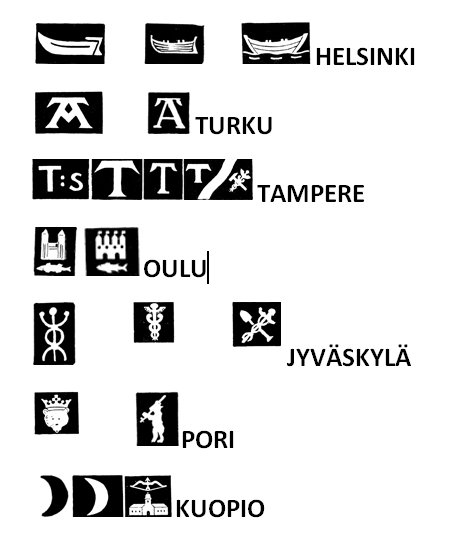 On maker's marks the silversmith's initials or figural symbols are used.



This is an example of the set of five marks requested in Finnish silver.


TABLE OF PRECIOUS METALS FINLAND PRESENT MARKS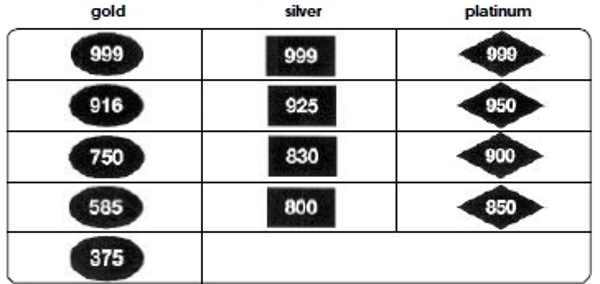 www.silvercollection.it
This is a page of 'The What is? Silver Dictionary' of A Small Collection of Antique Silver and Objects of vertu, a 1500 pages richly illustrated website offering all you need to know about antique silver, sterling silver, silverplate, Sheffield plate, electroplate silver, silverware, flatware, tea services and tea complements, marks and hallmarks, articles, books, auction catalogs, famous silversmiths (Tiffany, Gorham, Jensen, Elkington), history, oddities ...
HOME - SITE MAP - SILVER DICTIONARY - COOKIES CONSENT AND PRIVACY