MEXICAN STERLING SILVER MARKS
MARKS AND HALLMARKS OF MEXICO SILVER MAKERS
I - J - K - L
This is a page of A Small Collection of Antique Silver and Objects of vertu, a 1000 pages richly illustrated website offering all you need to know about antique silver, sterling silver, silverplate, sheffield plate, electroplate silver, silverware, flatware, tea services and tea complements, marks and hallmarks, silver marking system and silver hallmarks guide, articles, books, auction catalogs, famous silversmiths (Tiffany, Gorham, Jensen, Elkington, WMF, Reed & Barton, Mappin & Webb, Bateman Family), history, oddities ...
SITE MAP - HOME PAGE

AN INTRODUCTION TO MEXICO SILVER MARKING
In the first half of the 20th century silver items manufactured in Mexico were marked simply "silver" or "sterling". Usually a location (Mexico or a town name) and silver fineness (925, 925/1000, 950, 980) was included.
In 1948 the Government of Mexico promoted the reintroduction of the "eagle mark" to identify the manufacturers of silver items. The "eagle" was stamped with a number associated to a silver manufacturing company. This system was unsuccessful, eagle stamps were misused or "loaned" to more than one artist of maker and was abandoned in the 1980s. It was substituted by the "letter and number" system adopted circa 1980 and still in use.
In the "Letter and number" system a letter identifies a location (T for Taxco, M for Mexico City), the second letter is the first letter of an individual's first or last name of the maker. The number is the number of registration of the maker.
From left to right: early Mexican mark (before 1948), eagle mark (1948-c.1980), "letter and number" mark (c.1980-present).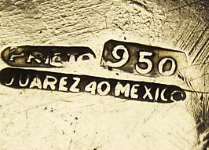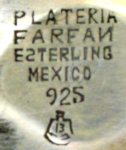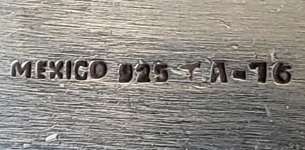 (click on image to enlarge)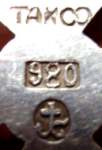 JC intertwined - Taxco
JORGE "CHATO" CASTILLO was the talented brother of Antonio Castillo. Many of his early designs were apparently also once used as prototypes for pieces later produced by Los Castllo. He left Willian Spratling's Taller de Las Delicias in 1939 to help his brothers start Los Castllo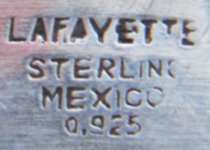 LAFAYETTE (or, possibly, LA FAYETTA)
A holloware and novelties manufacturer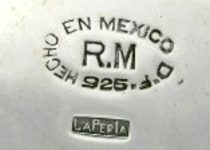 LA PERLA
Active in Mexico City since the 1930s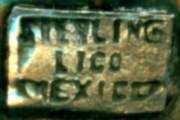 LICO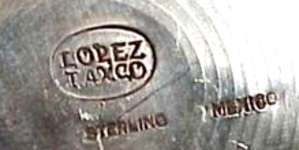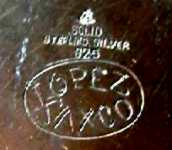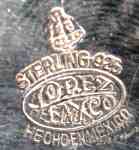 GERARDO LOPEZ
Active in Taxco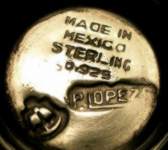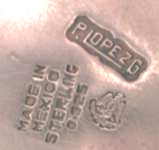 P. LOPEZ G.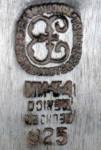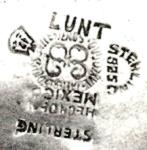 LOS BALLESTEROS
Established in 1937 in Iguala as Talleres de Los Ballesteros. The business moved to Taxco in 1941.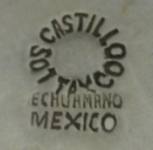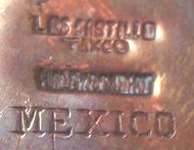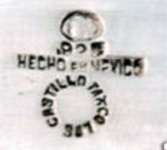 LOS CASTILLO
Firm established in 1939 in Taxco by Antonio Castillo.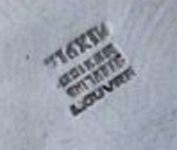 LOUVRE
A silver shop in Mexico City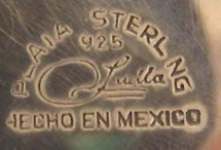 LUELLA
A silver shop located in Mexico City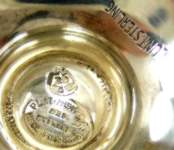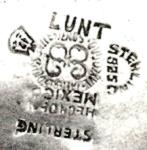 LUNT SILVERSMITHS
Items made by Mexican silvermiths for American company Lunt Silversmiths
STERLING SILVER OF ENGLAND, SCOTLAND AND IRELAND
This is a page of Silvercollection.it "A Small Collection of Antique Silver and Objects of vertu", a 1000 pages widely illustrated website offering all you wish to know about antique silver, sterling silver, silverplate, sheffield plate, electroplate silver, silverware, flatware, tea services and tea complements, marks and hallmarks, articles, books, auction catalogs, famous silversmiths (Tiffany, Gorham, Jensen, Elkington), history, oddities ...
HOME - SITE MAP - SILVER DICTIONARY