MEXICAN STERLING SILVER MARKS
MARKS AND HALLMARKS OF MEXICO SILVER MAKERS
P - Q
This is a page of A Small Collection of Antique Silver and Objects of vertu, a 1000 pages richly illustrated website offering all you need to know about antique silver, sterling silver, silverplate, sheffield plate, electroplate silver, silverware, flatware, tea services and tea complements, marks and hallmarks, silver marking system and silver hallmarks guide, articles, books, auction catalogs, famous silversmiths (Tiffany, Gorham, Jensen, Elkington, WMF, Reed & Barton, Mappin & Webb, Bateman Family), history, oddities ...
SITE MAP - HOME PAGE

AN INTRODUCTION TO MEXICO SILVER MARKING
In the first half of the 20th century silver items manufactured in Mexico were marked simply "silver" or "sterling". Usually a location (Mexico or a town name) and silver fineness (925, 925/1000, 950, 980) was included.
In 1948 the Government of Mexico promoted the reintroduction of the "eagle mark" to identify the manufacturers of silver items. The "eagle" was stamped with a number associated to a silver manufacturing company. This system was unsuccessful, eagle stamps were misused or "loaned" to more than one artist of maker and was abandoned in the 1980s. It was substituted by the "letter and number" system adopted circa 1980 and still in use.
In the "Letter and number" system a letter identifies a location (T for Taxco, M for Mexico City), the second letter is the first letter of an individual's first or last name of the maker. The number is the number of registration of the maker.
From left to right: early Mexican mark (before 1948), eagle mark (1948-c.1980), "letter and number" mark (c.1980-present).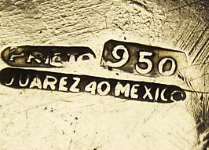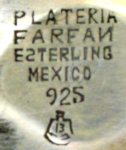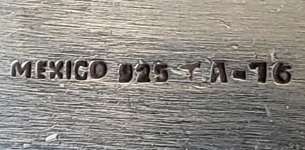 (click on image to enlarge)

ABRAHAM PAZ
Abrahan Paz designed jewelry for himself and also for Frederick Davis. Most jewelry marked A. PAZ is associated with Frederick Davis.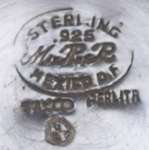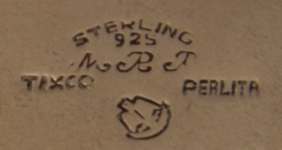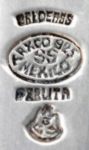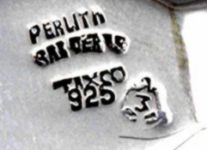 PERLITA
A retail shop of Mexico City.
ISIDRO GARCIA PINA
see MARICELA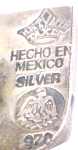 ANTONIO PINEDA
Started his work at Taller de Las Delicias with William Spratling. Opened his establishment "Antonio" in 1941. The firm used 'eagle 17' and also eagle 1, 3, 121
UCLA Fowler Museum held an Exhibition of Antonio Pineda production (August 10, 2008 to March 15, 2009).
This is an abstract of the presentation in Museum website:
Silver Seduction: The Art of Mexican Modernist Antonio Pineda
...the work of internationally renowned silversmith Antonio Pineda, one of Taxco's great innovators.... The exhibition traces the evolution of Pineda's work from the 1930s to the 1970s and highlights his important contributions to Mexican Modernism as well as to the creation of a Mexican artistic national identity...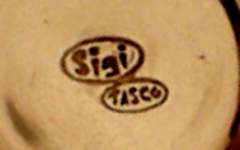 SIGFRIDO PINEDA
Opened his shop, Plateros, in 1952. Later it was renamed Sigi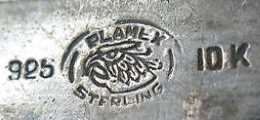 MANUFACTURERA PLAMEX S.A.
Active in Ciudad Juarez, Ave. Hipodromo and Paraguay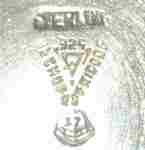 PLATA VILLA
Active in Mexico City, Insurgentes n° 27
PLATERIA CONY
see CONY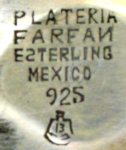 PLATERIA FARFAN S.A.
Active in Mexico City. Plateria FarFan used 'eagle 13' mark that was assigned to William Spratling for his own use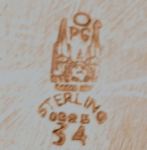 PLATERIA GUADALAJARA
Calle Metzicaltzingo, Guadalajara. The firm primarily produces items like trophies, wedding favors, etc (information courtesy Tom Thompson)

PLATERIA MENDOZA
active in Mexico City since the 1930s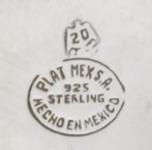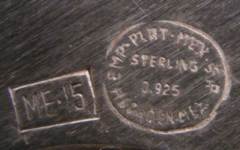 PLAT. MEX. S.A.
Active in Mexico City (possibly)
PLATERIA MILTON S.A.
Two shops and factory in Mexico City
Mark: JOYERIA MILTON JUAREZ 48, MEXICO, 925 STERLING, (eagle 1)
PRIETO S.A.
see CASA PRIETO
STERLING SILVER OF ENGLAND, SCOTLAND AND IRELAND
This is a page of Silvercollection.it "A Small Collection of Antique Silver and Objects of vertu", a 1000 pages widely illustrated website offering all you wish to know about antique silver, sterling silver, silverplate, sheffield plate, electroplate silver, silverware, flatware, tea services and tea complements, marks and hallmarks, articles, books, auction catalogs, famous silversmiths (Tiffany, Gorham, Jensen, Elkington), history, oddities ...
HOME - SITE MAP - SILVER DICTIONARY