THOMAS PRIME - THOMAS PRIME & SON
This is a page of A Small Collection of Antique Silver and Objects of vertu, a 1000 pages richly illustrated website offering all you need to know about antique silver, sterling silver, silverplate, sheffield plate, electroplate silver, silverware, flatware, tea services and tea complements, marks and hallmarks, articles, books, auction catalogs, famous silversmiths (Tiffany, Gorham, Jensen, Elkington, WMF, Reed & Barton, Mappin & Webb, Bateman Family), history, oddities ...
SITE MAP HOME PAGE
MARKS - HALLMARKS - HISTORY
According to an ancient advertisement, the firm was founded in 1818.
Three Thomas Prime (father, son and grandson) were involved in the silverplate business: Thomas Prime Snr (1797-1881), Thomas Prime Jnr (1825-1892), and Thomas Tertius Prime (1856-?) [Tertius means "the third"].
In 1840 Thomas Prime Snr was active as close-plater at Northwood Street, Birmingham.
Prime developed a method of plating called Magnetic Plate and in 1844, to the plans of John Stephen Woolrich, was built a special machine to deposit silver, gold or copper (one of these machines was used also by Elkington).
In 1849 the firm advertised that "...Electro Deposition of Silver, Gold, &c. by the Agency of Magnetic Machinery was brought to practical perfection by him..." on White Metal, on Steel and in Superior German Silver. The firm was active at the Patent Magneto Plate Works, 18 and 19 Northwood Street, Birmingham with other premises at 49 Salisbury Square, Fleet Street, London.
In 1851 Thomas Prime Snr was joined in partnership by his son Thomas Prime Jnr trading as Thomas Prime & Son.
When Thomas Prime Snr died in Jan 1881 the business was for a short time run as a sole-trader by Thomas Prime Jnr. Then in that year, after the 31 Mar 1881 census, he admitted his son Thomas Tertius Prime, as a partner.
Once more Thomas Prime & Son had both a Thomas Prime (Thomas Prime Jnr) and a son (Thomas Tertius Prime). This was the partnership that was dissolved in 1891. The business was then again run for a short time as a sole-trader by Thomas Prime Jnr, until his death in May 1892. The child-less grandson, Thomas Tertius Prime, who had until 1891 been in partnership with his father Thomas Prime Jnr, then ran the business from May 1892 until the factory was closed in about 1900.
In 1890 the firm was active as "silversmiths and electroplaters" at 107 Ryland Street, Birmingham and in London Showrooms at 5 Charterhouse Street.
Thomas Prime participated to the London Great Exhibition of 1851, to Paris Exhibition of 1855 and to International Exhibition (London) 1862.
STERLING SILVER HALLMARKS
Thomas Prime was mostly a close-plater and electroplater. However he entered some sterling silver hallmarks in Birmingham and London Assay Offices.



Thomas Prime & Son
hallmark entered in Birmingham in December 1859 and in London in 1890



Thomas Prime & Son
hallmark entered in Birmingham in January 1862 and in Chester in July 1882
SILVERPLATE MARKS
---
ANCIENT ADVERTISEMENTS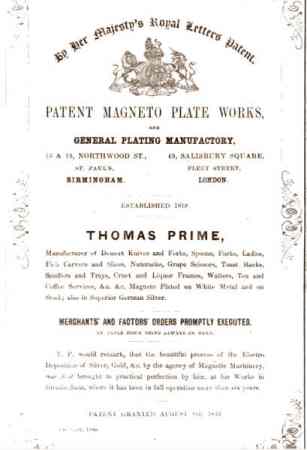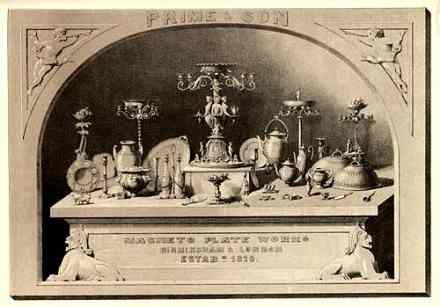 ---
THOMAS PRIME AT THE 1851 LONDON GREAT EXHIBITION
(FROM THE ART-JOURNAL ILLUSTRATED CATALOGUE)
Birmingham has recently made great progress in the production of the better sort of plated and silver manufactures, so much so, indeed, as to have become a formidable rival to Sheffield., a town whose supremacy in this department of business was, till now, indisputable; however, there is ample room for the manufacturers of both these important places to display their ingenuity and skill to the best advantages, and so contend for the palm of excellences. We engrave on this page some of the works contributed by the establishment of Messrs. PRIME & SON, of Birmingham.
The first subject represents a BUTTER KNIFE; the handle is in the Italian style, and the blade is ornamented with an open floriated pattern.

The LIQUOR STAND that follows offers considerable novelty in its design, which shows the outmost harmony in the ornamentation of its several component parts.
To this succeeds a CAKE BASKET, the form of which is decidedly good, and the chasing in excellent taste.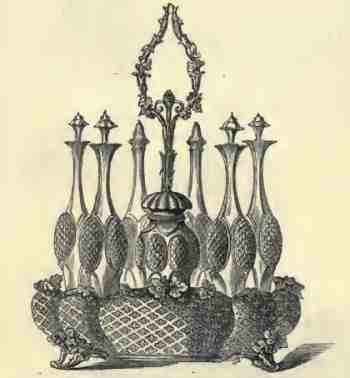 The TOAST RACK shows also a very meritorious design;
and the TRAY underneath it is equally entitled to commendation.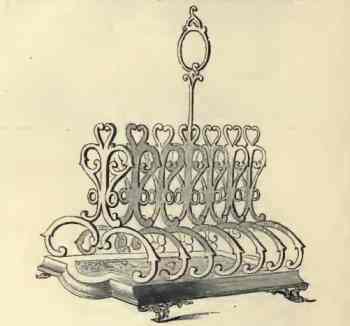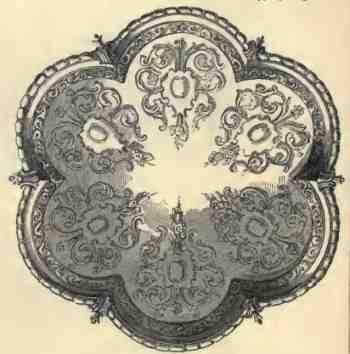 Lastly, the ASPARAGUS TONGS, which complete the page, are sufficiently enriches with ornament to render them an elegant appendage to the dinner-table. We believe that all these manufactures are executed in magneto-plated silver. The results of scientific research, when applied to the industrial arts, are in nothing more manifest than when seen in metallic manufactures. The various processes of electrotyping, magneto-plating, and others, have greatly tended to produce this satisfactory result.

BRITISH SILVER MAKERS: MARKS, HISTORY AND INFORMATION
BRITISH SILVERSMITHS - ILLUSTRATED LISTING OF MAKER'S AND SPONSOR'S MARKS
BRITISH TOWN MARKS AND DATE LETTERS

www.silvercollection.it
This is a page of 'The What is? Silver Dictionary' of A Small Collection of Antique Silver and Objects of vertu, a 1500 pages richly illustrated website offering all you need to know about antique silver, sterling silver, silverplate, Sheffield plate, electroplate silver, silverware, flatware, tea services and tea complements, marks and hallmarks, articles, books, auction catalogs, famous silversmiths (Tiffany, Gorham, Jensen, Elkington), history, oddities ...
HOME - SITE MAP - SILVER DICTIONARY - COOKIES CONSENT AND PRIVACY
This page was useful? leave your LIKE on facebook

- work in progress on this page - your help, corrections and suggestions will be greatly appreciated -